Based on the HK G3 platform
Takes AK mags and 7.62x39mm ammo
Roller-delayed blowback system

What do you get when you combine German and Spanish engineering with American manufacturing and a dash of Russian flavor? It may sound like Chris, owner of the pictured rifle, is making a tasty sausage, but in fact that multi-national list describes the linage of the PTR 32 KFR 200 that he's taken down the rifle-customizing rabbit hole. Let's follow him down into the hole to learn more about this unique build.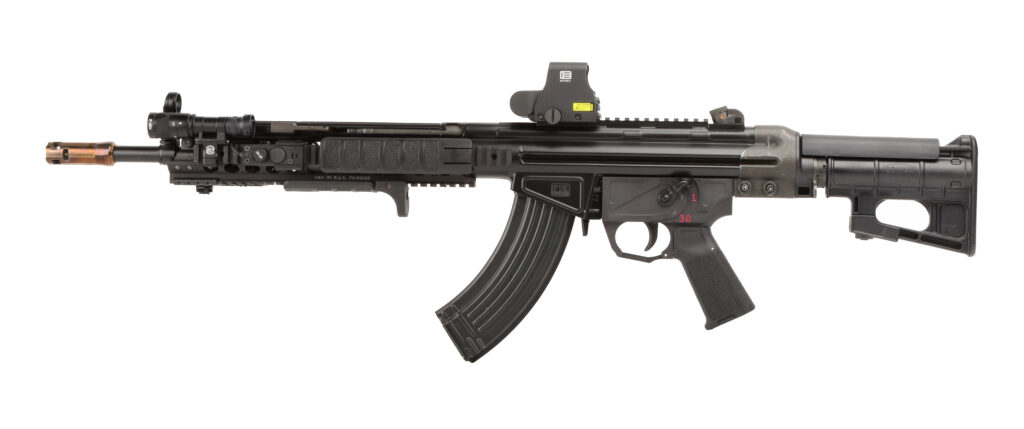 Chris is a casual shooter, and like most of us he enjoys assembling and accessorizing his rifles. Mainstays of his collection include numerous ARs and a smattering of AKs. It was a few years ago that he decided that he wanted to take a different route on his next build. He decided to take a break from his favorite, AR-15, and push himself to learn about and build out a rifle that he'd always been curious about. That rifle was the HK91. The HK91 is the semi-auto version of the select-fire-capable HK G3, a battle rifle fielded by militaries worldwide including Germany and the UK. The G3 is chambered in 7.62 NATO, as is the HK91. The platform has an interesting history that can fill volumes, but simply put the G3 was the product of a weapons development program where it was co-developed by Germany's Heckler & Koch and Spain's Centro de Estudios Técnicos de Materiales Especiales. This project yielded two rifles, the CETME and the G3. Both are similar, but both also have their differences. But that's another story entirely.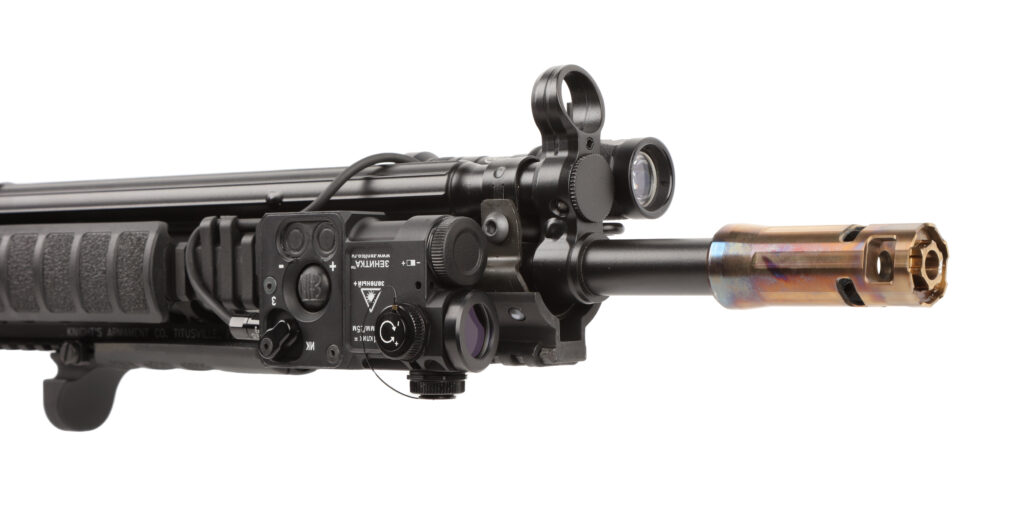 When Chris went shopping for an HK91, he did his research and decided the way to go was to buy a clone, as actual Heckler & Koch models come at a premium price that he wasn't willing to pay. In his own words: "I planned on modifying the rifle anyway, so I wasn't so concerned with keeping it full-on Heckler-Koch original."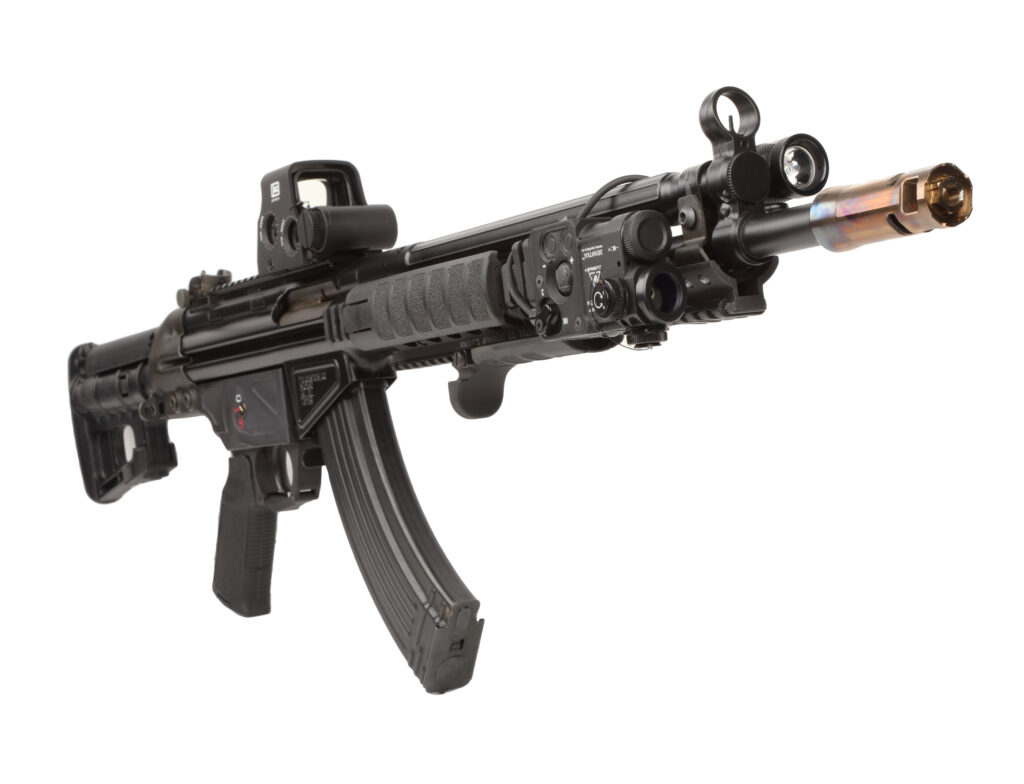 He already knew that he wanted a PTR Industries-produced HK91 clone, the proven PTR91. PTR has a solid reputation for building clones of many of HK's roller-delayed blowback firearms. PTR is based in South Carolina, so he felt confident in that the American-made rifle would be backed by a company that he could rely upon if he required any help.

Chris went to a local gun shop to take a look at the PTRs they had on display (mind you, this was a few years back when stores still had ample selection) and found something curious. He saw a PTR on the wall that had what looked like an AK mag sticking out of it.
"Banana-shaped AK mags are really unmistakable," he says. "I saw a PTR with a Magpul AK mag in it and immediately asked the salesperson about it. He told me that it was the PTR32, a PTR that fires AK rounds from AK mags. I was sold on it right there and then. If I could have a rifle that fires the much more economical 7.62x39mm round and use my existing AK mags, I'm all about it. Besides, any rifle that rocks a curved AK mag looks good to me."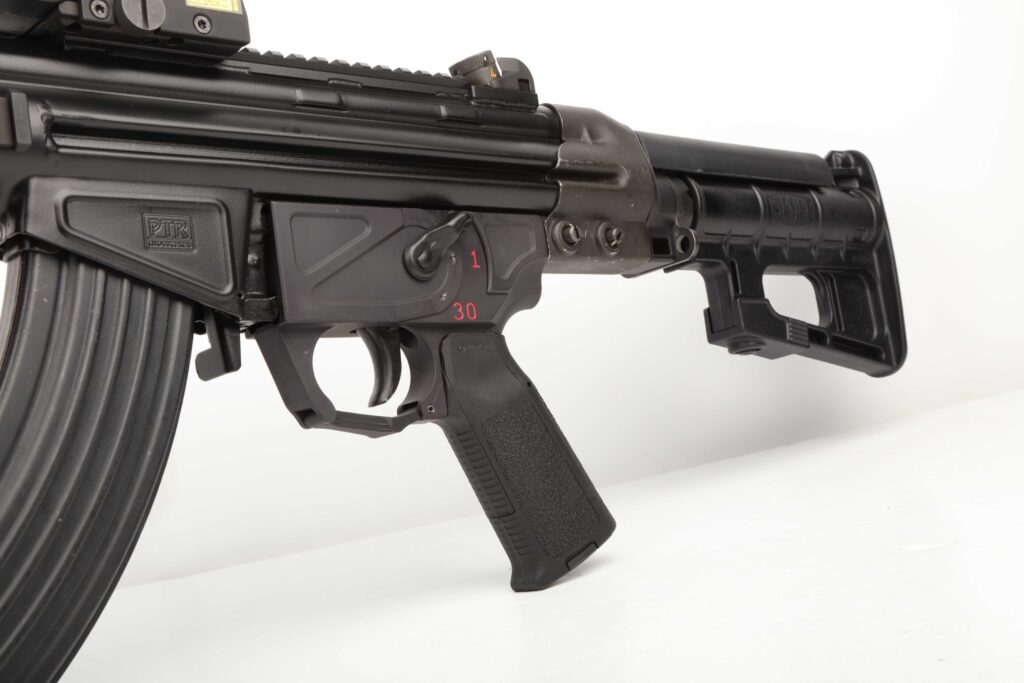 With the PTR32 now in his collection, he was excited to take it to the range. He reports that the 32 was really enjoyable to shoot. The combination of the 7.62x39mm round, the sheer heft of the rifle, and its roller-delayed blowback system makes it an extremely soft shooter. In fact, he adds, "The rifle is a trip to fire. I don't know how to explain the sensation of shooting it other than saying that it feels like it shoots in slow motion. I handed it to my buddies to shoot and they said the same thing."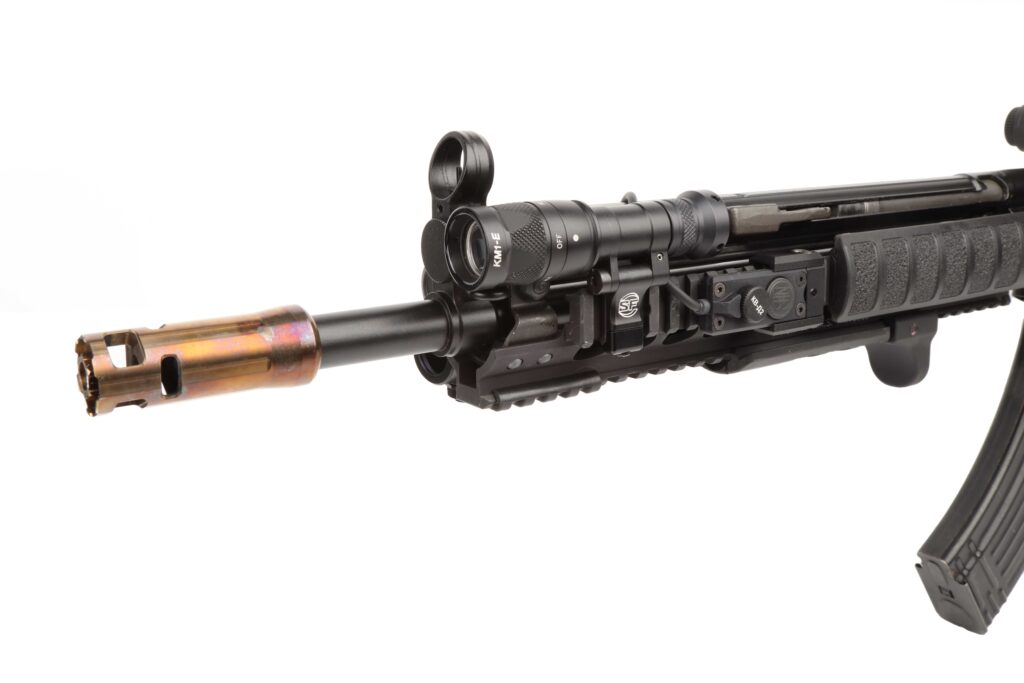 He continues: "Three things did bother me. One is the overall weight of it. At well over 9 pounds without any accessories, this thing is much heavier than my decked-out ARs and AKs. Adding stuff onto it only makes it heavier. The other thing I wasn't too fond of was the fact that the rear of the receiver pushes into your cheekbone under recoil. The contour of the factory buttstock dips so that it places your cheek right up against a metal hump at the rear of the receiver. If you're not positioned correctly, the hump can really nail you in your cheek. Lastly, no matter what stocks I tried, the length of pull was unreasonably long. It's a 'long' gun for sure." Chris wanted to see if he could modify it to better suit his shooting style and avoid getting clocked in the face when he shot it.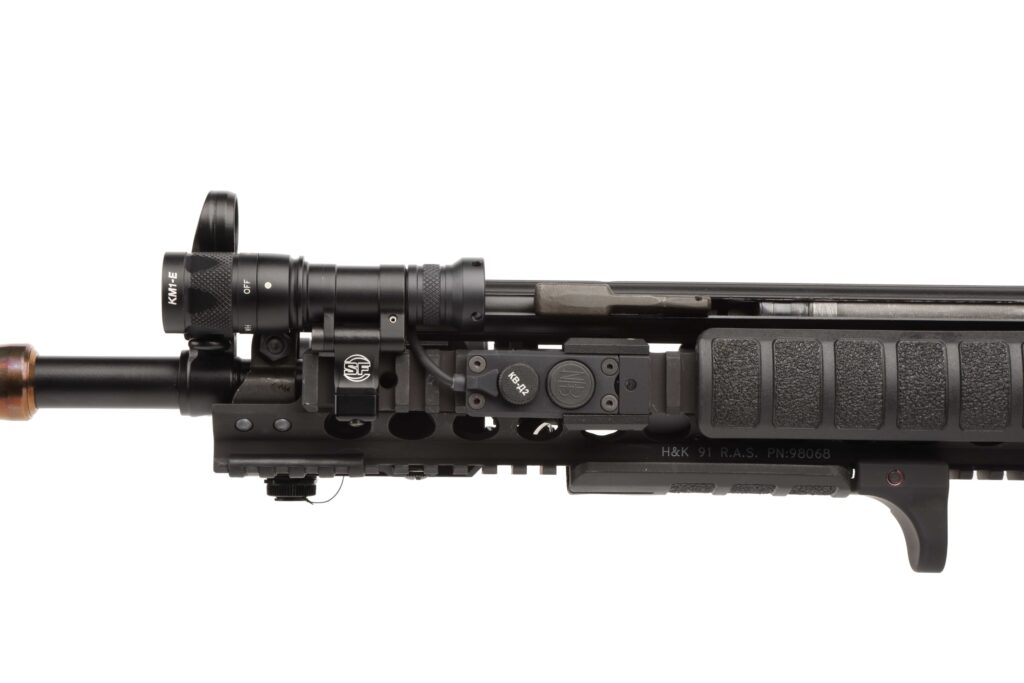 He took another deep dive into the rabbit holes of the internet, including forums as well as the HKparts and RTG Parts webstores. Over the course of three years the rifle started to slowly morph into the version you see here. At first he stripped off the black polymer furniture it came with and gave it surplus ex-German military wood furniture and a Midwest Industries muzzle brake. He liked that look, but still was bothered by the buttstock and heft (and the wood only made it even heavier). He tried several furniture variations but was still looking for a solution when he came across Spuhr's R-416 G3 stock assembly.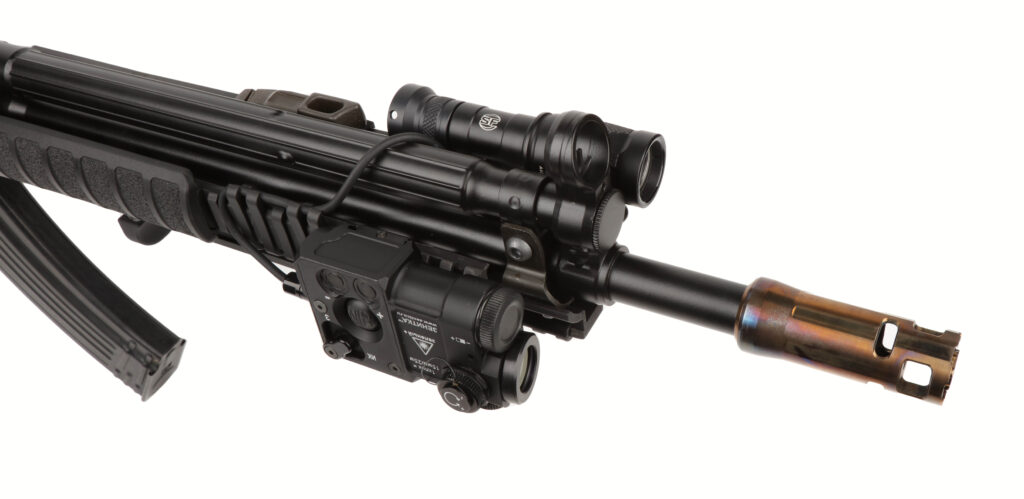 The Spuhr R-416 G3 stock was developed to help modernize the rifle by bringing the shooter's head up inline with the top and give it a shorter length of pull thanks to multi-position adjustability. The G3's factory stock design was originally designed to position the shooter's head below the rear of the receiver, just behind its low-height iron sights. This is how the rear receiver hump gained its reputation as the "cheekbone crusher."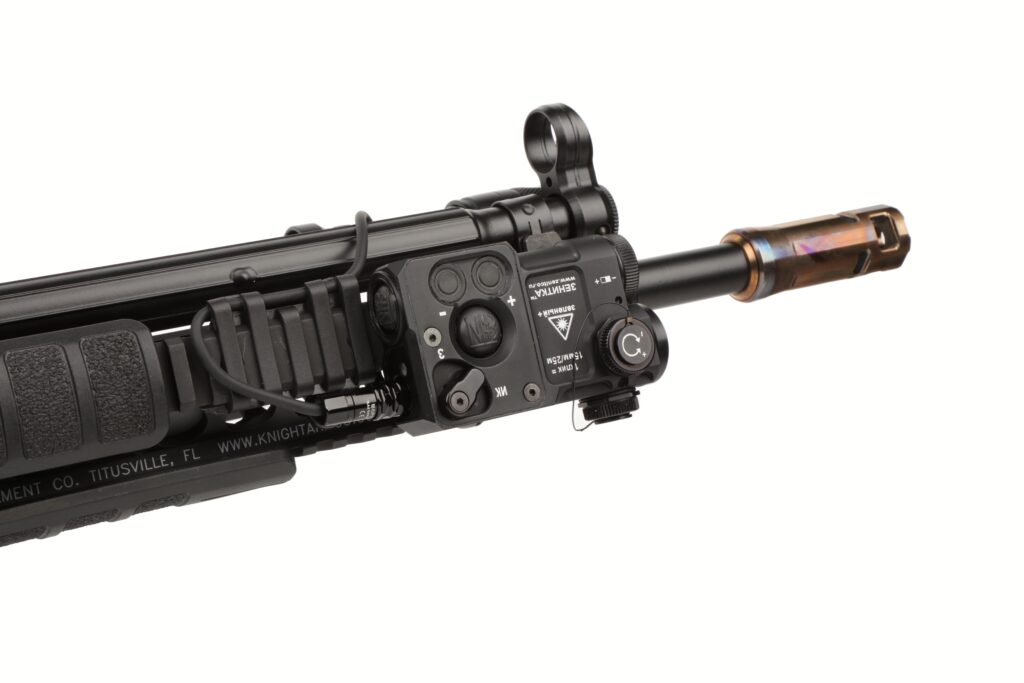 According to Spuhr: "To prevent a collision between the 'hump' and the shooter's face, they made the stock terribly long. It's almost 3 inches longer than an M16A2 stock." The long stock makes the G3 family of guns cumbersome, heavy, and difficult to control, as Chris can attest.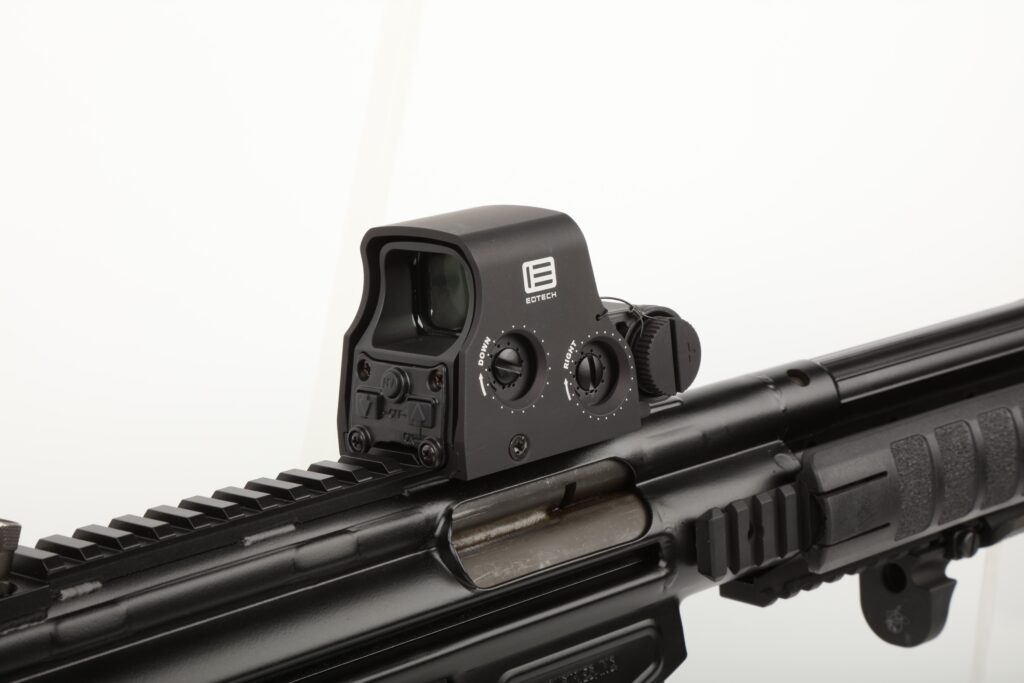 The R-416 completely replaces the standard stock and features a comb that's 1 inch higher, which easily aligns the shooter's head behind modern-day optics. It gets rid of the hump and is overall shorter, but still adjustable for length. Thanks to the geometry of the new stock, the gun feels lighter due to the balance of the shortened length and makes recoil easier to absorb as it places the rifle's bore line at a lower level than the stock when shouldered.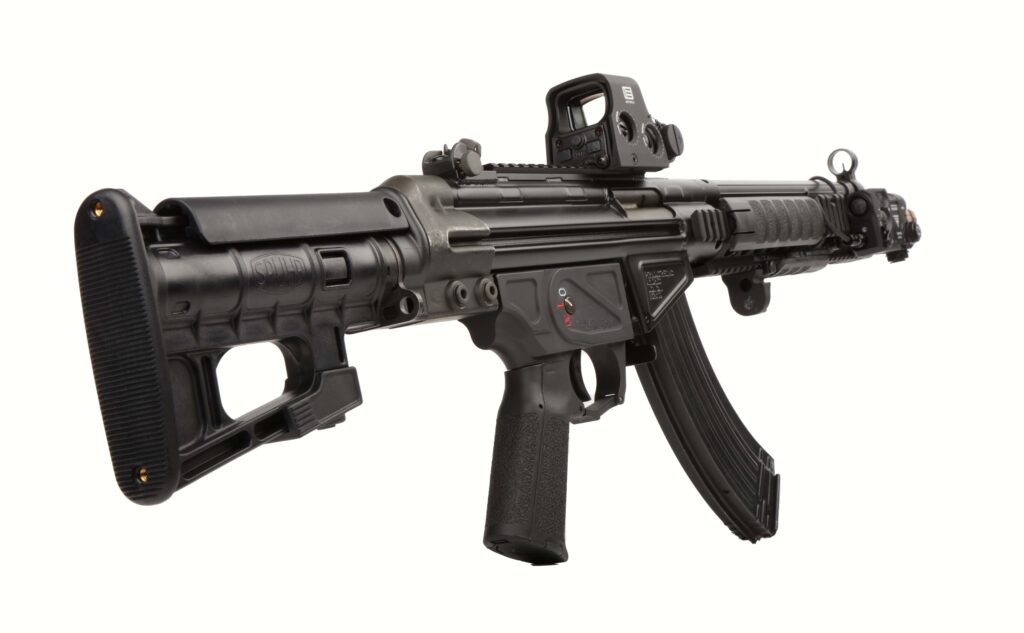 Now that his head could be placed inline with the rail, he decided to add an optic to it. The 32 comes with a Picatinny rail welded to the receiver top, a perfect platform for optics. Chris chose an EoTech XPS3 holographic sight, which fits perfectly on the rifle's top. The reason he chose an EoTech holosight was because it has a large window and a reticle that he shoots faster with. He went with the XPS3 model because it also added night vision capability. Other night vision accessories include a SureFire Infrared Mini Scout Light Pro, which switches from white light to IR with the simple twist of its bezel. Adding another Russian ingredient into this build, he integrated a ZenitCo Perst-4 combined laser device on the rail. The Perst-4 is a Russian-made IR and visible-laser device that comes with a proprietary remote switch. The innovative switch features an activation button as well as a laser-strength dial.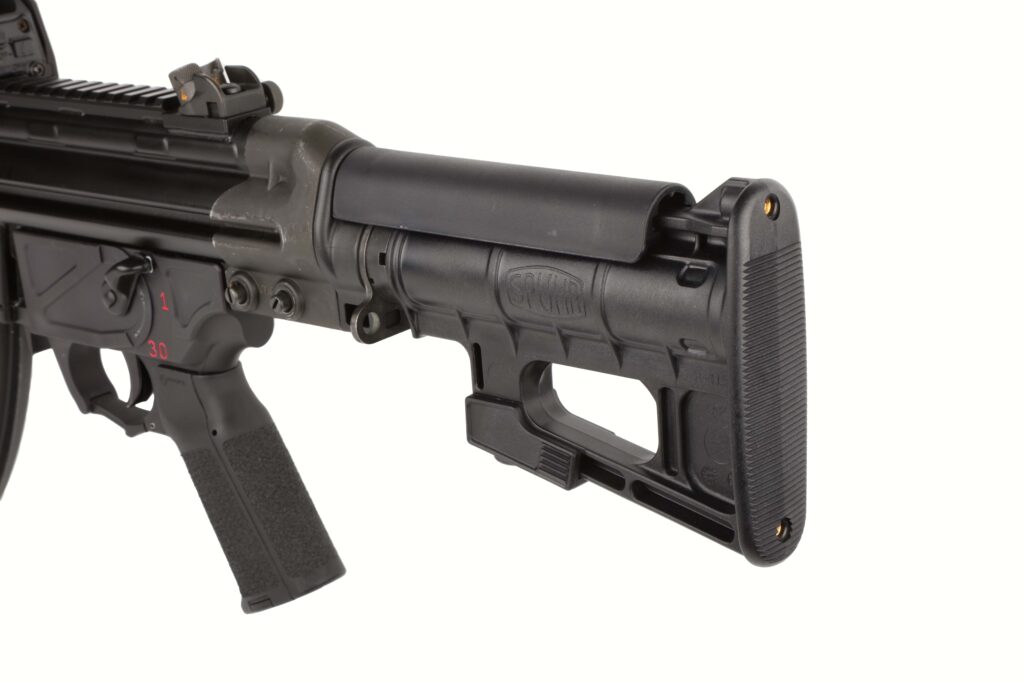 The railed handguard the light and laser mount to is a Knight's Armament Co. (KAC) HK91 RAS. The classic full-length Picatinny rail is hard to come by, so when Chris found one available online he quickly snatched it up. "I was looking for an m-lok rail, but couldn't resist pulling the trigger on the KAC when it surfaced," he says. "I've always been a fan of KAC and this rail is rare enough that I didn't want to regret not snapping it up. It's not going to make my rifle lighter, but it does make it look old-school cool in my opinion." TangoDown Rail Grips and a KAC handstop round out the rail attachments.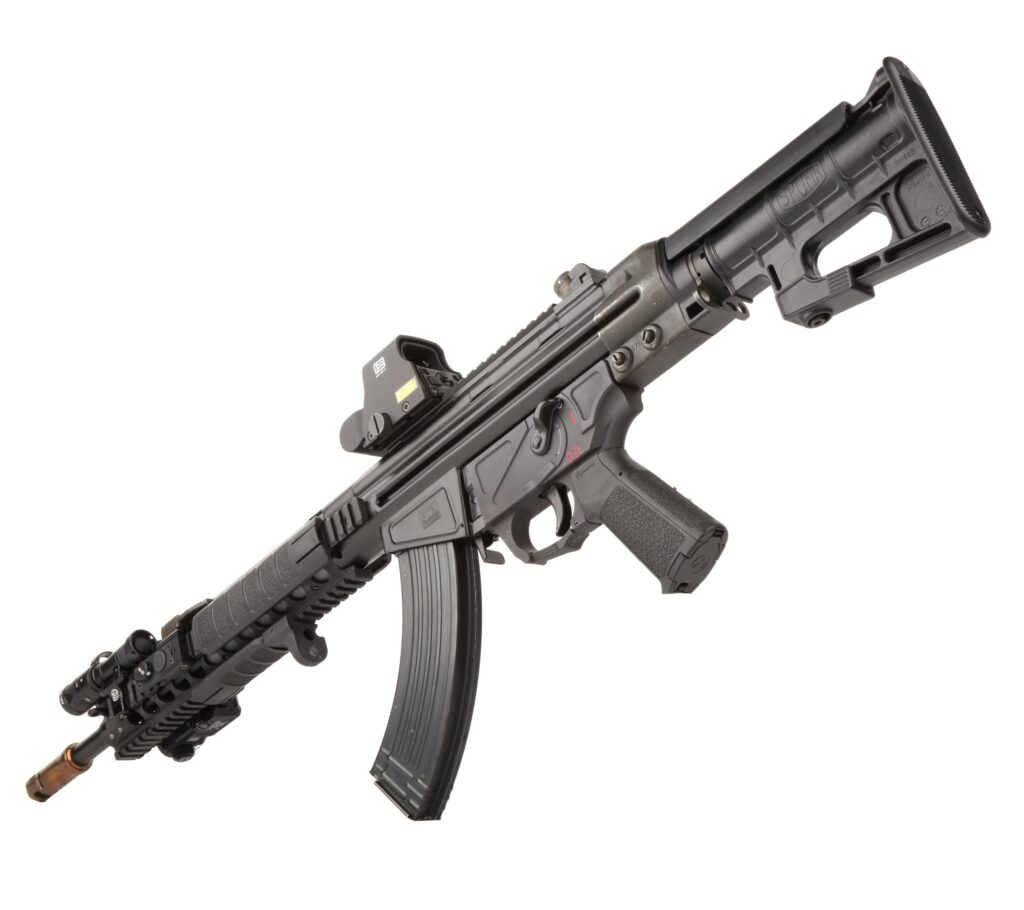 If you're at all familiar with the PTR32, you'll notice that its stock plastic trigger housing was replaced with a heavy-duty aluminum unit made by Fleming Firearms. The American-made, hard-anodized, CNC-machined lower toughens up the rifle and helps create a rugged look. The lower accepts both an AR grip and AR trigger guard, which in this case are a Magpul MIAD and a KAC unit, respectively.

On the tip of the 16-inch barrel is a pair of muzzle devices by Q. Chris's 32 uses a Q Cherry Bomb with a Q Bottle Rocket mounted on top of it. The Cherry Bomb is a fast-attach muzzle brake that's compatible with silencers made by Q. It features 360-degree circumferential ports so it doesn't need to be timed when installed. Threaded over that you'll find the Q Bottle Rocket, which is designed as an enhanced brake for use over the Cherry Bomb brake. It also serves as a thread protector for the Cherry Bomb when not hosting a silencer.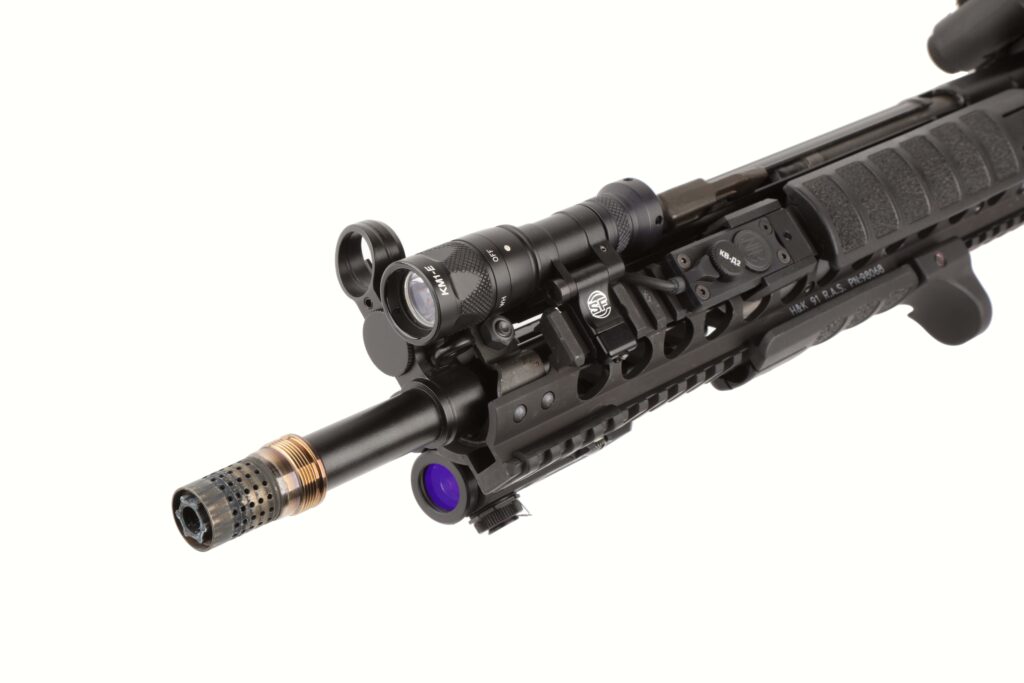 Chris reports that he's happy with his PTR32 as presently constituted. He's taken it out for casual shooting and tactical drills with his buddies and thinks that it's a fun shooter. "It's been a long road of trial and error with this rifle," he confesses. "I've spent more on parts than I care to think about, trying out what works and what doesn't, but discovery is part of the fun. I've learned so much about a platform that was completely unknown to me before. I never was able to lighten the load of this beast, but at least it's not smacking me in the cheek anymore. I've realized that whenever I hit the range, I make sure to bring this rifle along. I never want to go to the range without it."
That says it all. Looking at it, we'd be hard-pressed to leave it at home too.
Text by Martin Anders and images by Michael Grey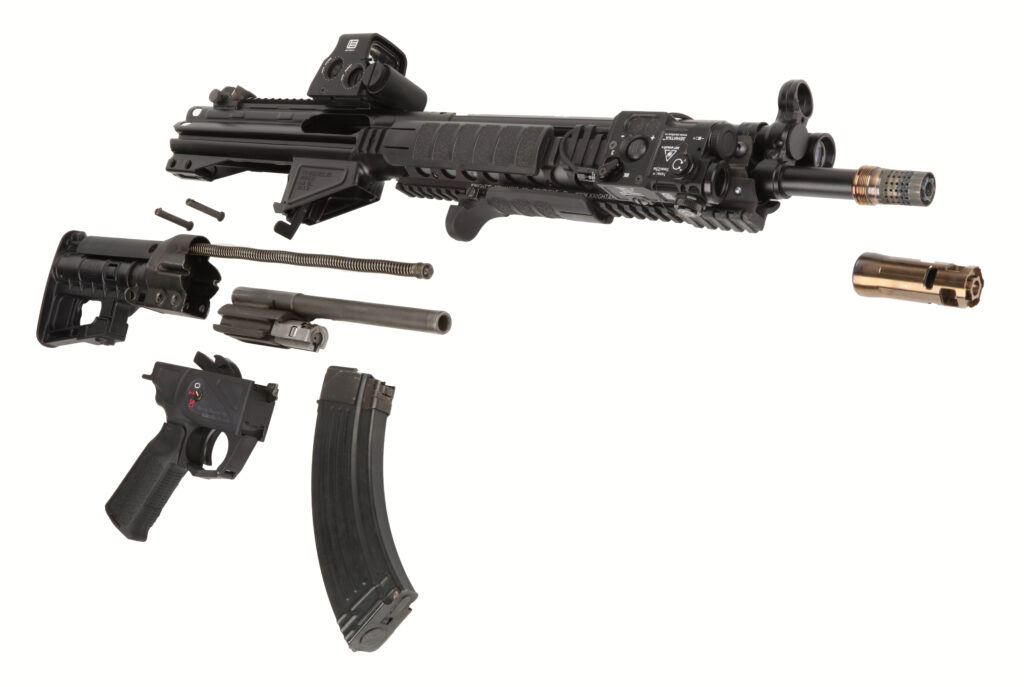 Custom PTR32 KFR 200
Specifications
Caliber: 7.62x39mm
Capacity: 30+1
Minimum Length: 37.75 in.
Maximum Length: 40.75 in.
Weight Unloaded: 10 lbs, 12 oz.
Barrel Length: 16 in.
Featured Accessories
Optic: EoTech HWS XPS3
Light: SureFire Infrared Mini Scout Light Pro
Laser: ZenitCo Perst-4 with KV-D2 tactical switch
Parts & Accessories: Spuhr R-416 G3 Stock Assembly, Fleming Firearms HK-AR Lower, Magpul MIAD Grip, KAC HK91 RAS Rail, KAC Handstop, KAC Trigger Guard, TangoDown Rail Grips, Q Bottle Rocket, Q Cherry Bomb
About the Owner
Name: Chris B.
Occupation: Contractor