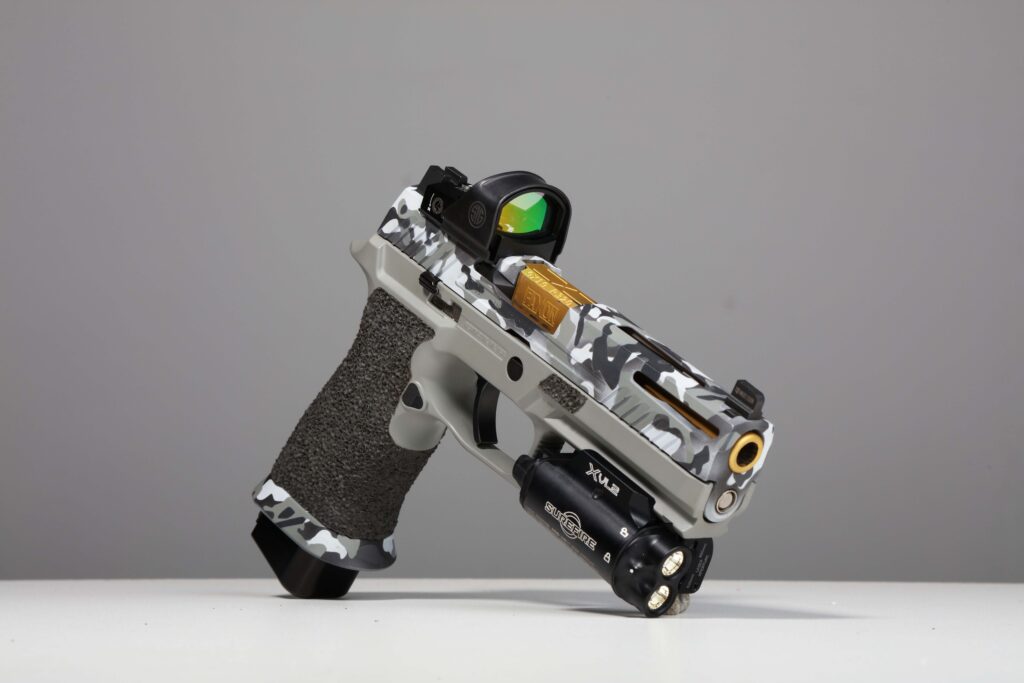 The world of customized guns, pistols in particular, has become analogous to that of sports cars and modified off-roaders. If you're into decking out your vehicle, there are a few cars that lend themselves to aftermarket modifications so well that they're commonly seen on the street with at least some sort of modification made to them.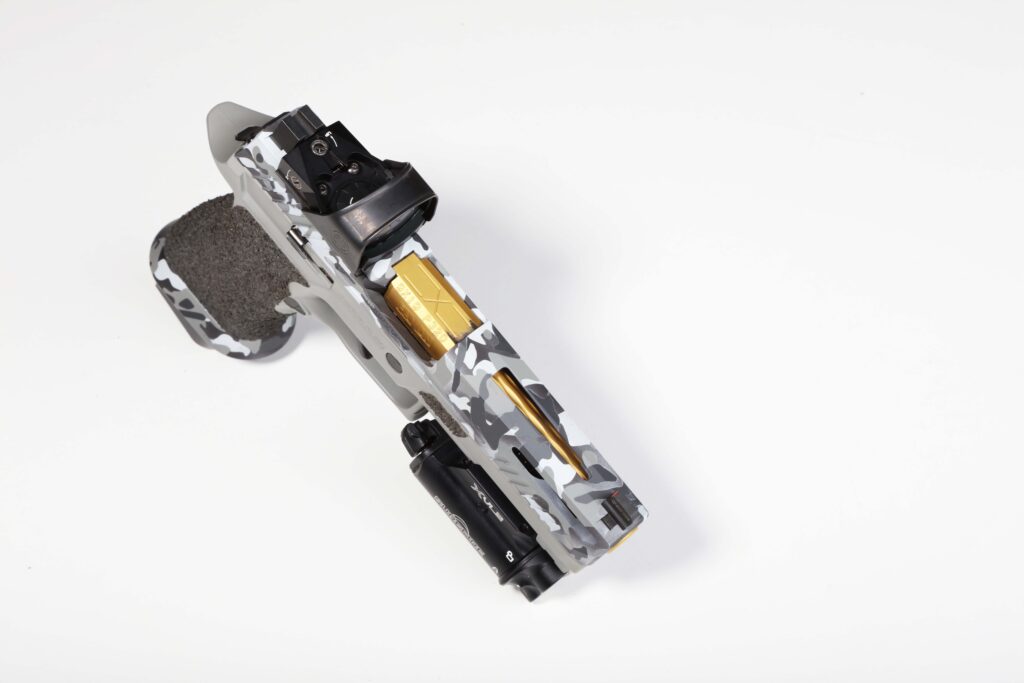 Cars such as Mustangs, GTIs, and Civics are easily modified anywhere between mild and all-out wild. If you're a four-wheeling enthusiast, we can easily switch that comparison to Wranglers, Tacomas, and F-150s. Whichever ride you choose to mod, these platforms and the healthy aftermarket support for those models make it easy for you to do so.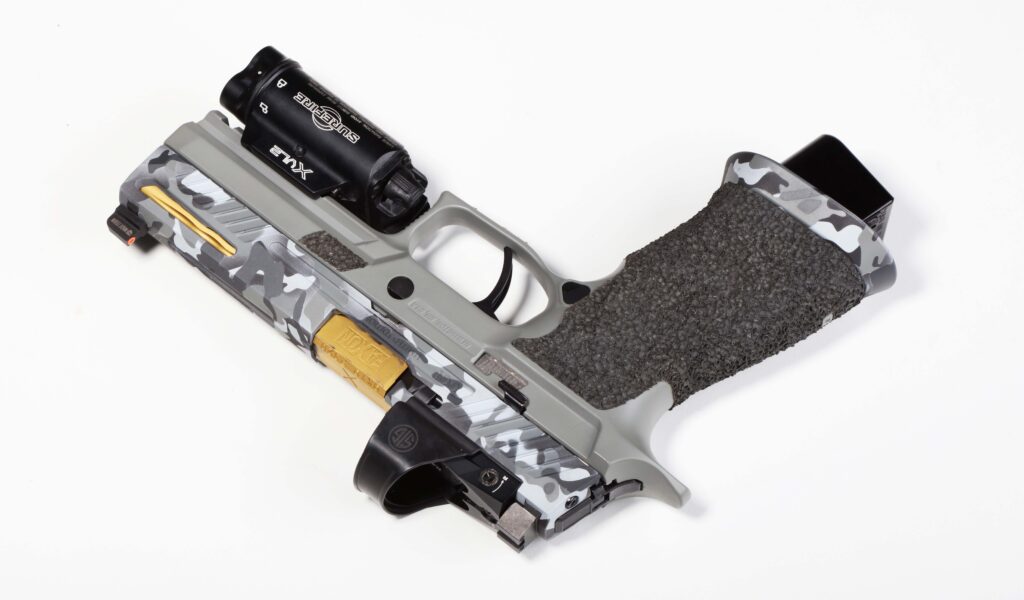 Now when we're talking about guns, there's no pistol easier to modify than a Glock. Or is there? Over the past couple of decades, Glock has become the clear leader in terms of modifiable pistols. That fact is largely due to the robust aftermarket support the platform receives. You can literally build a Glock-type pistol nowadays without using any Glock parts. That's pretty incredible.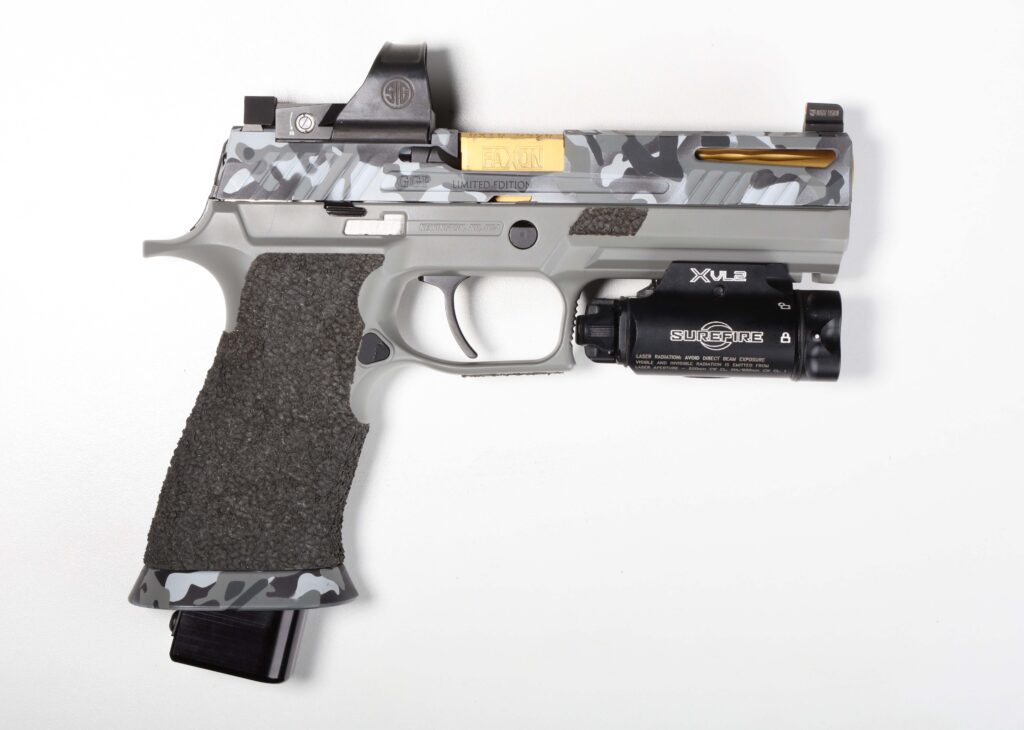 One reason the aftermarket has produced such prodigious amounts of parts for the polymer pistol is partly due to the fact that Glock itself, the manufacturer, does not. The company's stance is that it's a pistol that does not need improvement. As great as these pistols are out of the box, many users wish to improve upon them for themselves. This includes highly custom work by craftsman who reshape and re-contour the polymer frame to better fit individual shooters' hands, as well as the installation of drop-in or semi-drop-in parts like triggers, slides, and barrels.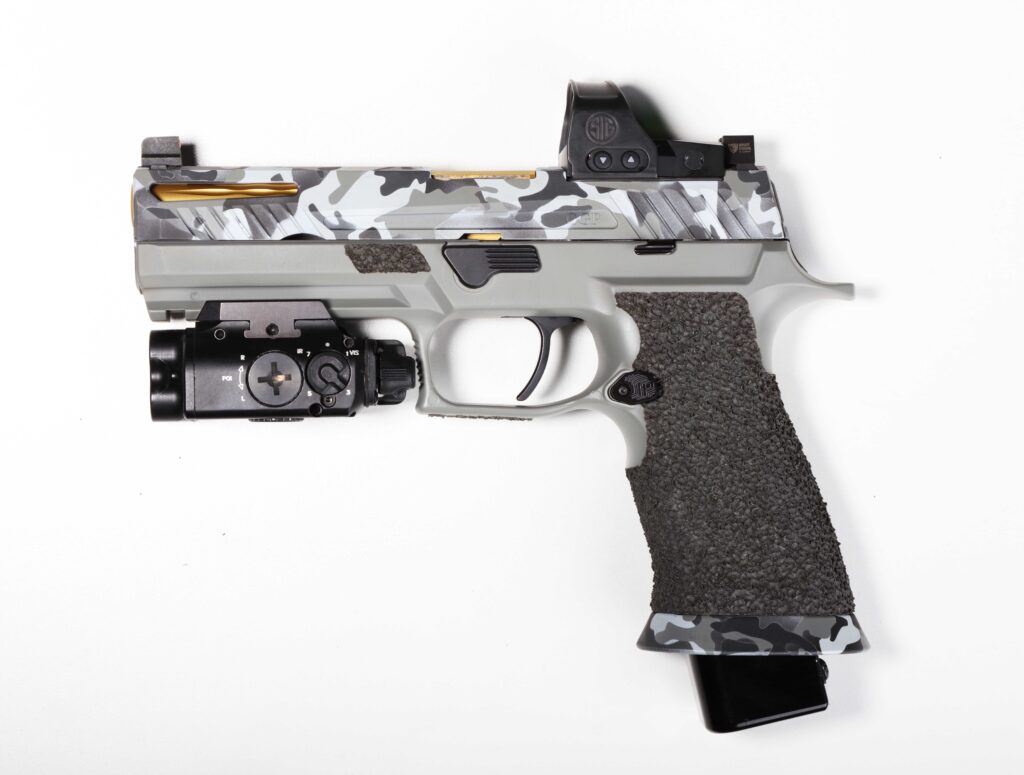 The challenge for some would-be customizers was usually the Glock's frame. The frame is the serialized part of the pistol, which means it presents one more hurdle to overcome that other parts do not. If you want a customizer to work on your frame in another state, for example, you'd have to deal with shipping it to them properly. If a mistake was made to it or it becomes lost, replacing it usually meant buying another complete pistol (as Glock does not sell frames by themselves) as well as dealing with a lost serialized part in whatever way your state of residence requires. For those looking to build a highly custom pistol, is there an alternate platform?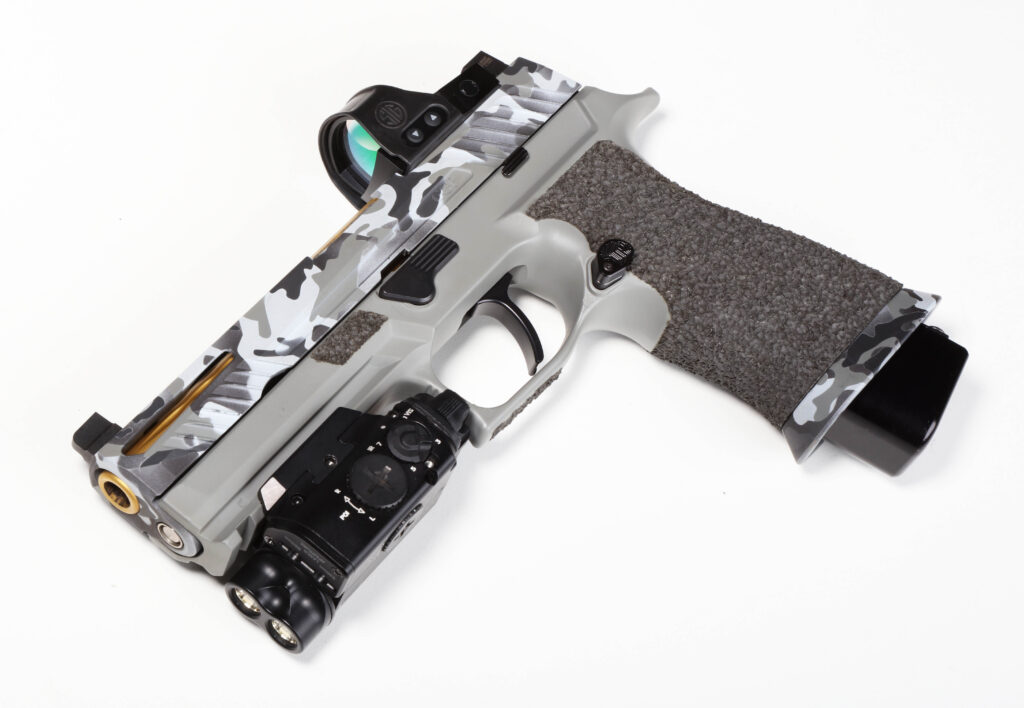 Well, there's a relative newcomer in customization-town, and its name is SIG P320. SIG Sauer's polymer-framed, striker-fire pistol clearly has Glock in its sights. The P320 is a reliable, accurate, and smooth-shooting platform that has quickly gained a loyal following, including us. In fact, SIG Sauer actually edged out Glock for a major U.S. military contract and is now nipping at its heels in the custom pistol realm.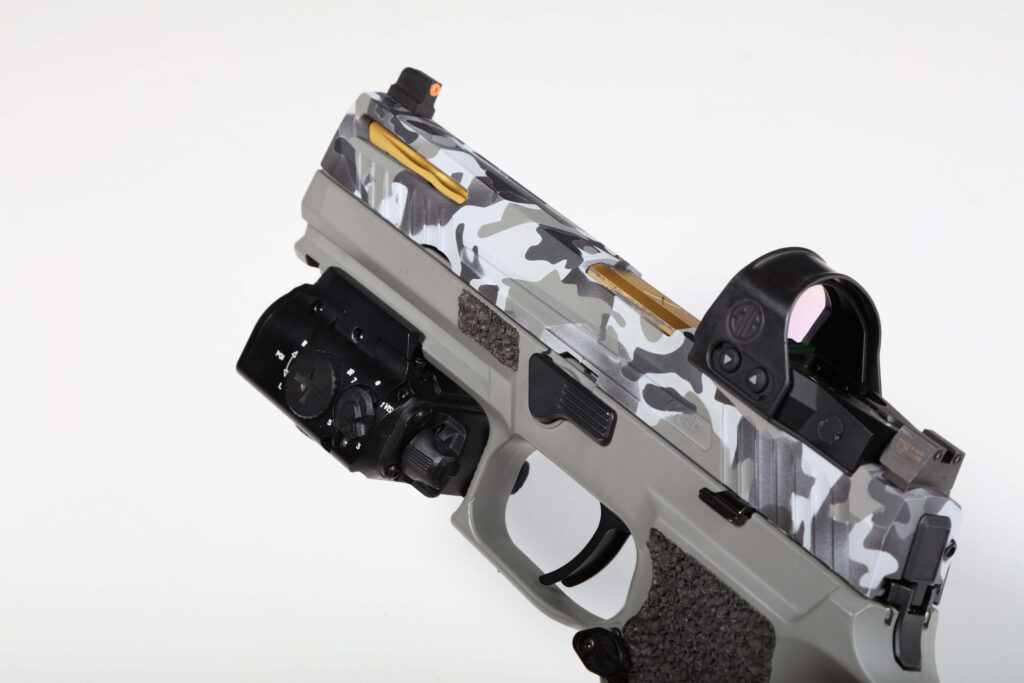 The P320 is a similar pistol in many aspects to a Glock, but for those of us with customization on our minds it clearly stands apart. We'll point out that unlike Glock's approach to modification, SIG Sauer went the opposite direction. Not only do they not mind owners modifying their P320s; SIG Sauer actively helps you do it.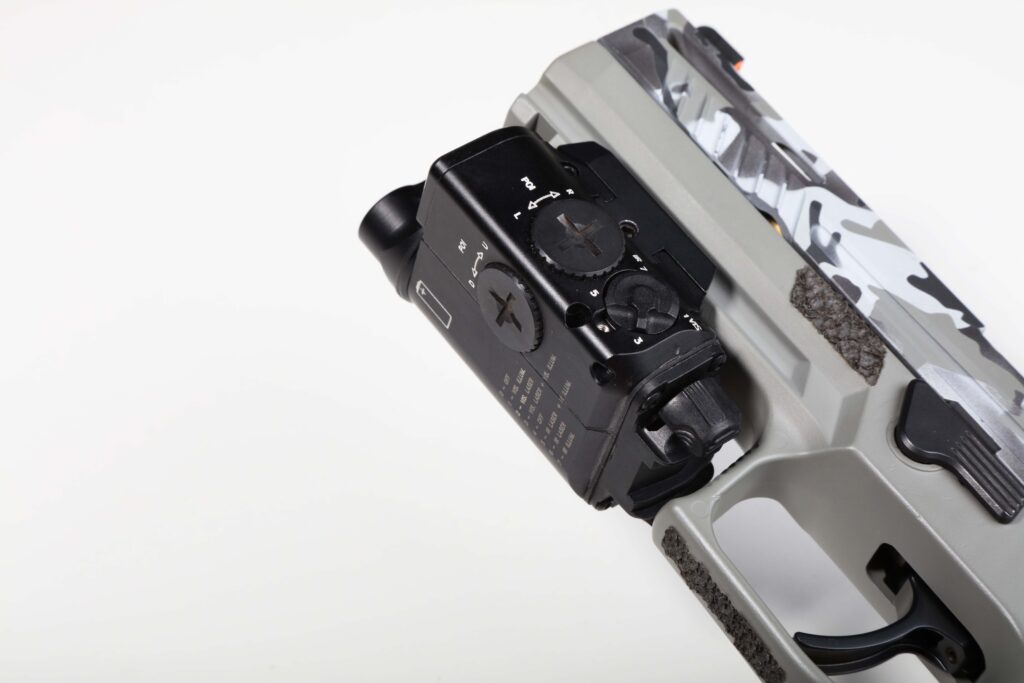 The P320 is built on a modular fire control unit (FCU), which is the serialized part, not the frame itself. This means as long as you keep the FCU you can ship your frame to a Cerakoter or stippler without worry. In fact, SIG Sauer itself sells frames (what they call grip modules), high-performance slides, and caliber change kits that include slide assemblies so you can further modify your pistol to your liking. Want a frame that's sized better for your hand? Want a lightweight slide with red dot capability? Want to change caliber or overall pistol size? Heck, want a cool-looking stippled frame? SIG has you covered direct from the factory. Understandably, the P320's baked-in modularity has the aftermarket companies excited too.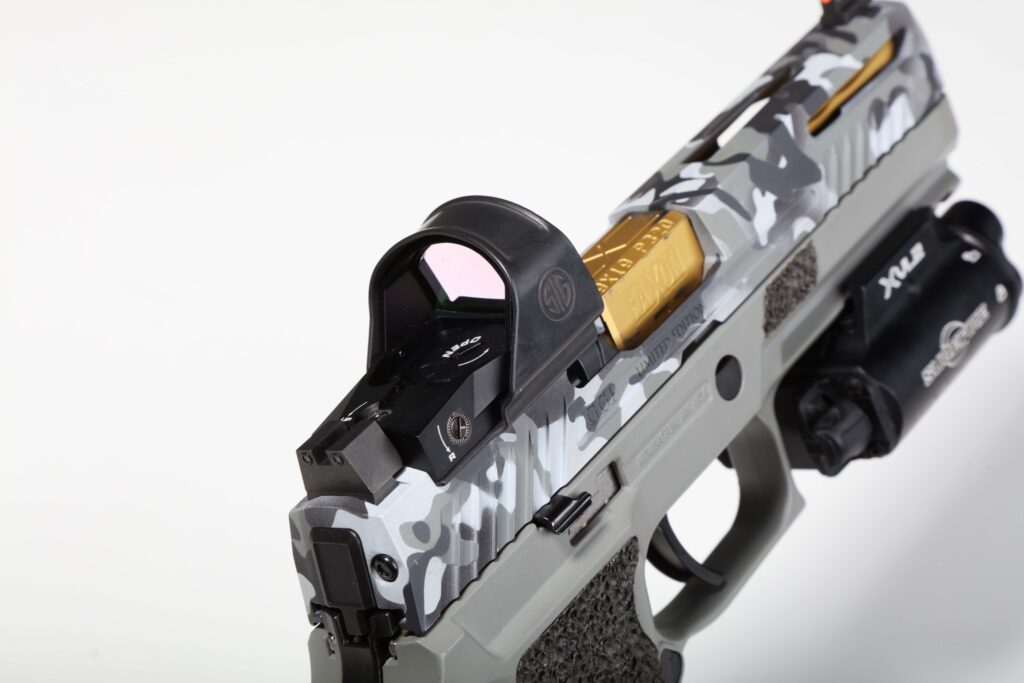 Ed Elrich, owner of the featured P320, was excited to get his SIG Sauer project going. He had already laid out plans for his urban camo pistol even before he bought it. In fact, he bought and shipped an extra SIG Sauer P320 XSeries TXG Grip Module Assembly to his stippler at Highspeed Arms for their C3 treatment and then to the Cerakoter, 313 Tactical, for work even before his pistol arrived at the gun shop. He knows custom work takes time, so he figured he'd get a head start. He chose SIG's innovative TXG Grip Module because it uses a tungsten-infused polymer that has the weight of steel and the flex of polymer. It's really interesting stuff.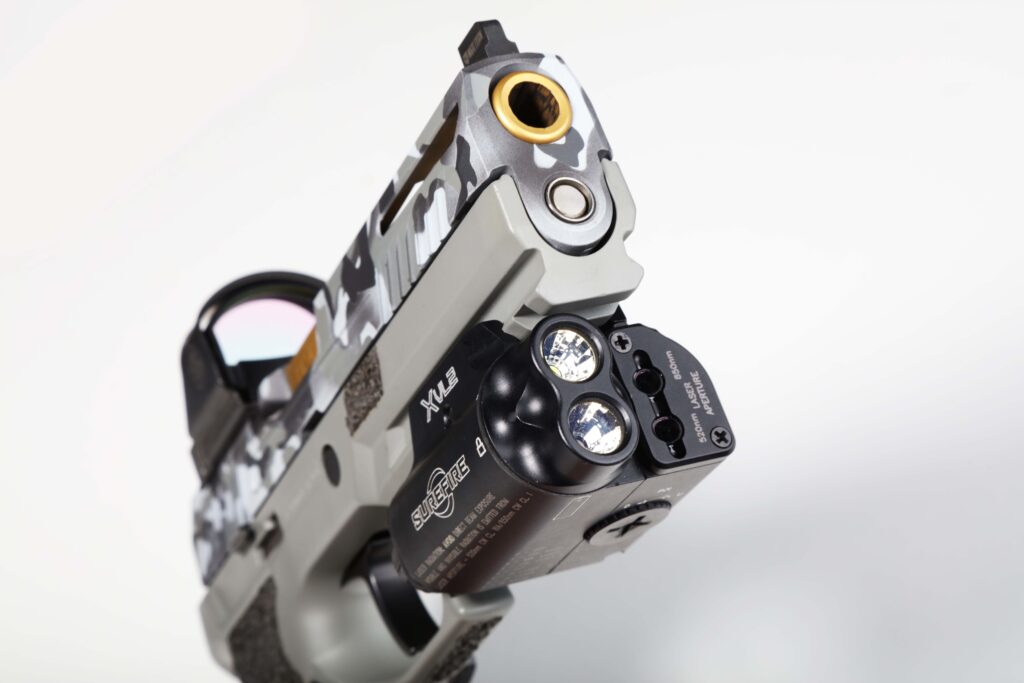 His P320 not only looks good on the outside. Its insides have been completely reworked as well. The FCU features work and parts by Grayguns, a gunsmith famed for working primarily on SIG Sauer pistols. Elrich's pistol features the Grayguns P320 Competition Hybrid Trigger System. Designed by Bruce Gray, it is an enhanced drop-in trigger package that includes a competition sear to reduce trigger weight to as low as four pounds. It lightens the trigger press to quick and accurate competition standards while still preserving all the inherent mechanical safety values.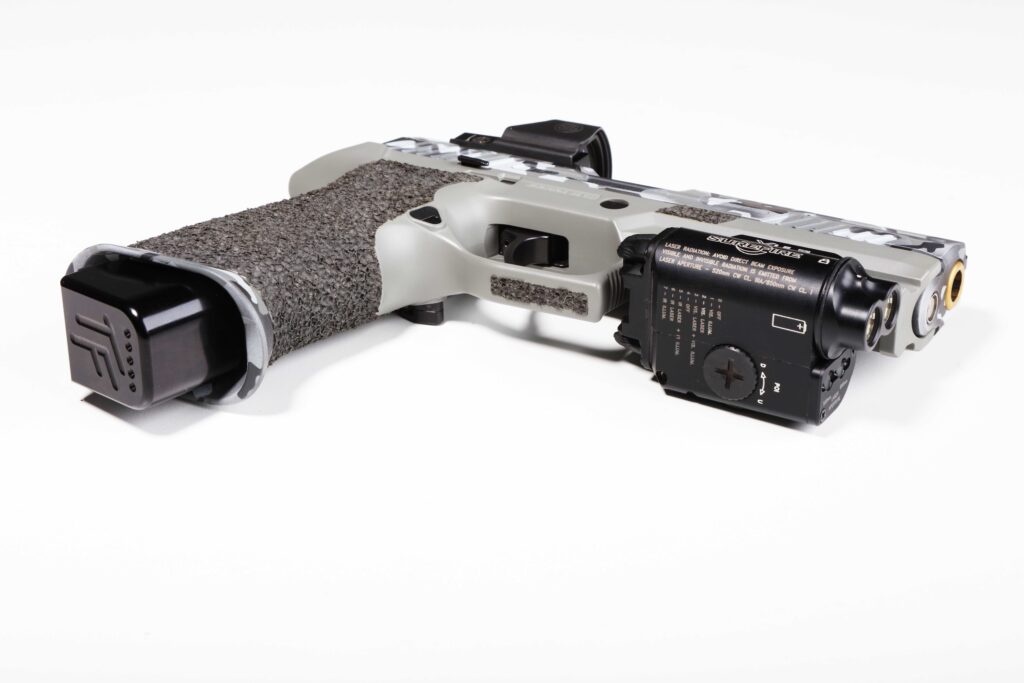 Because he wanted the smoothest trigger possible, Elrich also opted for Grayguns' Action Cleanup Perfection Service (ACP). The ACP service package includes detailed refitting, polishing, and refinishing of the pistol's internal parts for the smoothest and cleanest pulls possible, all while retaining complete reliability with defensive-grade ammunition. He reports that in line with the gunsmith's highly regarded reputation, the pistol's performance matches or even exceeds what Grayguns promised.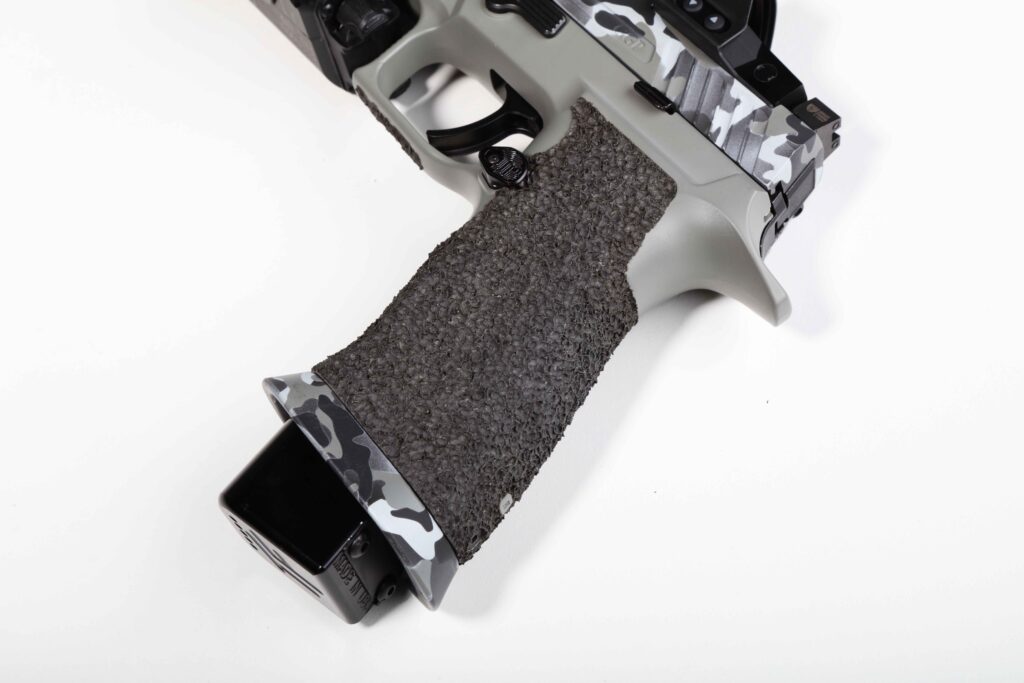 Elrich also reworked the pistol's top side. He replaced the factory slide with a unit from Grey Ghost Precision. The GGP320 drop-in slide not only offers increased grip serrations and enhanced aesthetic features, but also a red-dot-ready optic cut. The optic cuts can accommodate Trijicon RMR, Leupold DeltaPoint Pro, and SIG Sauer Romeo1. He chose to go with a SIG Romeo1PRO with a 3-MOA dot. He was also able to choose between versions of the slide that offered either aggressive serrations and window cuts or another slide pattern that offered checkered texturing with no window cuts. He chose the former option, what GGP calls Version 1.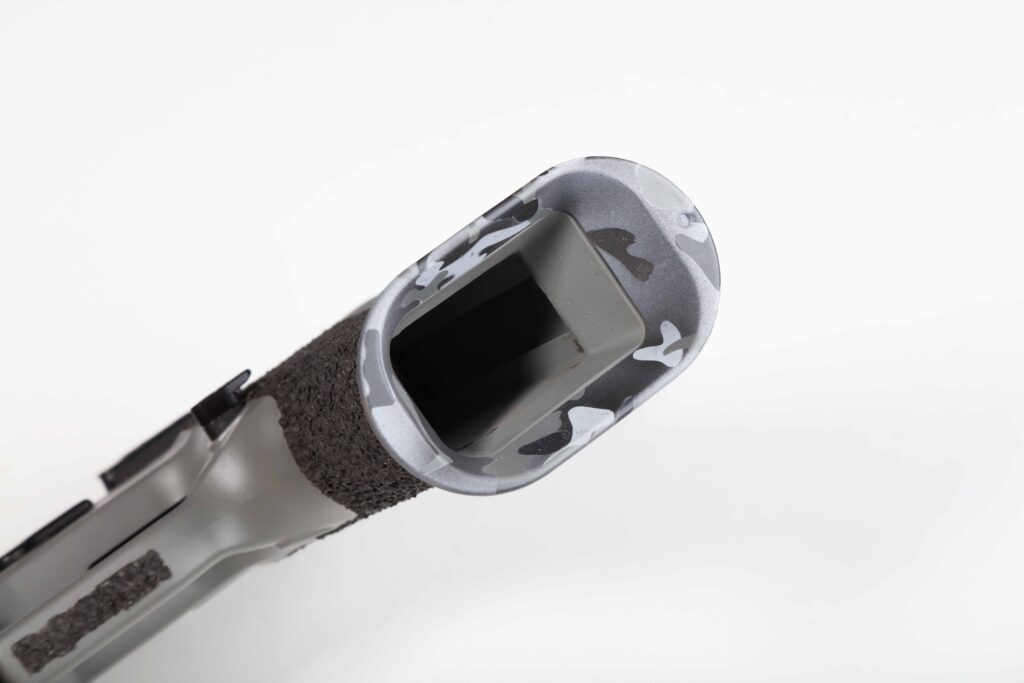 Housed inside the slide are a Faxon Firearms P320 Flame Fluted Barrel and DPM Systems Technologies Recoil Reduction System. Faxon's TiN PVD-coated stainless steel barrel features an 11-degree target crown, along with a 9mm SAAMI chamber for reliable accuracy. The company promises tighter tolerances with a drop-in installation for better barrel fitment and lock-up. DPM's recoil reduction system is a mechanical recoil rod reducer that replaces the stock recoil rod. The system works by employing three springs and a unique recoil rod to help soften the pistol's recoil.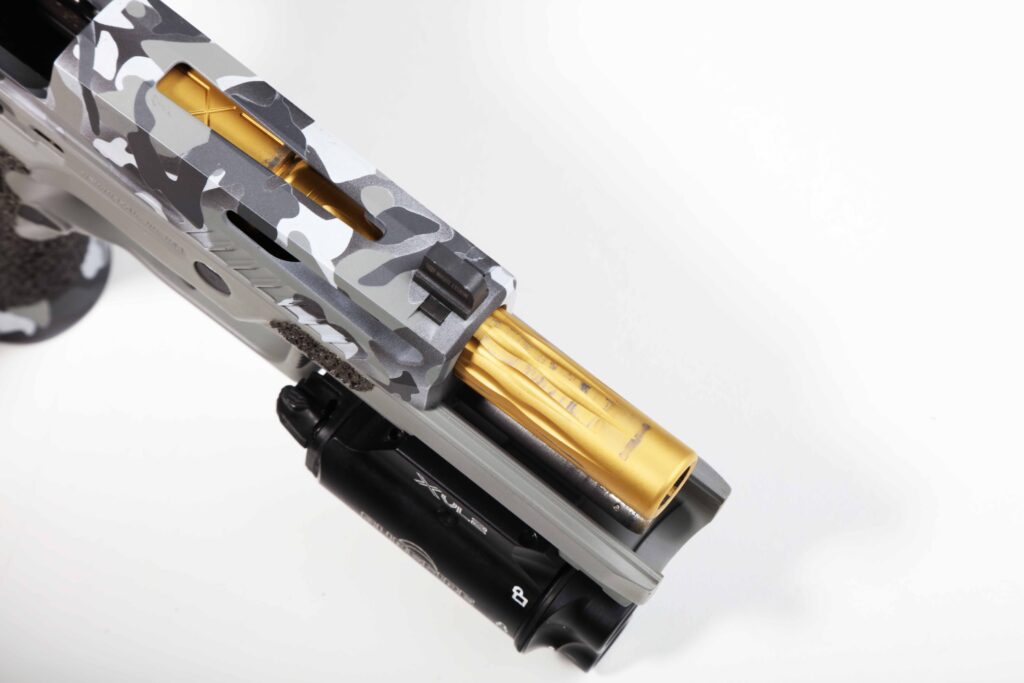 On top of the slide sits a set of suppressor-height Night Fision Perfect Dot tritium night sights featuring an injection-molded sleeve that holds the glow-in-the-dark tritium vials securely in place while creating a brighter and more durable ring.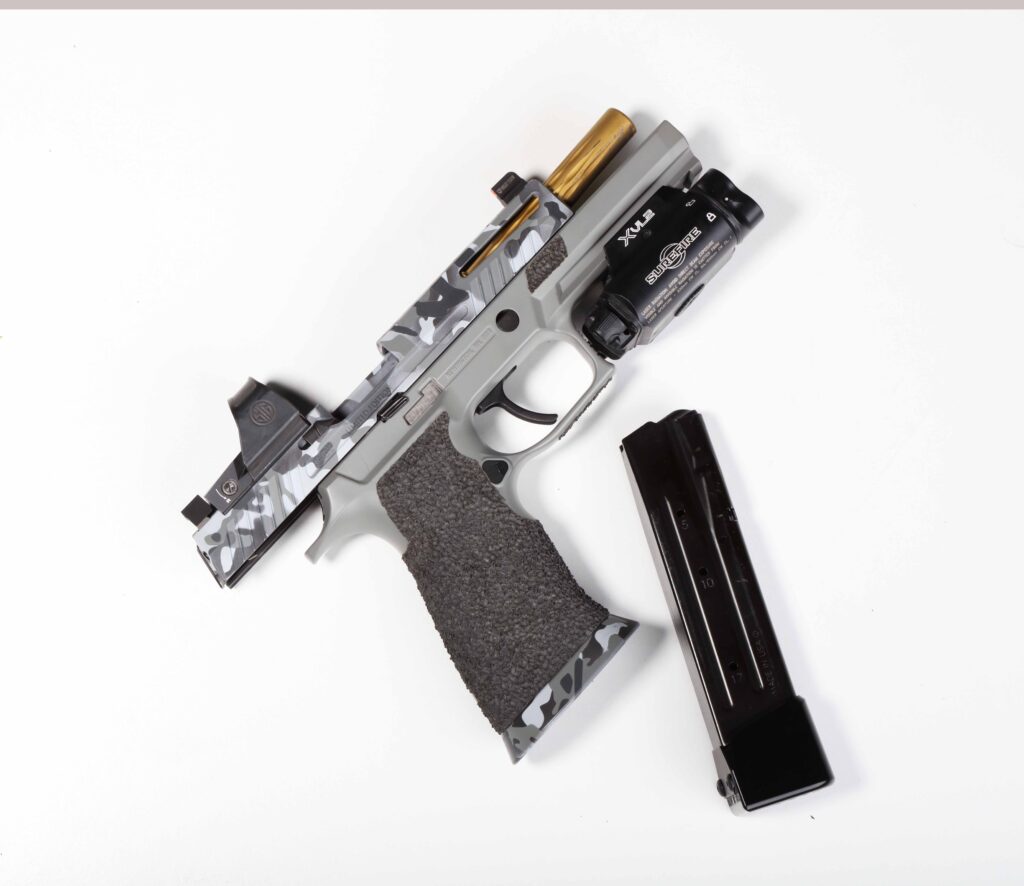 After the major mods were made, Elrich had experts at 313 Tactical do a complete MultiCam-inspired Cerakote job on the pistol. The color palette infuses multiple tones of warm grays for a sleek, urban look. Elrich reports that the coating is holding up extremely well, even after being inadvertently dropped onto sharp gravel while he was carrying it at a shooting competition.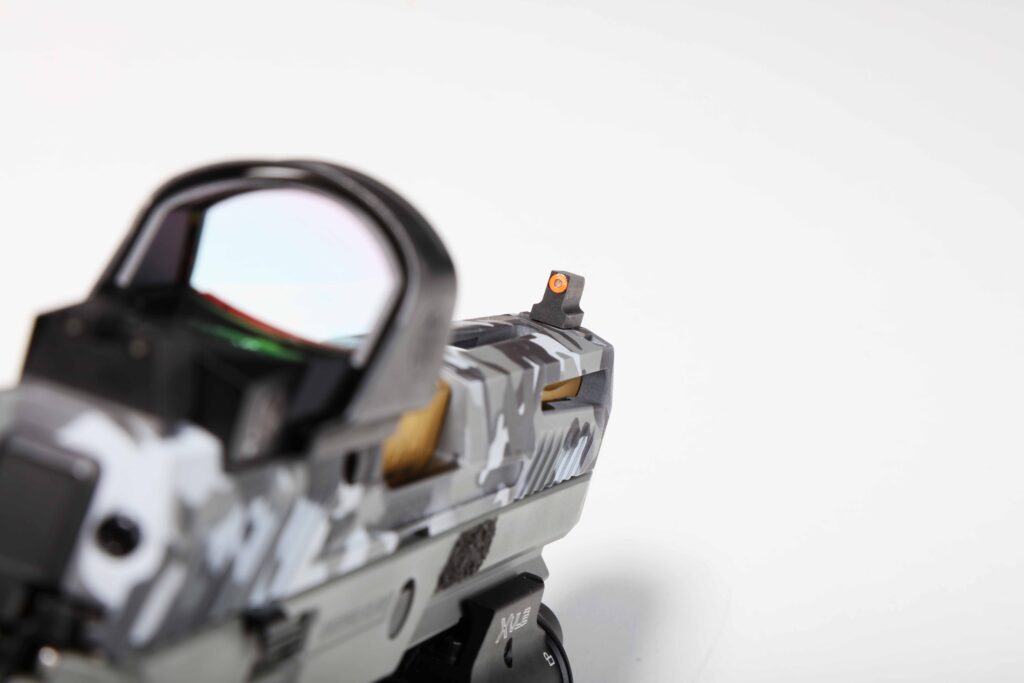 Elrich says that he had some trouble quickly getting to the stock magazine release when doing mag changes. He installed a Springer Precision extended magazine release paddle to remedy that situation. The paddle, which sweeps back perfectly to meet his thumb to easily eject mags when required, is one of his favorite upgrades. To keep his reloads to a minimum, he also opted to install the P320's mags with Taylor Freelance's plus-5 basepads. The basepads up the ammo allotment from 17 rounds of 9mm to 22 and leave the magazine with 140mm of overall length, keeping it legal for USPSA and 3-Gun competitions.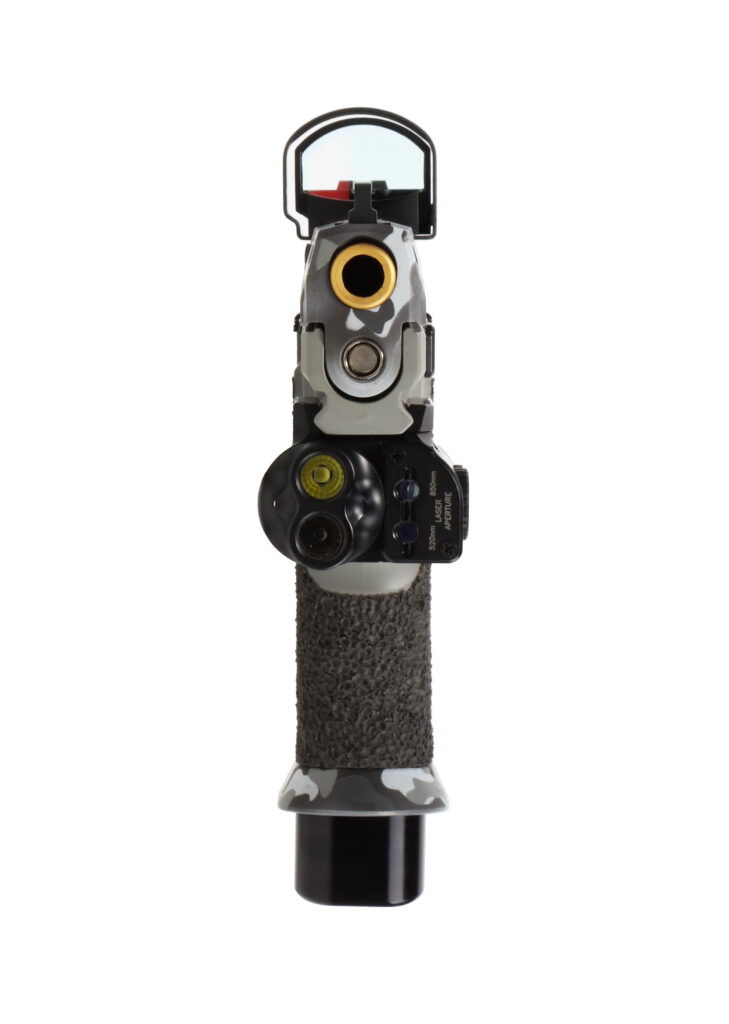 For those with tactical minds, there's little doubt you've noticed the SureFire XVL2 hanging under the muzzle end of the pistol. This combination pistol and carbine light and laser gives you just about any type of light or aiming laser that you would need in self-defense or battle situations. Elrich admits that this unit is overkill for his use, but he likes nice things—and who doesn't like nice things?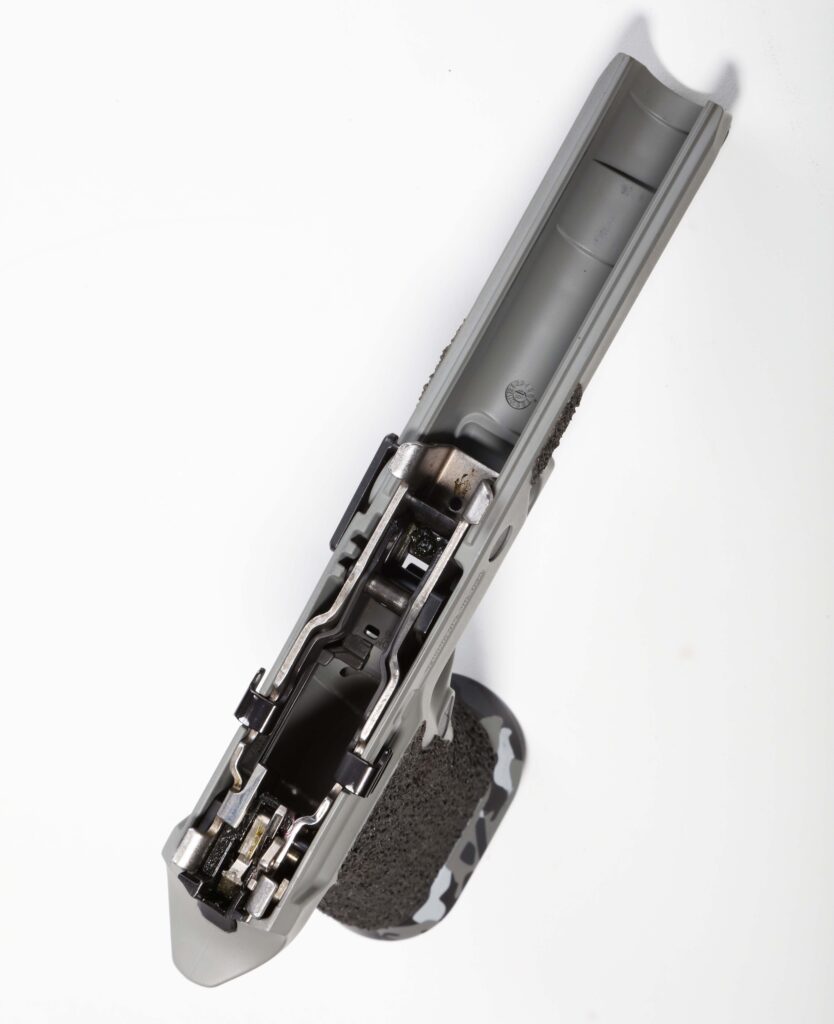 SureFire touts its technological advancements in tactical illumination as key design elements in the XVL2. The unit features SureFire's MaxVision Beam technology that shapes the illumination beam into one that's capable of providing a mix of far-ranging projected light while simultaneously emitting wide-angle illumination for fast target acquisition and augmented situational awareness. The light is paired with a co-aligned, dual-beam visible green/infrared laser module. The XVL2's dual laser/LED system generates both white and infrared light from a dual-emitter LED module. Time to grab your NODs and have some fun with this unit.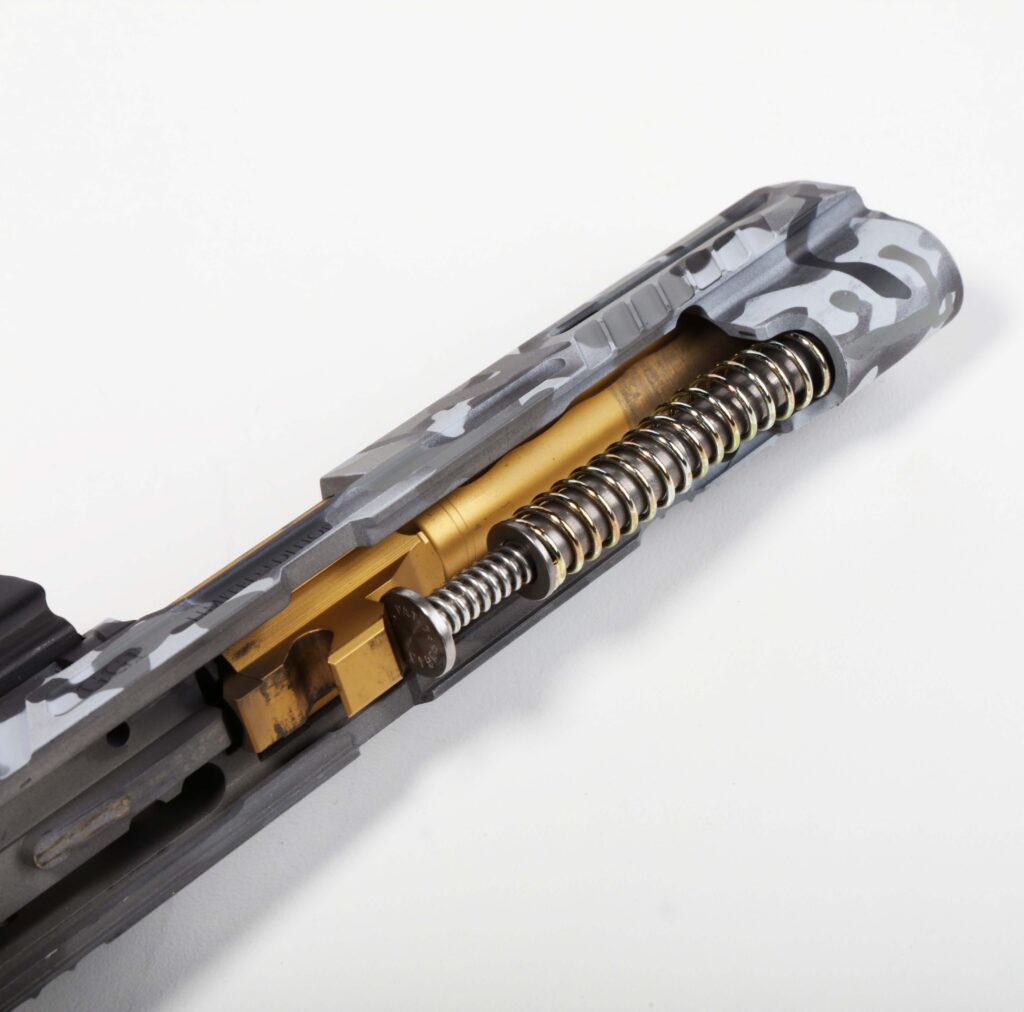 Elrich's P320 is a prime example of what a custom pistol can end up being, even if it isn't a Glock. With plenty of aftermarket as well as SIG Sauer factory options at your disposal, the only thing holding you back from creating a big-time build is your creativity. With the P320's FCU in hand, Elrich can easily swap this full-size setup to become a compact, subcompact, or even long-slide if he wished.
The sky really is the limit when customizing SIG Sauer's P320. With the ease of working on it and a seemingly unlimited parts selection, we can't help think that Glock's time as the most customized pistol may be numbered. As for Elrich, he already has a few slides and grip modules crisscrossing the country for his next few P320 builds. We can't wait to see (and shoot) them.
Text by Martin Anders and images by Michael Grey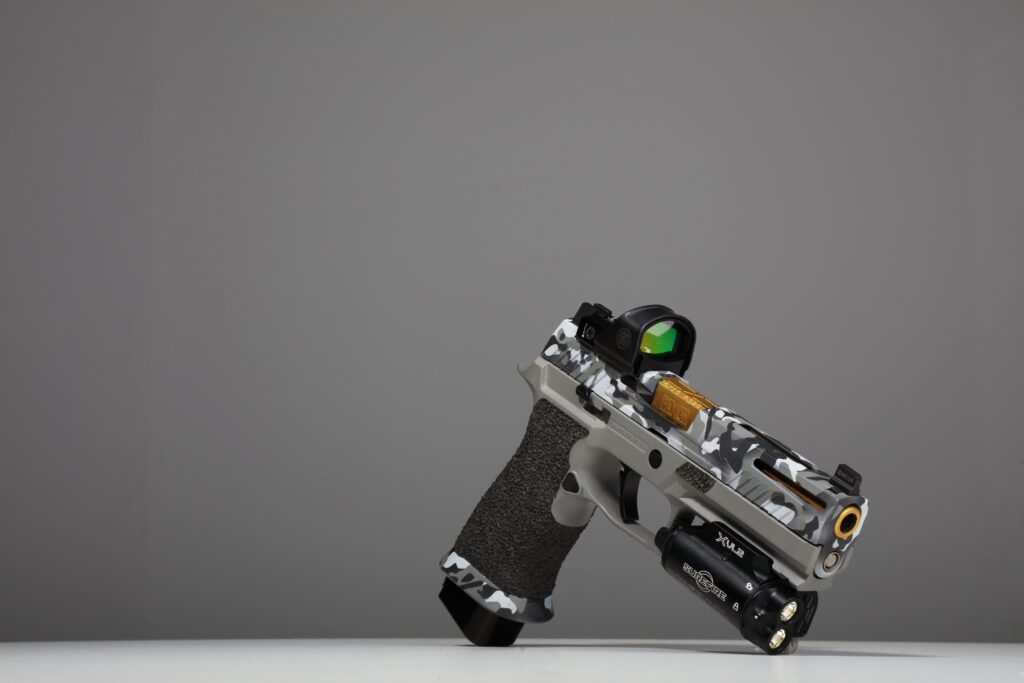 Build Sheet
Ed Elrich's Custom SIG Sauer P320
Specifications
Caliber: 9mm
Capacity: 22 + 1
Barrel: Faxon SIG P320 Fullsize Flame Fluted Barrel, Non-Threaded, TiN PVD
Overall Length: 8.25 in.
Weight Unloaded: 2 lbs, 8.7 oz.
Coating: MultiCam Hybrid Cerakote by 313 Tactical
Frame: SIG Sauer P320 XSeries TXG Grip Module Assembly
Slide: Grey Ghost Precision GGP320 Slide Full-Size Version 1
Optic: SIG Sauer Romeo1PRO 1X30mm
Featured Accessories
Grayguns P320 Hybrid Trigger System – Competition, Grayguns Action Clean Up Perfection Service, SureFire XVL2, Night Fision Perfect Dot Tritium Night Sights – Suppressor Height, Taylor Freelance SIG plus 5 Basepad w/ Spring, Springer Precision SP P320 9/40 Extended Magazine Release Paddle RH, DPM Systems Technologies Recoil Reduction System, High Speed Arms C3 Stippling
About the Owner
Name: Ed Elrich
Occupation: Aerospace production manager