Built on Quentin Defense ARQ-9 billet receivers
Chambered in 9mm
5.5-inch barrel
If you haven't noticed by now, we are living in a Golden Age of firearm customization. There are more gun enthusiasts customizing their firearms to greater and greater extents than at any other time in the past. This wasn't always the case.
Only about a decade ago, spraying your rifle any color other than an earth tone could have brought you ridicule. "Battle worn" weathering was also a look that was mocked by many. Thankfully, tastes have changed and people are now freer than ever to express their creativity through their customized guns.
When you scroll through the social media image feed on your smartphone, you will undoubtedly see a host of customized guns. Some might be executed better than others, but all have a certain personality to them. After seeing so many custom guns, it takes one with a little more style to get us to stop and notice it.
Of course, some custom-built firearms do seem to jump out at you more than others. There are plenty of reasons for this, but one thing we noticed is that some people just have a knack for creating works of art out of an assemblage of parts. Perhaps they're blessed with an artistic eye or a creative mind, or both. Whatever the case, we applaud these creators.

One such person is Jay Canter, the mind behind the AR9 pistol pictured here. The Mesa, Arizona, based professional photojournalist clearly has an eye for aesthetics. He's created plenty of custom builds, all of which are as much eye candy as usable tools. The AR9 is one of his latest builds and is meant to act as both a home defense weapon and an all-purpose truck gun. We caught up with him and asked him about the build and what challenges he may have encountered when putting this fantastic looking pistol together.
Regarding this build's challenges, Canter says, "With pretty much all the custom designs I come up with, there are challenges. That's part of what makes it fun to try out new parts and see what works and what doesn't. The real challenge, typically, for me stems from the question: What is the purpose of the build besides making something cool?"
Canter goes on to talk about a specific problem he faces when creating a new AR. "One of the main challenges with almost every handguard manufacturer is they do not extrude their own pieces," he says. "They're doing their designs on a piece that was already started. I totally understand why they do this, but when you are a builder/manufacturer and want to put a suppressor inside a handguard, this makes it nearly impossible. Very few companies make the inner diameter large enough for a suppressor, and unfortunately most of the time those handguards are not the most aesthetically pleasing."
He continues: "So with this build choosing to not go suppressed and being able to find a muzzle device that fits perfectly inside the chosen handguard was a bit of a challenge. Then other main challenge was finding a talented Cerakoter who could do pretty much anything I thought up, along with any color. Coming up with new color palettes and patterns is tougher than it is to actually execute."
While the design concept, parts selection, and assembly was completed by Canter himself, he relied on a frequent collaborator of his, Wes of FS Defense in Chino, California to get the pistol coated in a custom camouflage scheme. It's certainly a sharp looking piece.
The AR9 is based on a Quentin Defense ARQ-9 billet receiver set. The upper and lower receivers are manufactured from aerospace-grade 7075-T6 billet aluminum and feature plenty of innovative features such as takedown and pivot pins that can be inserted from the right or left side and an extended magazine catch lever. The lower accepts Glock-style magazines. It's also possible to build for calibers other than 9mm, such as .40 S&W, from this receiver set, with the proper upper receiver components
The upper receiver is fitted with a 5.5-inch Rosco Manufacturing Bloodline barrel that's made of 4150 CMV steel and features a medium-profile and 1:10 twist. It is housed in a Lead Star Arms 7-inch LSA M-LOK handguard, a free-float piece that weighs a scant 4.2 ounces.
A 1.4-inch diameter Kaw Valley Precision XL Pistol Caliber Linear Comp sits on the barrel's tip. Its long, 4.25-inch length allows for excellent blast control and also allows for the use of longer handguards in short-barreled pistol-caliber rifle and pistol builds. Driving this setup is a 9MM Blowback AR-15 Enhanced BCG made by Battle Arms Development. The BCG is compatible with both Glock and Colt style magazines and features a reliable AR-15 style extractor claw with an O-ring and spring for reliable functioning.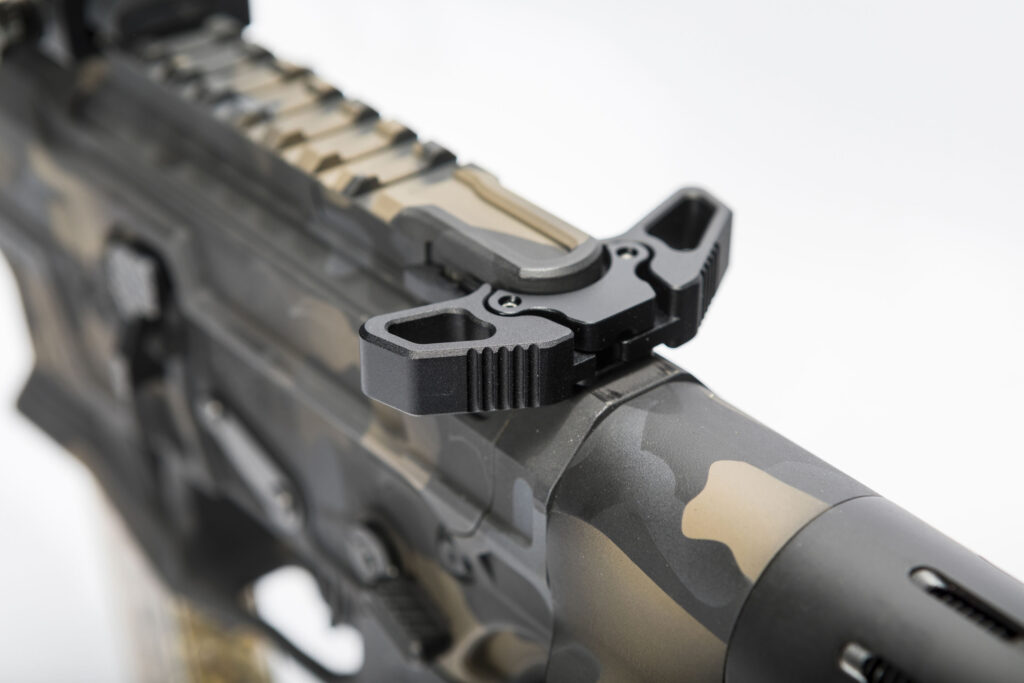 For the charging handle, Canter looked to Radian Weapons' Raptor to do the job. The ambidextrous Raptor is a favorite of many AR users. And you undoubtedly have noticed the sharp-looking hand stop that is mounted on the handguard's underside. The Tyrant Designs CNC HALO has the dual capability to directly mount to either M-LOK or KeyMod slots.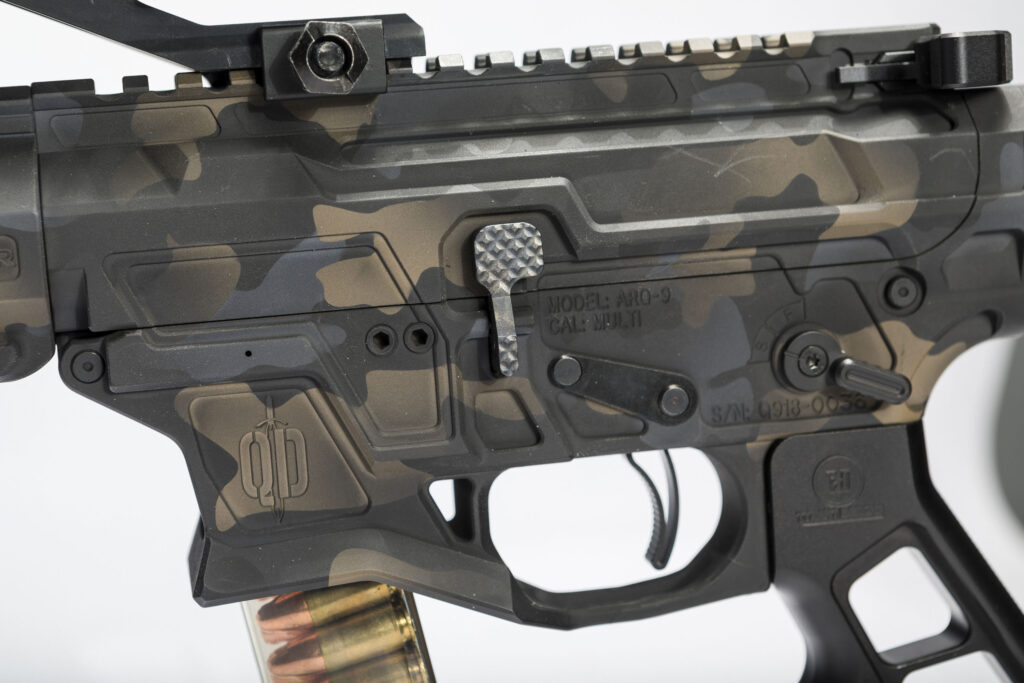 For quick and accurate targeting, the AR9 is topped with a Bushnell Elite Tactical CQTS 2.0. The CQTS 2.0 is Bushnell's flagship red dot and features four user-selectable reticles. Reticle selection includes a 3 MOA dot, a circle dot, crosshair dot, and circle crosshair dot. Battery life for this optic is rated at 50,000 hours.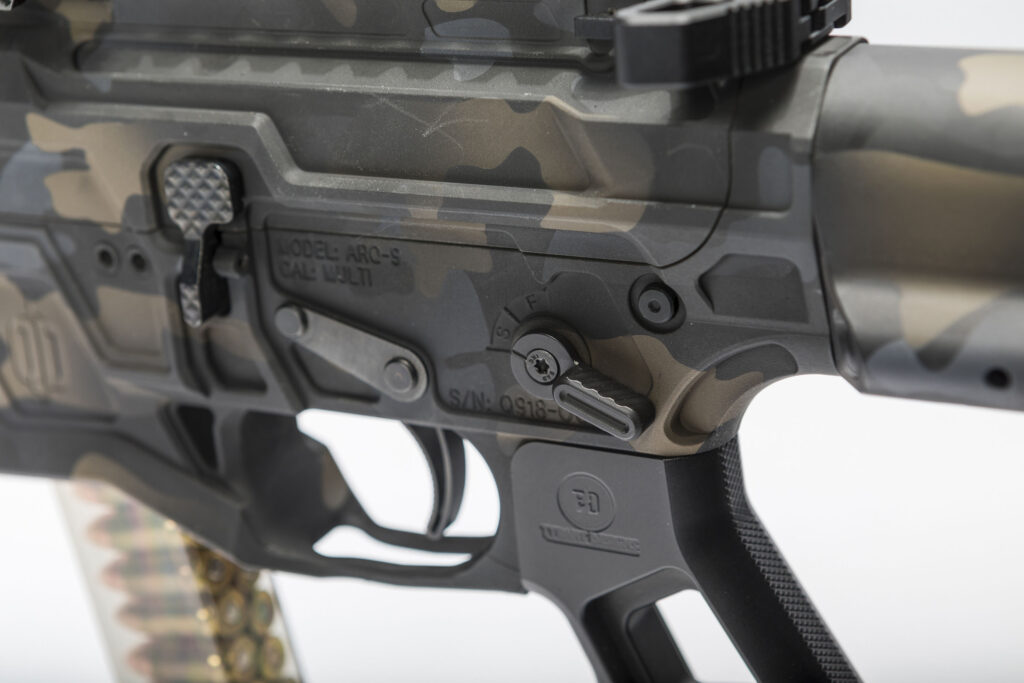 We discovered plenty of top-quality parts on the AR9's lower half, such as Strike Industries' highly anticipated PDW stabilizer. The pistol stabilizer allows the user to collapse or retract the stabilizer, similar to PDW's buttstock. A drop-in trigger and anti-walk pins from Elftmann Tactical help complete the lower assembly. The ELF AR-9 trigger was developed specifically for 9mm and .45 PCC platforms. Interestingly, its pull weight can be adjusted from 4 pounds to 2-3/4 pounds without removing the trigger from the lower. Owners of SIG's MPX might like to know that the ELF AR-9 trigger is also compatible with that gun.
We asked Canter which of the components he thought stood out the most form this AR9. "The Quentin Defense receiver set is one of the most beautiful pieces available on the market, and it's manufactured here in Arizona," he answered. "The trigger as well, it has a perfect break every time and has a great finger feel. It is also made here in Arizona." Canter adds: "Finally, the Strike Industries PDW stabilizer brace. So much R&D and time went into getting these to market, being allowed to obtain one of the first available made it an honor. Once it showed up, it made the long wait totally worth it."
We also asked if he has any tips for readers that want to create their own custom builds. "There is really no magic sauce with this AR9," he says. "I just picked some really amazing parts from some amazing companies to come up with something original and unique. If you just need something 'off the shelf' for your needs, then that's what you should do to exercise your 2A rights."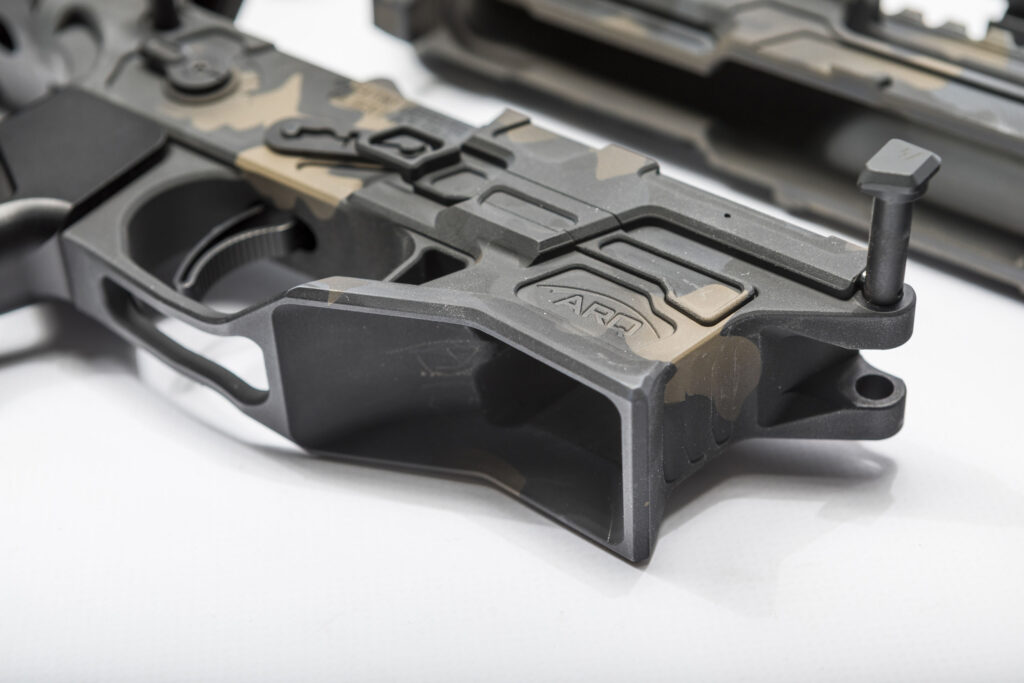 "Customizing guns is just like customizing vehicles or even homes," he adds. "It is a great extension of your own personality, which makes it more enjoyable of a lifestyle/hobby albeit not always practical or financial wise."
We couldn't agree more.
Text by Martin Anders and images by Jay Canter
Jay Canter's AR9 Pistol
Caliber: 9mm
Length: 22.5 – 25.5 in.
Barrel: Rosco Manufacturing Bloodline 5.5 in. 9mm
Weight w/o magazine: 5 lbs., 13.6 oz.
Upper & Lower Receivers: Quentin Defense ARQ-9 Billet Receiver Set
Coating: Cerakote by FS Defense Cerakote
Featured Accessories:
Optic: Bushnell Elite Tactical CQTS 2.0
Handguard: Lead Star Arms 7" LSA M-Lok
Brace: Strike Industries PDW Stabilizer
Magazine: ETS Clear Glock 18 – 31 Round
Parts & Accessories: Kaw Valley Precision XL Pistol Caliber Linear Comp, Battle Arms Development Enhanced 9mm BCG, Radian Weapons Raptor charging handle, Tyrant Designs CNC Halo hand stop, Strike Industries Buffer/Buffer Spring, Strike Industries Buffer Tube, Elftmann Tactical ELF AR-9 Drop-In Trigger, Elftmann Tactical AR-15 Non-Rotational Anti-Walk pins, Strike Industries Takedown Pins, Battle Arms Development BAD-ASS-SSL Ambi Safety Selector Stainless Steel, Seekins Precision Enhanced Bolt Catch, Tyrant Designs CNC Titan pistol grip
About the owner:
Name: Jay Canter
Social: IG & FB – Jay Canter Photography
Occupation: Professional Photojournalist, creative mind
Special Thanks: My amazing wife and graphic artist, Rebecca "The Design Sergeant" (IG @TheDesignSergeant) not only for being an amazing woman, but for her support no matter what crazy ideas I come up with and for the service she devoted to the country for over a decade. Also all the amazing companies I have built relationships with in the industry, who share the visions I have for builds and want to be part of them—on this AR9 pistol and beyond.