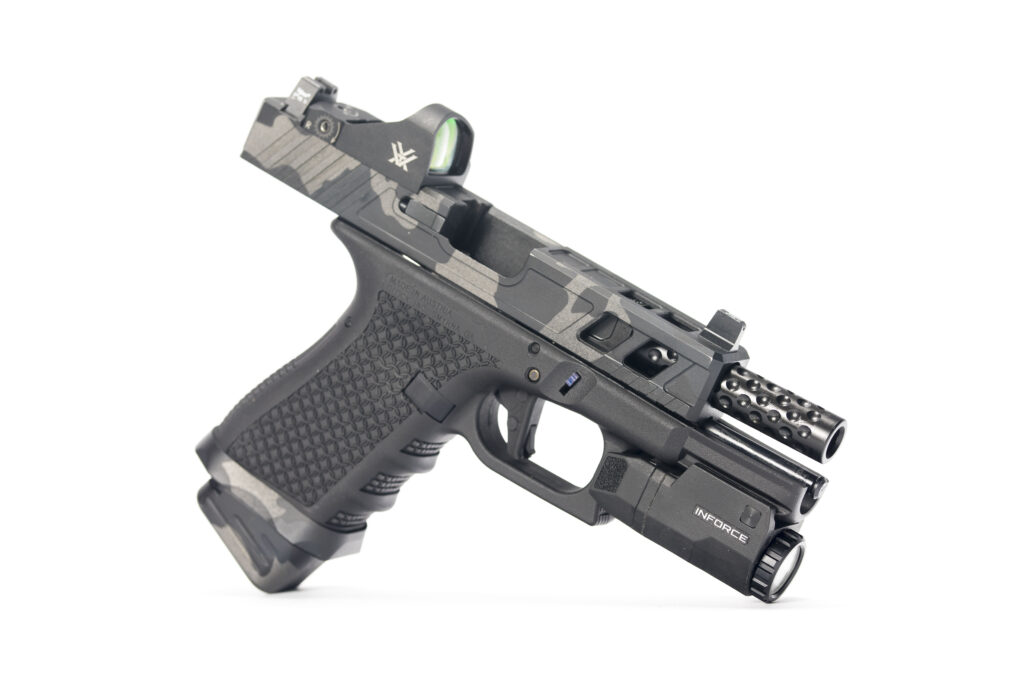 There are those of us who opt for basic, no-nonsense protection and those of us who consider extensive pistol customization as a part of the "basic" defensive package. Count Mr. Fischbach, the owner of the featured pistol, as one of the latter. For him, simply carrying a factory-stock pistol is not an option.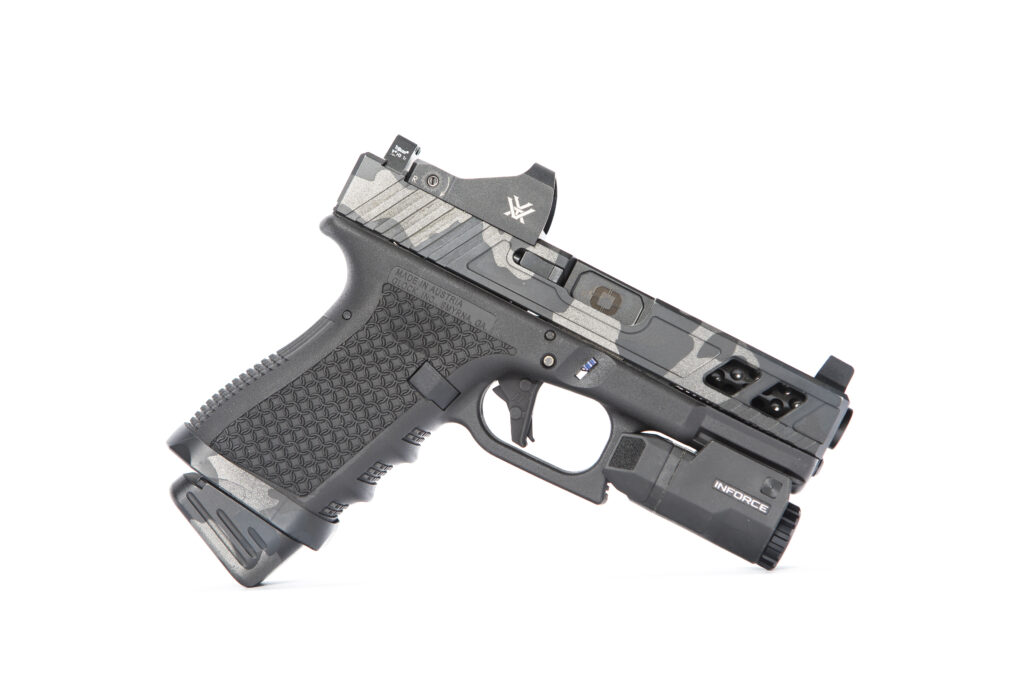 There's no arguing that even in its stock form the Glock 19 has a legendary reputation for being a reliable and effective CCW pistol. Yet the allure of a custom G19 is understandably hard to ignore. In terms of function and form, the pistol, when customized, can definitely be improved upon.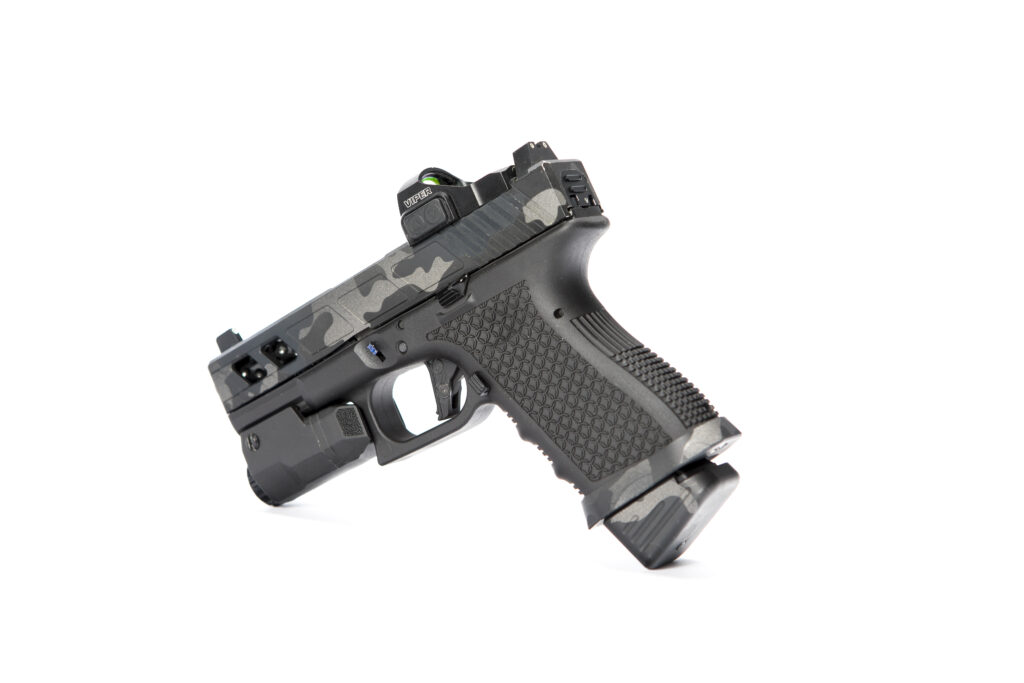 Looking to improve his self-defense carry pistol, Fischbach entrusted his Gen 3 Glock 19 to the hands of Jay Canter, a gun photographer by trade and a custom gun builder by passion. Canter took us through the modifications performed to Fischbach's carry pistol. He informed us that the goal of this build was to improve several elements including quicker target acquisition, improved controls, and increased grip traction. Making it look a bit sexier was also a consideration.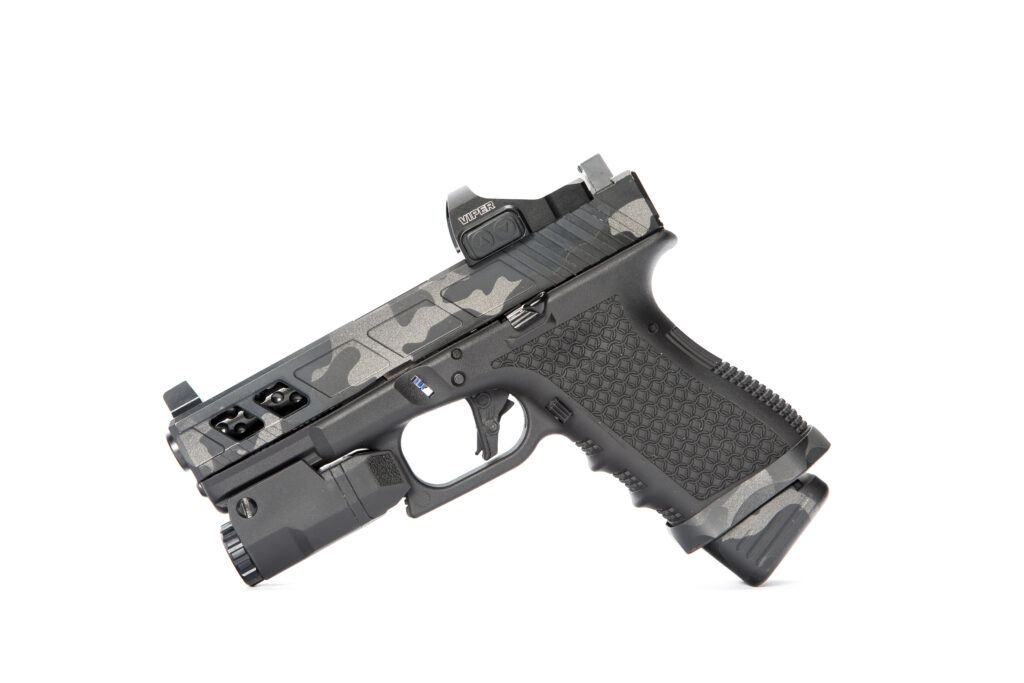 Starting at the top, the factory slide was replaced with an Alpha Shooting Sports Alpha Marksman V4 slide. This aftermarket slide adds lightening window cuts, additional serrations, and a provision for a red dot optic. In this case, a cut for the Vortex Viper was chosen. The Viper features a 6 MOA red dot and is co-witnessed and mounted between a set of a Trijicon suppressor-height night iron sights. The sight combination is much improved over the plastic sights of the factory slide.

The slide was completed with a beautifully dimpled Shadow Systems Match Barrel. The drop-in barrel is DLC-coated for durability and precision-machined to fit tight in critical lockup areas for improved accuracy. The slide uses springs from KE Arms and a slide cover plate from Strike Industries. The rest of the internals, including the recoil spring assembly, are OEM Glock G19 parts from GlockStore.
The slide isn't the only part that has seen a dramatic transformation. The G19's lower portion has been completely overhauled to meet Fischbach's requirements as well. Starting with the stock Gen 3 frame, the trigger has been replaced by a unit made by ZEV Technologies. The ZEV Pro Flat Face trigger includes a replacement trigger bar designed to reduce travel and provide a crisp trigger pull while keeping the factory Glock safety provisions intact.
The controls have also been upgraded to further increase the frame's utility. Most noticeable is a Ghost Inc. G3 extended magazine release, which is extended to a more useful dimension and features beveled edges that help eliminate potential snags. The extended slide lock by Boogeyman Customs is made of titanium and finished in an eye-catching blue. Most of the internal parts were replaced with fresh OEM Glock components sourced from GlockStore.
The magwell is slightly enlarged but kept svelte enough for carry considerations thanks to a carry magwell made by KE Arms. In it sits a factory Glock magazine enhanced by a KE Arms magazine basepad. This extended basepad adds two more rounds to the stock 15-round capacity.
It's an unfortunate fact that unexpected encounters can happen at any place and at any time. To this end, Fischbach decided to add a weaponlight to his pistol. After looking around for one that fit flush with the Glock 19's muzzle end, he finally decided on a Inforce APLc.
The "c" in APLc stands for "compact," and it really shows when the light is slung underneath the front end of a G19. The light truly sits flush and provides 200 lumens of vibrant white illumination when called upon. It's rated for up to 1.5 hours of runtime, giving the user plenty of battery life. The polymer-housed light weighs just two ounces, which makes it almost negligible in terms of added mass. The waterproof ALPc also has textured paddles for a non-slip grip and ambidextrous on/off switches that allow for left- or right-handed activation.
With all the pistol's parts collected, they were divided up and sent off to two customizers that lent their creative hand and added so much more to this G19's unique identity. The frame landed at 2A Tactical LLC in Gilbert, Arizona. The laser specialists there covered the frame's grip surfaces with an all-over laser stippling job that provides enhanced grip while giving the frame a tastefully refined look. The laser work also has a nice depth to it that makes it look factory-issue in terms of quality. We really dig the overall aesthetic.
The slide, magwell, and magazine basepad were sent to FS Defense in Chino, California, for a light dusting of Cerakote. The subdued gray camouflage pattern lends an upscale yet subtle touch. Of course, the coating not only looks great but also protects the pistol from the daily wear a CCW pistol inevitably sees.
From the beginning, Fischbach was looking to add some subtle improvements over the stock Glock 19 and it certainly looks like that's what was delivered. According to him, the upgrades performed on this G19 check all the boxes: quicker targeting, improved controls, better grip traction… check, check, check. And about a sexier look? He says double-check on that point. How fancy one upgrades a daily-carry weapon is always up to that individual, but from the look of things here, it would be hard to turn down carrying this piece.
Text by Martin Anders and images by Jay Canter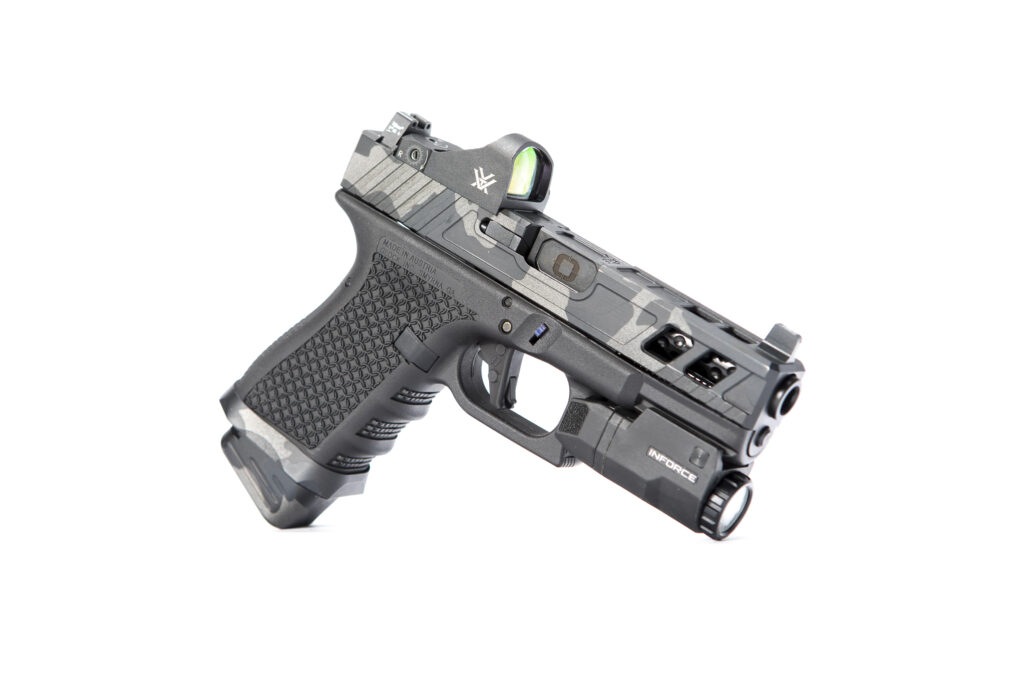 Build Sheet

Customized Glock 19
Specifications
Caliber: 9mm
Overall Length: 7.4 in.
Weight Unloaded: 1 lb, 6 oz.
Barrel: Shadow Systems LLC Match Barrel, Dimple-Fluted
Coating: Cerakote by FS Defense
Laserwork: 2A Tactical LLC
Featured Accessories
Slide: Alpha Shooting Sports Alpha Marksman v4
Trigger: ZEV Technologies Pro Flat Trigger
Optic: Vortex Optics Viper Red Dot (6 MOA)
Sights: Trijicon Suppressor Height Night Sights
Weaponlight: Inforce APLc
Parts & Accessories: Ghost Inc. Extended Tactical Mag Release, KE Arms Magazine Basepad +2, KE Arms Carry Magwell, Boogeyman Customs Blue Titanium Extended Slide Lock, Glock Store OEM Parts, ZEV Technologies Pro Connector, Strike Industries Slide Cover Plate v2, KE Arms Slide Service Kit