There are literally tons of options to choose from when looking at ear protection. And all of these options have options, too. Military, law enforcement, and other professional organizations have a duty to provide their personnel with adequate hearing protection and communication equipment. We don't know a single current or former infantryman or LEO who is not suffering from some level of permanent hearing damage (including, but not limited to, tinnitus and hearing loss). It's a serious problem considering hearing damage/loss can contribute to neurological issues. The GWOT has seen myriad advancements in battlefield technology. Ear-Pro and communications equipment are light years ahead of where they started in 2001. Perhaps the greatest leap forward is in the form of the new Ops-Core AMP Communication Headset.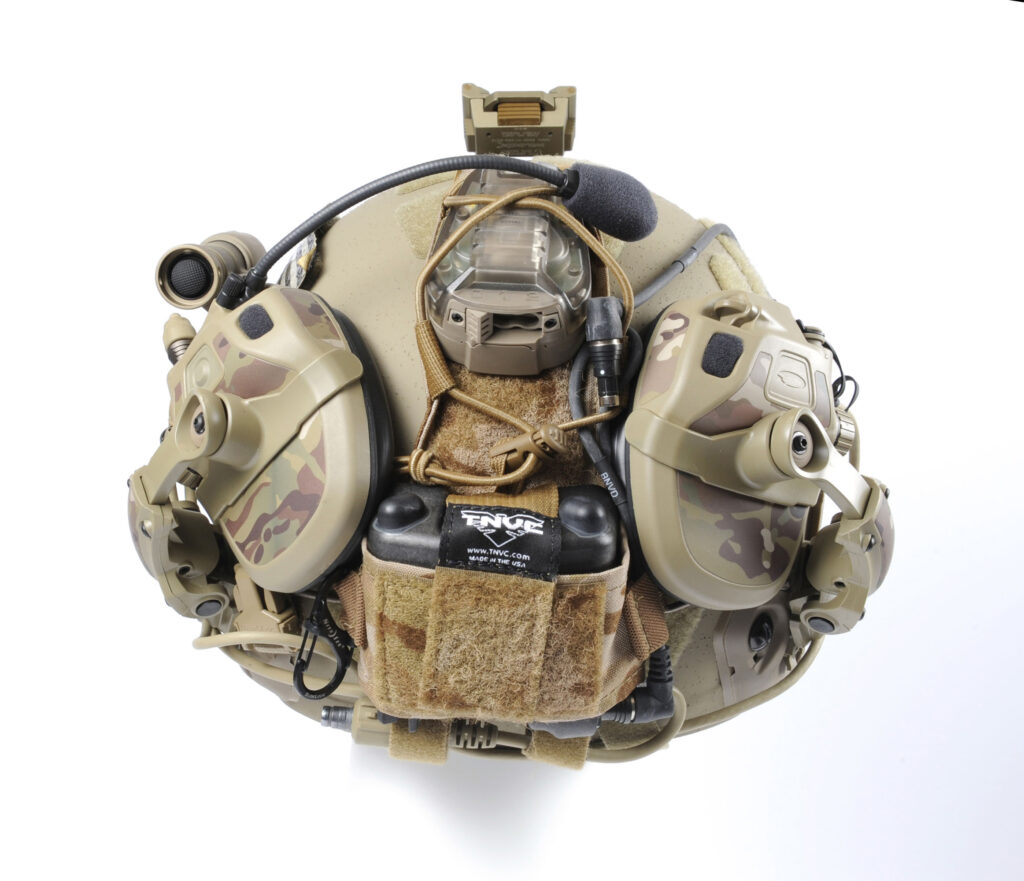 The OG War on Terror comms headsets were absolute Gucci kit back in the day (then again, so was a weapon light with 60 lumens of blinding fury). Headsets by 3M/Peltor and MSA/Sordin ruled the market, giving warfighters and SWAT officers the ability to merge electronic noise-canceling technology and radio communications. Electronic noise canceling immediately subdues sounds over a certain decibel to a hearing-safe level. Meanwhile, sound at hearing-safe levels is transmitted normally (albeit somewhat metallically). These headsets could be factory configured or retrofitted with an audio package that allowed radio connectivity through a PTT (Push To Talk) switch. PTTs were radio-specific and allowed users to get comms transmissions beamed right into their ears.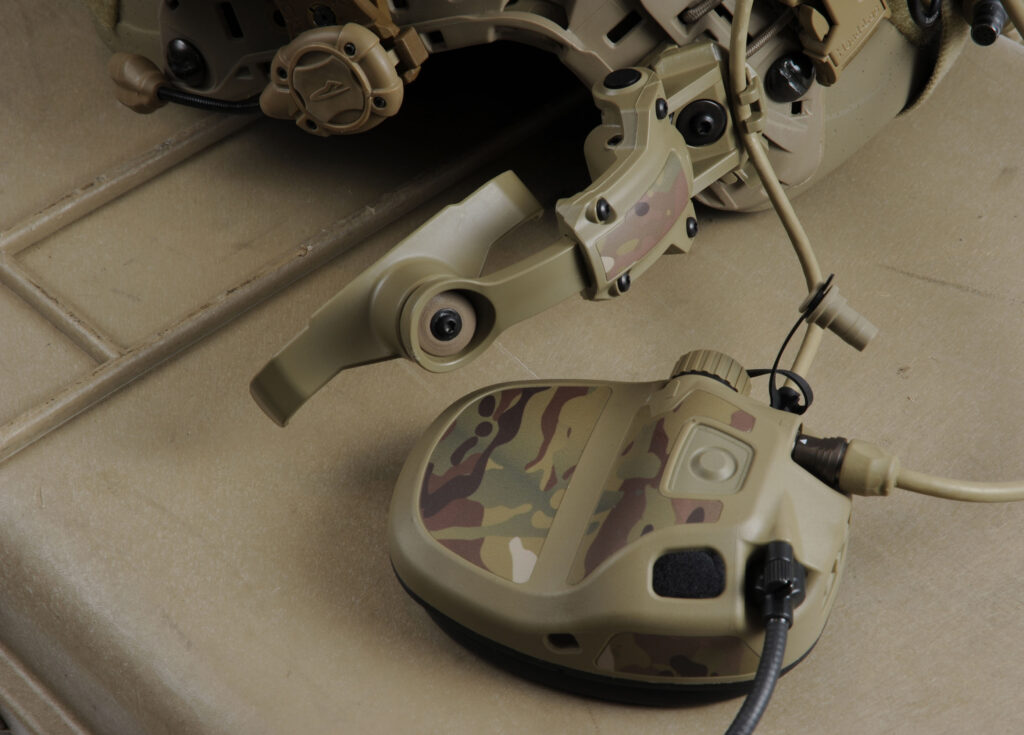 Like most products developed for warfighters, electronic ear-pro systems made incremental "improvements" over the years. These were mainly band-aid solutions designed to meet new requirements from warfighters but translated by staff personnel who had little or no combat experience. The results met the solicitation goals in a PowerPoint, yet fell short of making meaningful improvements for the end user (though there were undoubtedly many high fives and atta-boys passed around the staff offices). It's certainly refreshing to see a product that was designed from the ground up to meet the needs of warfighter PPE, communication, and comfort from the operator's standpoint.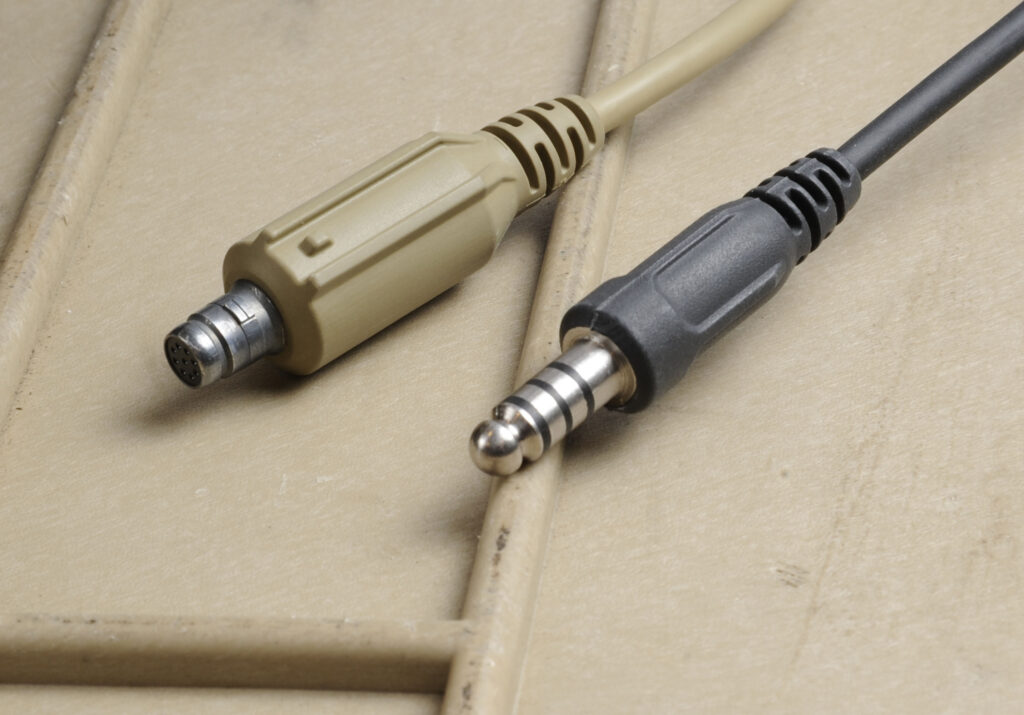 The first thing we noticed after unboxing the AMP and its accessories was the absolute modularity of the system. It unboxes as a rather pedestrian-looking headset. But a closer look reveals removable covers on both ear cups concealing ports for plugging in downleads for PTTs and boom mics. The headband assembly secures via a streamlined arm that is easily removable. While the AMP can be used as a standalone electronic noise-cancelling headset, components purchased a-la-cart can convert it into practically endless configurations. We were amazed at how simple the whole process was. Need to add a boom mic? No problem. Need to switch sides for a lefty? Give us 10 seconds. Single or dual comms? Just add another downlead. It's literally that simple. The boom mic secures with a small thumb screw, while the downleads plug and unplug with a satisfying pop.

You may wonder why we make such a big deal over the modularity. The reason is the brilliance in supply chain. The ability to instantly convert one headset into lefty/righty, and the ability to immediately build the AMP into a single-comm, dual-comm, or no-comm setup future-proofs the system. Legacy comms headsets needed to be factory built for all these different configurations. Units and agencies would spend silly amounts of money outfitting troops that required different configurations. And if a part became damaged, the entire headset had to be taken out of circulation for costly repair through rebuild. The AMP scoffs at that idea.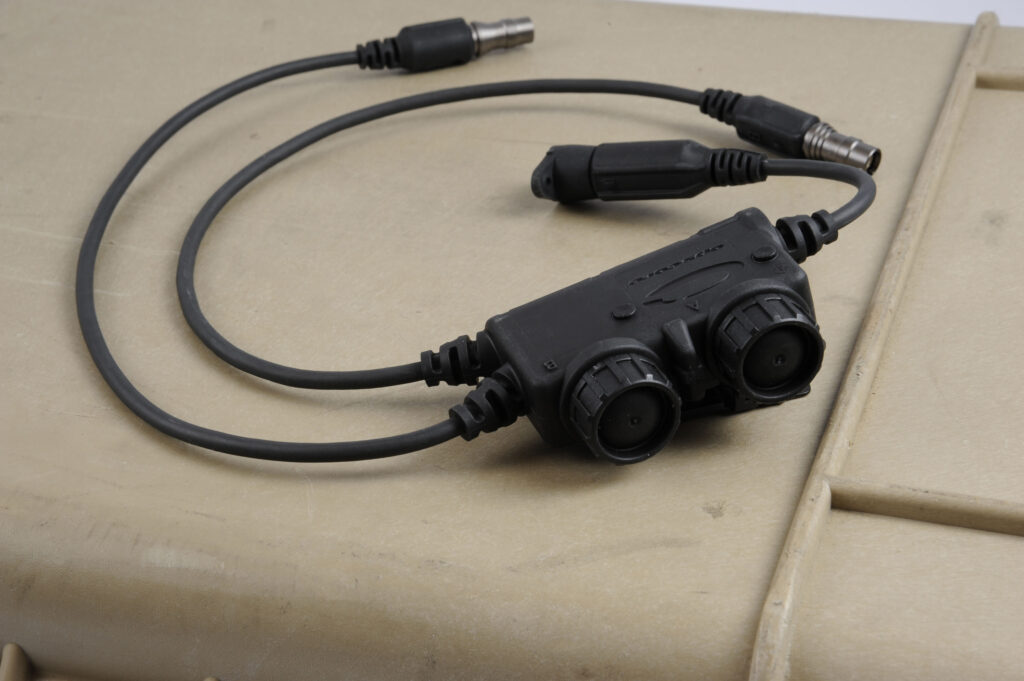 But the modular revolution doesn't end there. Perhaps the most noticeable transformation capability lies in the ability to set up the AMP for headband or helmet rail mount in about 30 seconds. Simply free the ear cup cable from the neoprene headband cover Velcro flaps and pop the arms off the ear cups. Voila—you can now snap the same ear cups onto the Helmet Rail Mount Kit. This is a 100% integrated solution in either configuration. The "Did we just become best friends?" line from the movie Stepbrothers was the first thing that came to mind. It's that cool. No longer does the end user need to choose between a headband stuffed under his helmet or a dedicated helmet-mounted setup.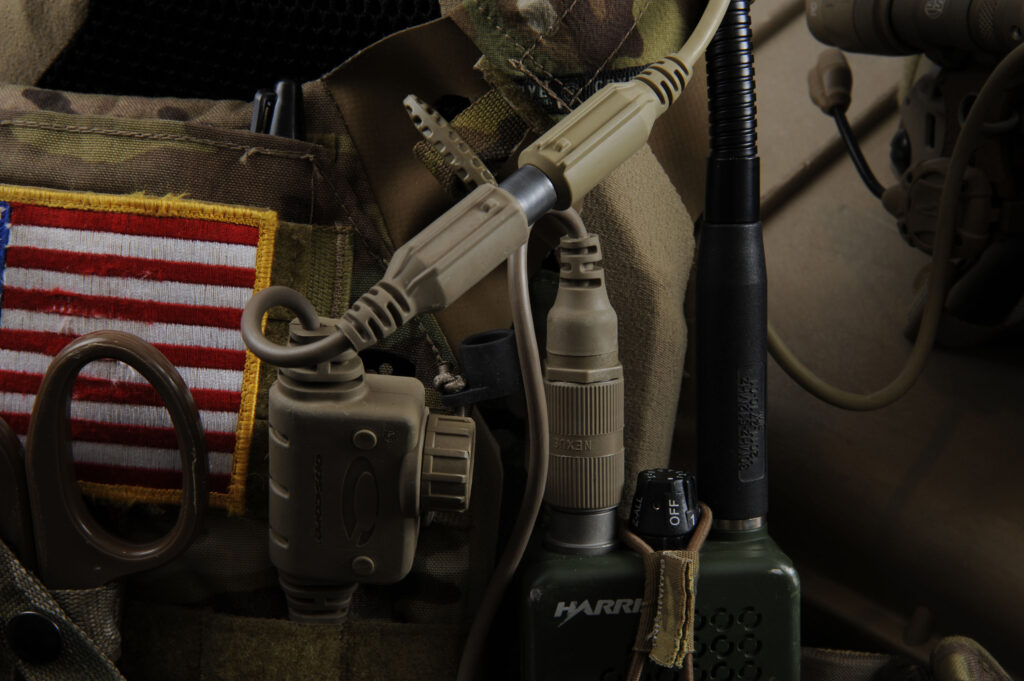 On that note, the Helmet Rail Mount Kit is one of the slickest designs we have ever seen. Because Ops-Core designed the AMP to be an integrated solution from the beginning, it doesn't suffer from the "retrofit monster." Retrofit kits often do a clumsy job because the original device was never intended to perform in a way outside its original design. Some kits are better than others, but you always end up making compromises. The AMP Helmet Rail Mount Kit was obviously designed with end-user input because it solves almost every problem. The attachment is in the rear of the Ops-Core ARC rail, leaving the precious top section of rail free to accept other mission-critical accessories. The arms pop in and out with spring-loaded hinges that apply enough force to ensure a proper ear cup seal. In fact, we found that once the AMPs were engaged, we didn't even need to buckle the chin strap on the helmet (note: we would certainly buckle the chinstrap while performing high intensity activities like airborne or fast rope insertions). The arms allow the ear cups to pivot up and stow on top of the helmet.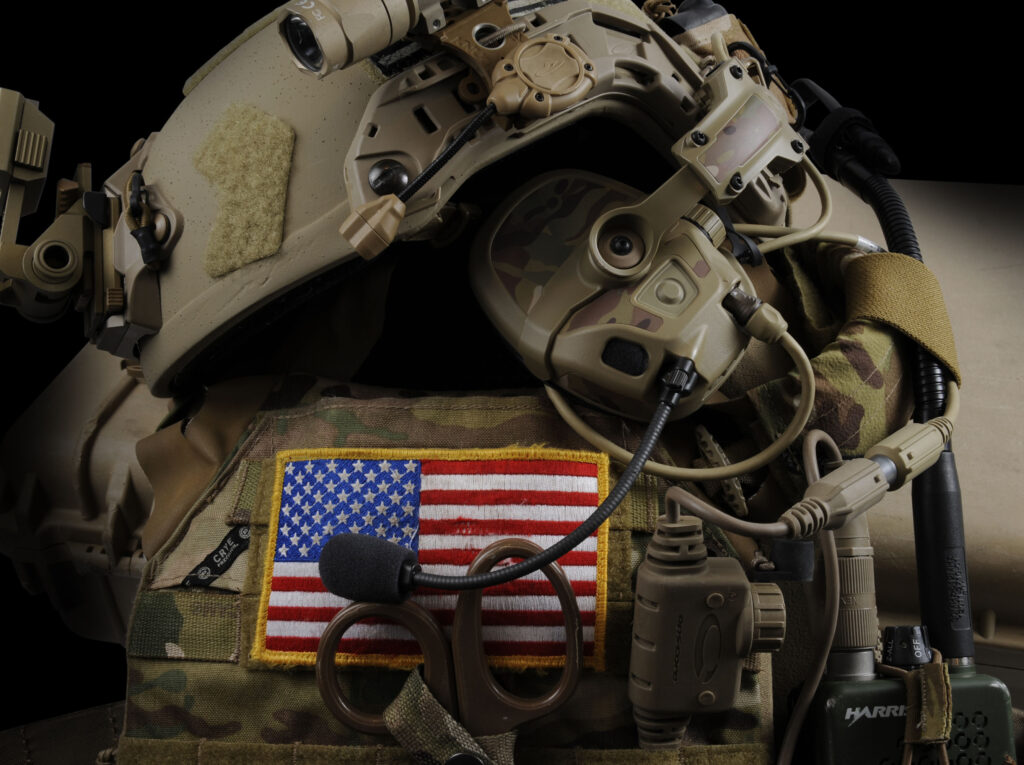 Ops-Core could have stopped there, but they kept going with the internals. When people think of Ops-Core and parent company Gentex Corporation, they often think of helmets. They do make awesome headwear but few realize how much Gentex does with military and industrial safety hearing protection. Their R&D earn their pay with some of the clearest audio we have ever heard. There's usually a certain amount of mechanical noise heard in headsets, but we detected almost none. Conversations sounded like a cell phone with good service.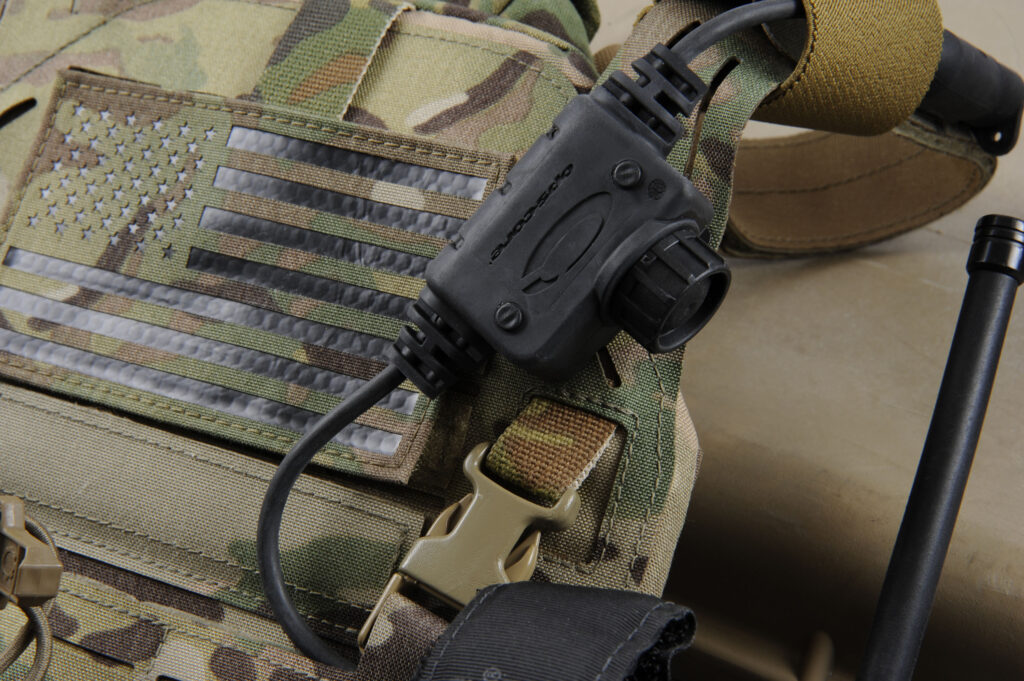 They could have stopped there. But they didn't. Ops-Core decided to go for the proverbial mic-drop with their 3D Hear-Through technology. Essentially, they designed the headset to mimic the human ear's capability to discriminate what direction a sound is coming from. This allows the AMP's hear-through mode to simulate natural hearing, reproducing ambient sound with an uncanny degree of directional accuracy. We were skeptical, but it actually works! Traditional headsets will transmit and amplify sound but lack the ability to tell the wearer where the sound is coming from. This is incredibly important when reacting to a threat. In fact, warfighters often remove their electronic headset to get a bearing on where a shot or noise is coming from (often endangering their hearing in the process). The AMP gave us direction and elevation information. Seriously, what sort of sorcery is this? To top that off, the headset can boost your hearing by 12 dB, allowing you to hear things you otherwise wouldn't.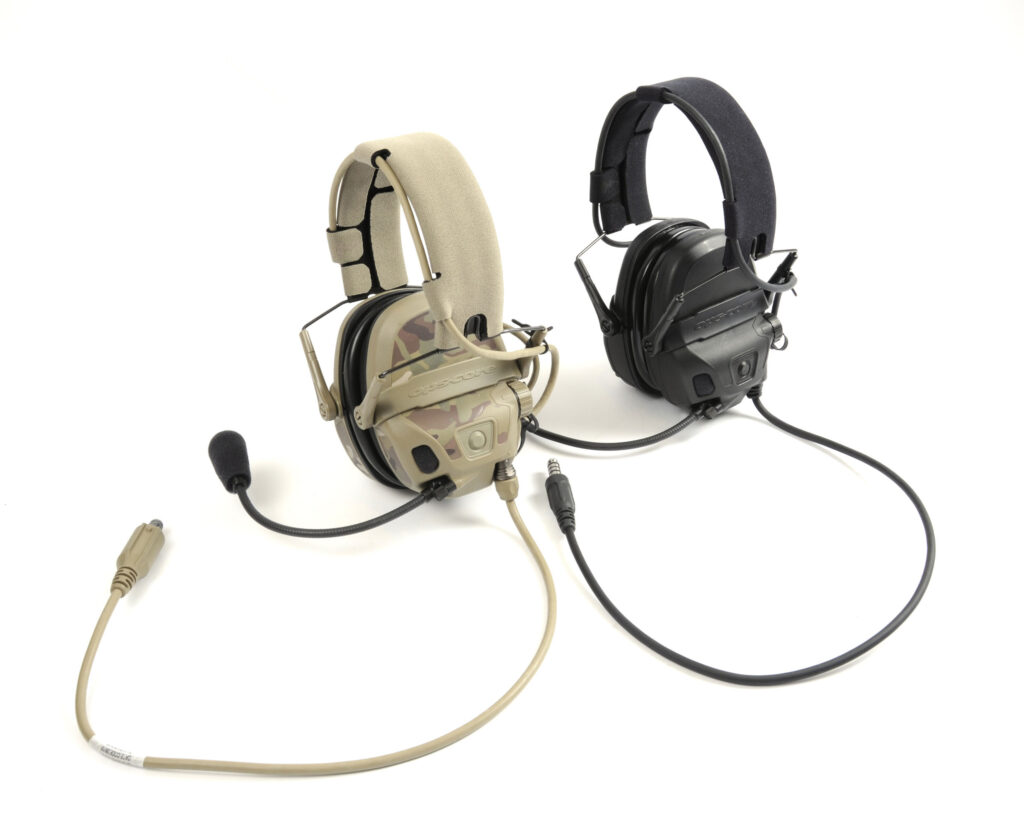 The AMP is available with a set of Near Field Magnetic Induction (NFMI) Earplugs. Electronic ear-pro is good, but doubling up with earplugs in urban or confined spaces is better. This has traditionally created a cancel-out effect because the foam ear plugs end up interfering with the amplified hearing of the ear-pro headset. Ops-Core's NFMI plugs are completely battery-less and begin transmitting sound from the AMP microphones once they are in proximity of the ear cups. We got the best of both worlds with the ability double our hearing protection while maintaining crystal-clear audio transmission. Our only complaint about the system came with the comfort of the NFMI earplugs. Their shape causes them to stick out of the ear a bit and make contact with the interior of the ear cup if they're not seated properly. If the ear cup is closed without care, we found ourselves needing to readjust the plugs to avoid irritation. Once the plugs are properly adjusted, they fit perfectly and we had no issues.
We are believers in the AMP, and we weren't the only ones to feel this way: US Special Operations Command (USSOCOM) recently awarded Ops-Core a huge contract to start supplying AMPs to SOF warfighters. The retail price of $999.95 (with NFMI) for the headset isn't chump change. Then again, competing legacy and next-generation systems aren't far off in price. That said, Ops-Core just released a fixed-downlead variant of the AMP that clocks in at $799.95. While pricey at first glance, it's actually right about the same price as competitive headsets. The fixed-downlead version is a great option for departments already using standard PTT styles and don't plan on changing them out.
Push-To-Talk
The Ops-Core Push-To-Talk Cable is available in either single- or dual-radio configurations. They based the form off the popular U94 style for a low profile. Like the AMP, the PTT is modular. This means that the initial investment in a single PTT will allow it to work with almost any radio currently in use with military and law enforcement. The PTTs come with a hefty price tag, but they pay for themselves as soon as you need to switch radios. All that's required is a new downlead to whichever radio is going to be fielded. The headset downleads are also modular.
Perhaps one of the biggest feathers in the AMP system's cap is the compatibility with Invisio products. Invisio has long been a leader in SOF communications equipment. They have traditionally been very proprietary-driven. The fact that they are collaborating with Ops-Core for system compatibility should mean something to any professional.
Text & Images by Charles "Chip" Lasky