Based on a Zero Tolerance Knives 0920
Personalized at home
Originally designed by Les George
Like guns or even cars, knives are often times personalized by their owners to better reflect their personality, practical requirements and sense of style. The knife that you see here was not personalized by a professional knife maker in a pro workshop, but by its owner, Joseph, and a couple of his friends in his buddy's garage.
The original knife, a Zero Tolerance model 0920, was finished in an all-silver color with black hardware. While Joseph loved the Les George designed knife, he found the color of it to be bland and badly in need of some style. For those who may not be familiar with George, he's a sought-after custom knife maker whose handmade blades can fetch hundreds, if not thousands of dollars per piece.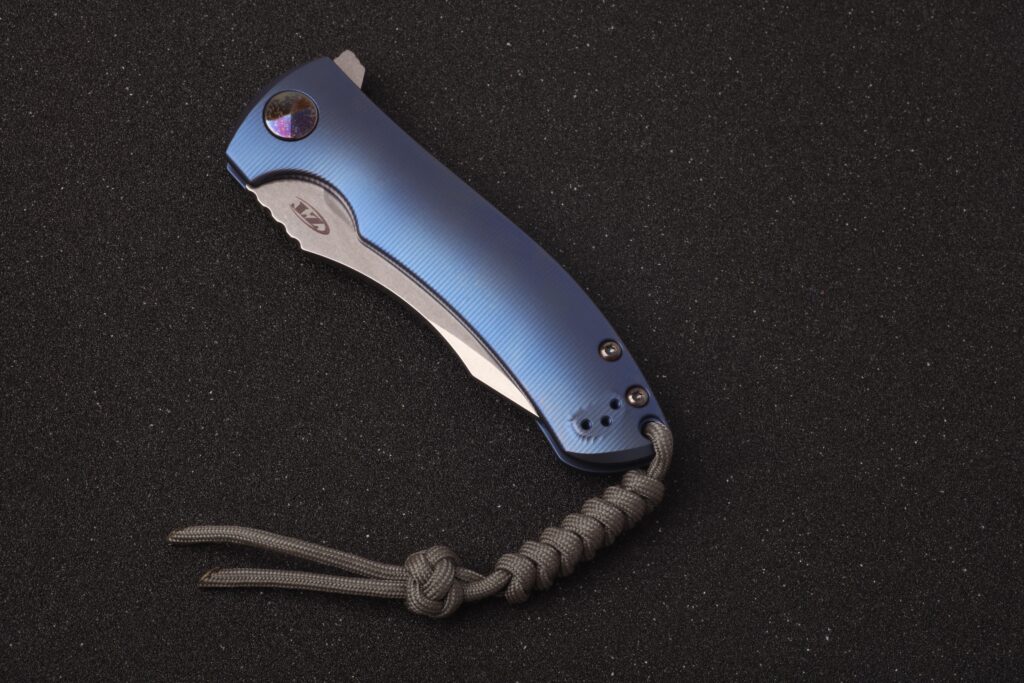 Hand making knives is a time consuming and laborious endeavor and popular knife makers are well known to have long backlogs of orders for their wares. In fact, some of these wait times dip into multiple years. To alleviate some of the wait time, large-scale knife manufacturers sometimes collaborate with famed knife makers to help make their designs available en mass to the general public. The 0920 is just one of these knives. Based on George's Harpy line of knives, the 0920 is more affordable and more importantly, available to be purchased without the wait.
As mentioned earlier, Joseph loved the 0920, but wished it had more personality. With the help of his friends, went ahead and personalized it using tools that his friend had in his garage. We'll let Joseph take it from here and explain what work he and his friends applied to the knife in his own words.

The Blade: "My favorite part of a blade is its jimping and George Design already did it to the stock knife. I was thinking about sending the blade out to get laser engraving done but I wasn't sure if covering the serial number on the blade made it seem fake since ZT serializes them and I didn't want to risk losing it. This is a CPM 20V steel blade and I didn't want to risk messing the blade up with adding serrations which would be the only thing left that would make it different than the way it came."
Titanium Handles: "This was the main thing I wanted to change. The all-silver stock look was so boring for a knife with a $300 retail price tag. Since its handles are titanium, it made it easy to anodize to a different color using a power source and some household chemicals. Believe it or not, I learned how to anodize metal solely by watching YouTube videos. After practicing on a few scraps of metal, I dipped the titanium handles in, hooked up the power and watch them turn to the perfect shade of blue I wanted that you see in the pictures."
Hardware: "The hardware that came on the knife was all-black already, but sometimes I like a little bling on my gear. Nothing garish, but I was looking to add some color in a tasteful way. Heat can transform the color of metal, so I decided to apply flame from a torch to the hardware to get it to have a rainbow effect. The knife was easily disassembled for torching."
If you examine the large piece of hardware at its base, where the blade meets the handle, you'll see the finish on it started to pit. That was due to my inexperience and the application of too much heat for too long. There is a learning curve to getting it right and it's especially steep when working on a $300 knife! The rest of the hardware came out pretty well."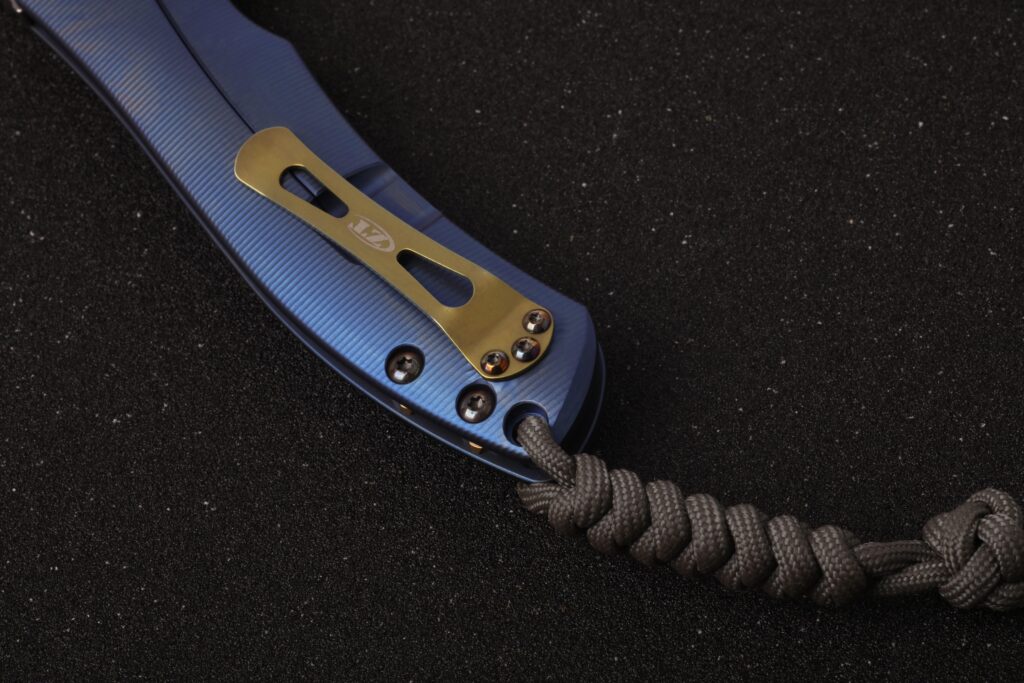 Belt Clip: "I thought about installing one of those custom belt clips which seems to be popular with the custom knife guys right now, but the one that comes on the knife is a yellow-gold color that I think complimented the blue of the handles very well. I also like the ZT logo and wanted to keep that too. If you look at the original all-silver colored knife on ZT's website, you can barely tell the belt clip is gold since it blends too much with the silver."
Lanyard: "Les George designed the knife with a lanyard hole in it, so naturally, I had to use it. My friend braided a 550 paracord on to it in gray for added functionality. In the knife enthusiast world, I've seen some crazy braid designs and it's a very real thing. This braid isn't crazy but looks clean and is very strong."
Text by Danny Chang and images by Michael Grey.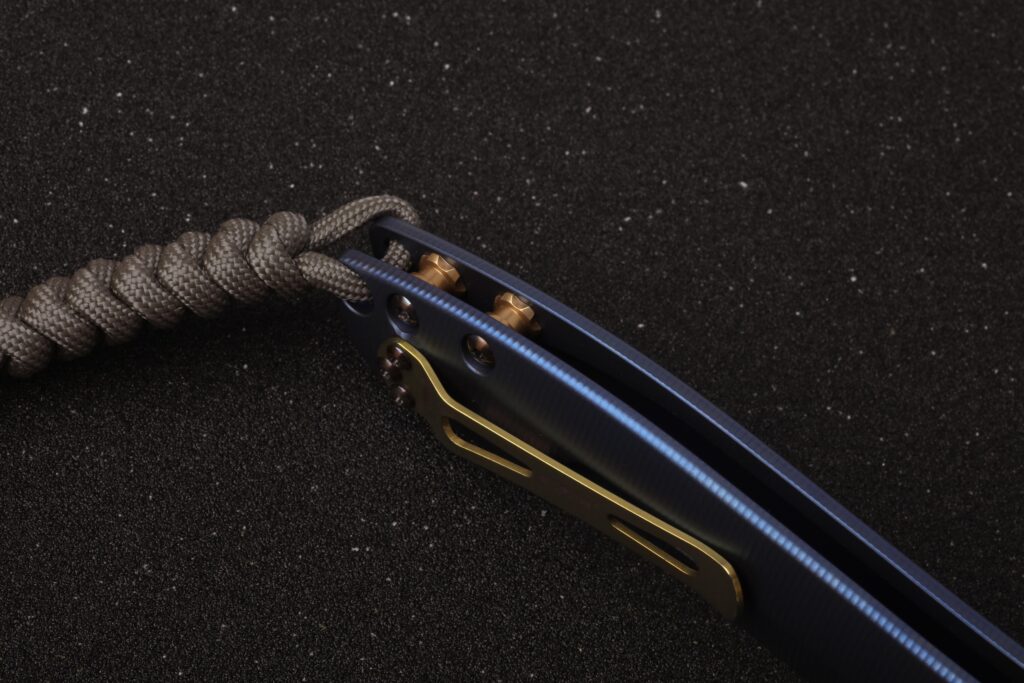 Personalized ZT 0920
Owner: Joseph P.
Occupation: Sales
Special Thanks: Chris, Frank and Dan
Zero Tolerance Knives
Model: 0920MSRP: $300
URL: zt.kaiusaltd.com
Designer: Les George (georgeknives.net)