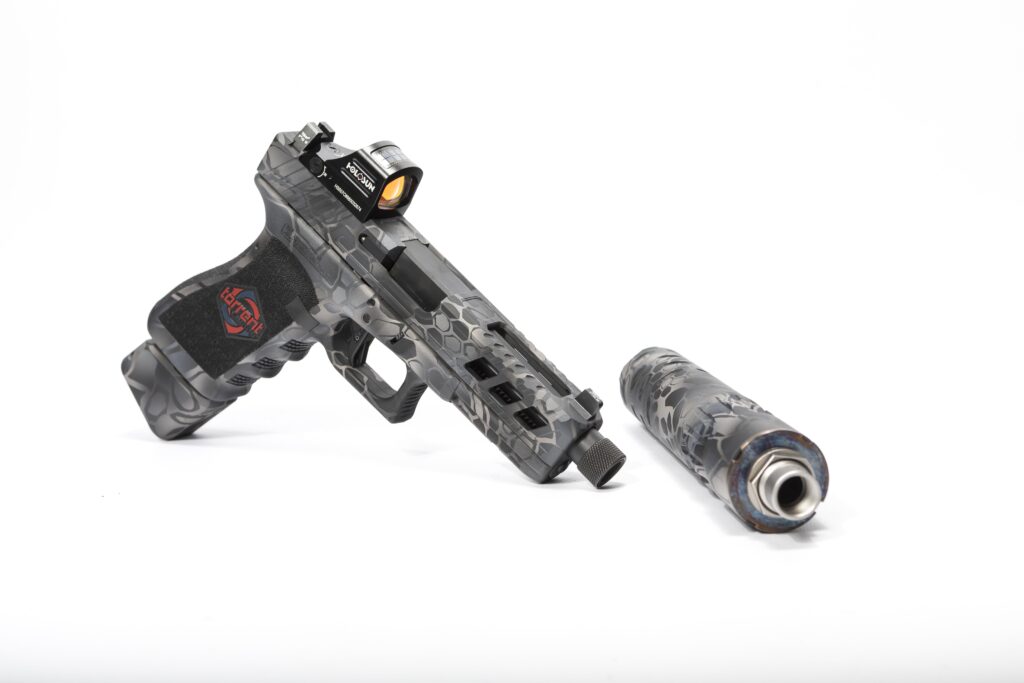 Some people love them, some people not so much (count us among the lovers). But whatever your feeling on the subject, it can't really be said that Glock pistols don't make for an eminently versatile handheld shooting platform.
In addition to a wide variety of frame sizes for different people and different applications, Glock pistols support most popular handgun cartridges. Not just the ubiquitous 9mm, but everything from .22 to .380 to 10mm and more. And each of those platforms offers the simplicity, functionality, affordability, and reliability that the brand has become known and loved for.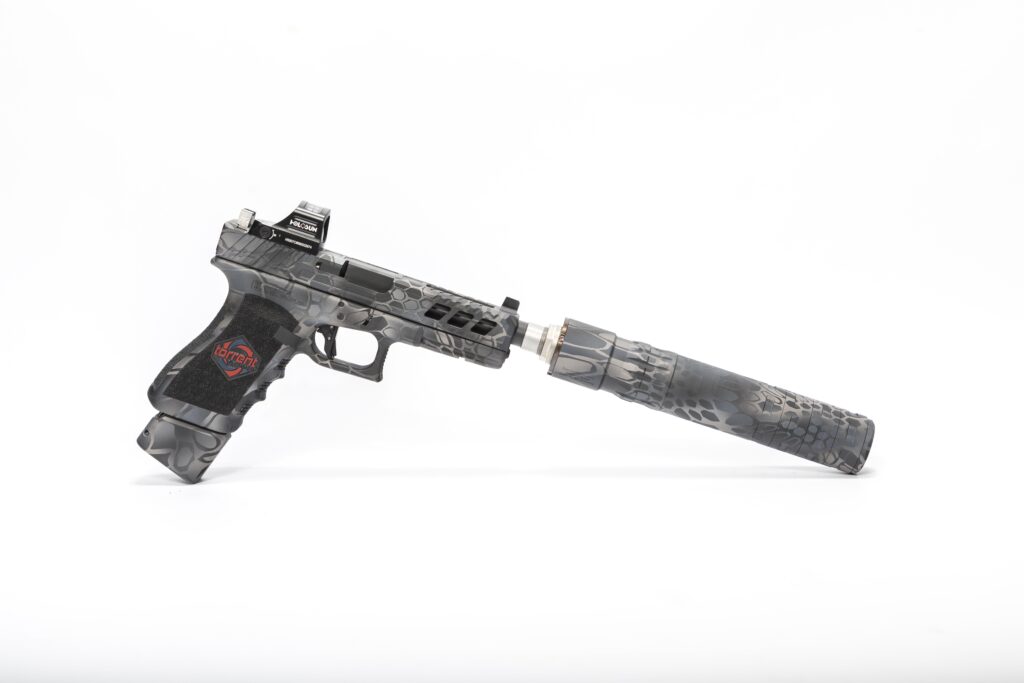 This is a customized Glock 21 Gen3, and as such is chambered for what some may consider the king of handgun loads—.45 ACP. Its owner is a man named Don Wanorek, and he's one of the founders, co-owner, and the current COO of Torrent Suppressors out of Texas, USA.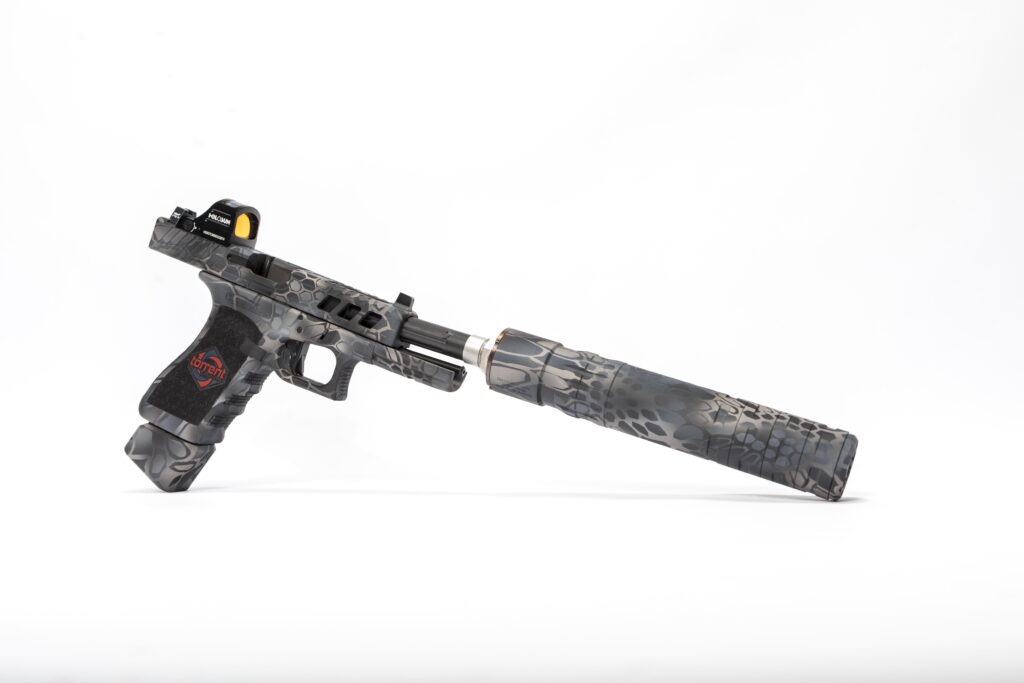 As befits a man who helps helm one of the prime companies in the modern suppressor market, Wanorek has a lifelong association with and love for firearms—which makes all the more sense given where he hangs his hat. He has spent much of his adult life working in the oil and gas industry in Texas to help pay the bills, but he also owned his own custom gun shop for years before helping get Torrent Suppressors off the ground circa 2015.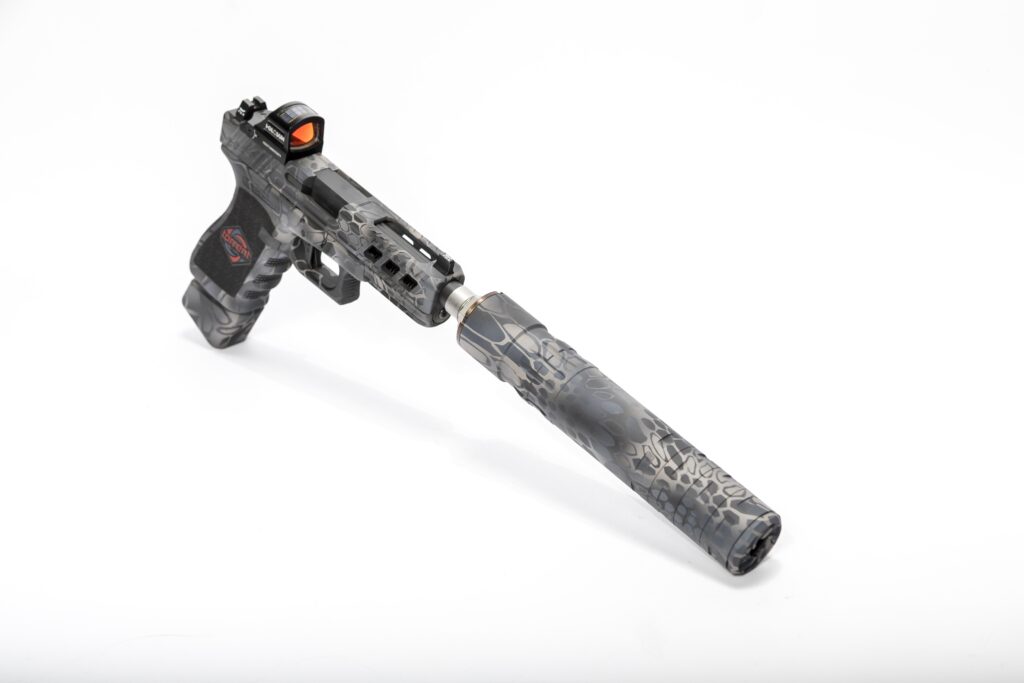 This particular gun is actually part of what he calls a "twins" project, which was in fact conceived—without his own prior knowledge, as it turns out—by Wanorek's business partner and the other Torrent Suppressors principal—co-founder and co-owner, as well as company CEO, Trey Trosclair.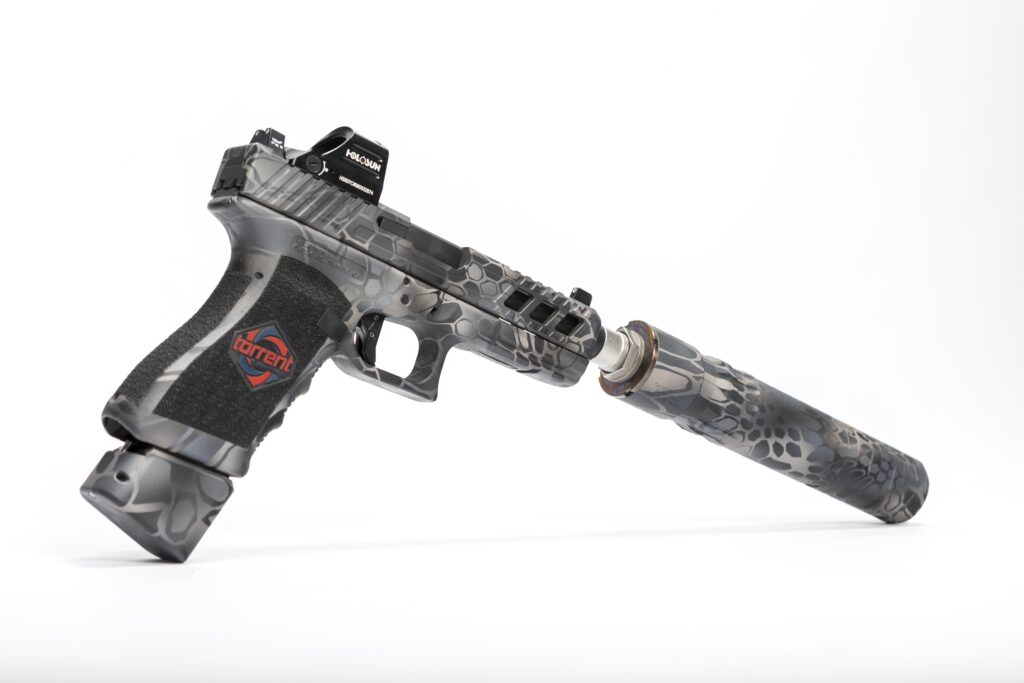 Wanorek and Trosclair, who grew up in the area where Wanorek currently calls home, were introduced by a mutual friend in the industry. Trosclair was also running a gun-building enterprise and the two merged operations—mainly putting together black rifles with the occasional custom job thrown in the mix.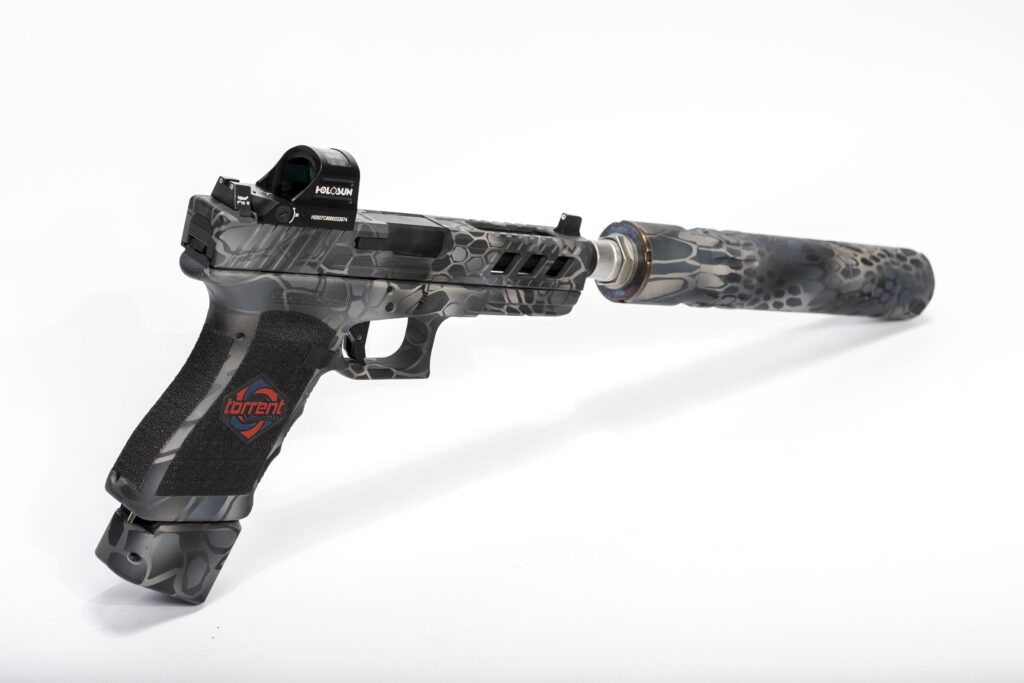 "This specific gun was purchased by Trey," Wanorek tells us. "When it came in, I was oohing and aahing over it." Little did he know that there were in fact two of them, one of them purchased for him and trailing the same raft of custom modifications as documented here. All that was really left for him to decide was settling on a custom Cerakote scheme to finish it off.
"I guess he knew I'd be jealous as hell when I found his gun," Wanorek adds with a laugh.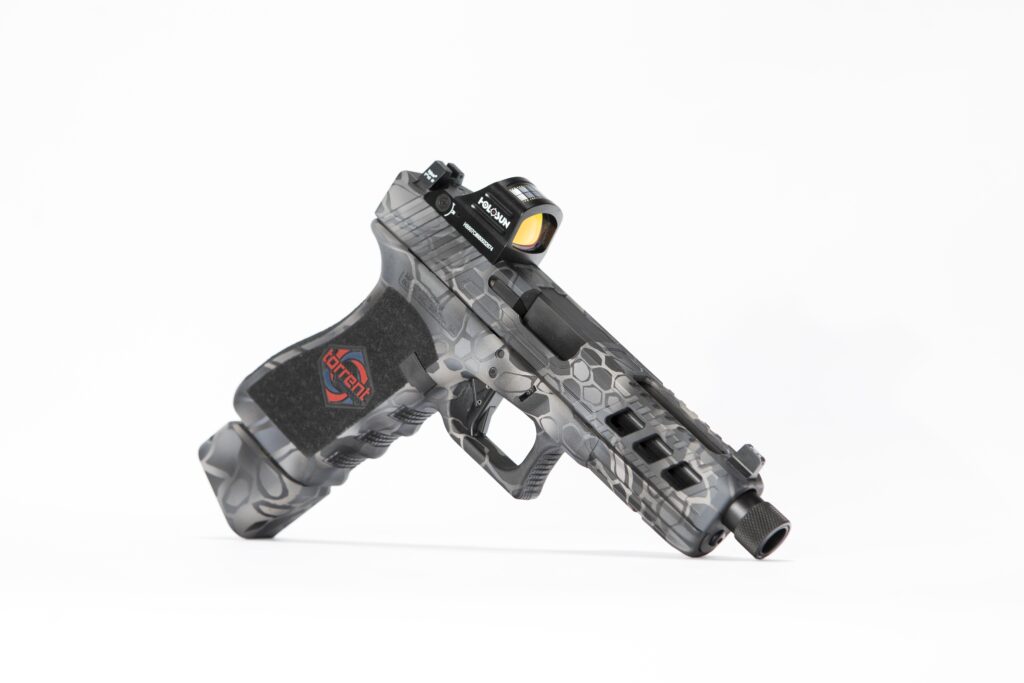 Not only are the two certified industry innovators, but by all indications both are also genuinely nice guys. One of the first projects they collaborated on was building a shooting platform by a young man with muscular dystrophy, one that could be controlled by a Browning M2-style control carriage and aimed at any angle, while remaining completely stable, from his wheelchair.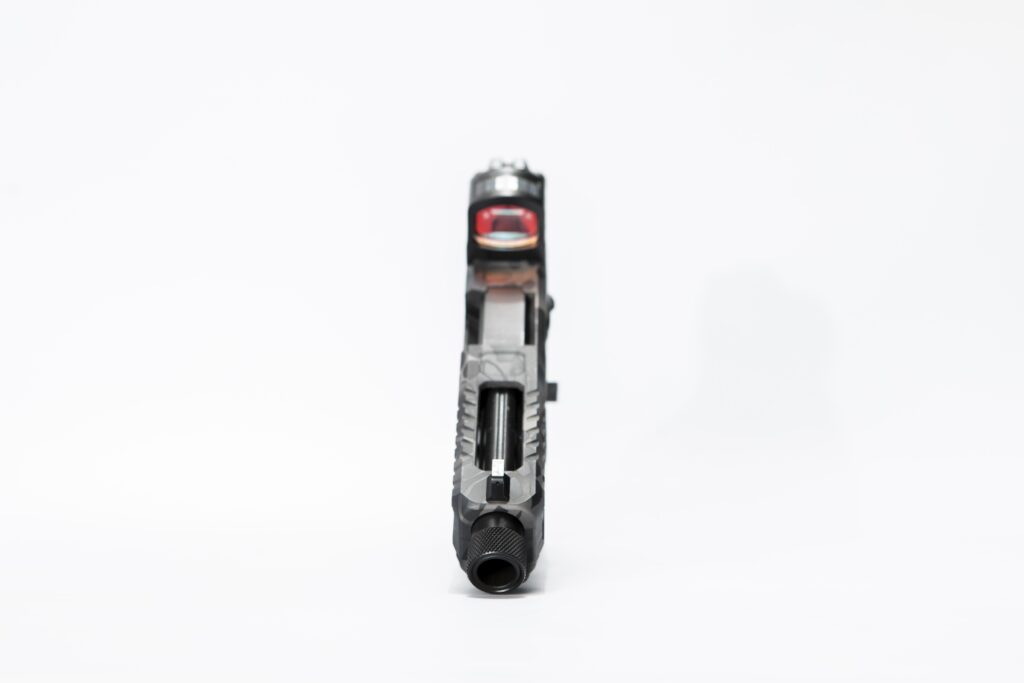 Later, the conversation turned to the pair's current line of work in the firearms industry. "Trey asked me if I had any experience with suppressors, and I had a couple designs I was working on at the time," Wanorek recalls. "So we started experimenting. There is some science behind it, but in all honestly it's a lot of trial and error, chasing that sweet spot where you're trying to get a good decibel rating and a good POI through it. Our first year at SHOT Show was 2016; that was the year we came out with our first prototypes."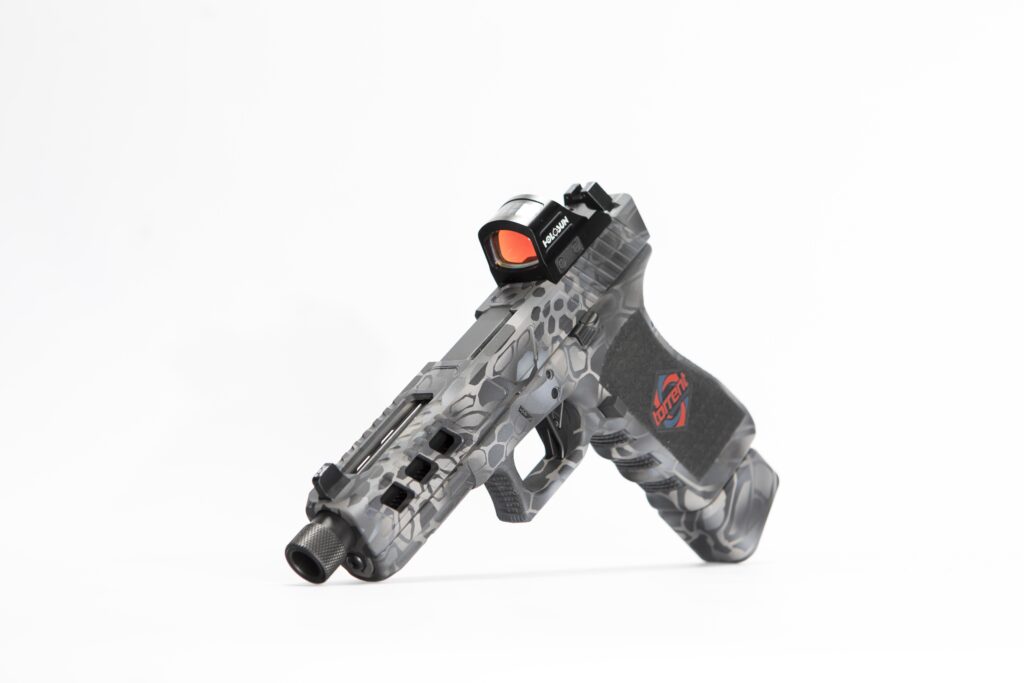 To execute this pistol build, Wanorek and Trosclair partnered with UN12 contributor, professional photographer, and custom firearm builder and consultant Jay Canter, who seems to defy the laws of physics by somehow being everywhere at once.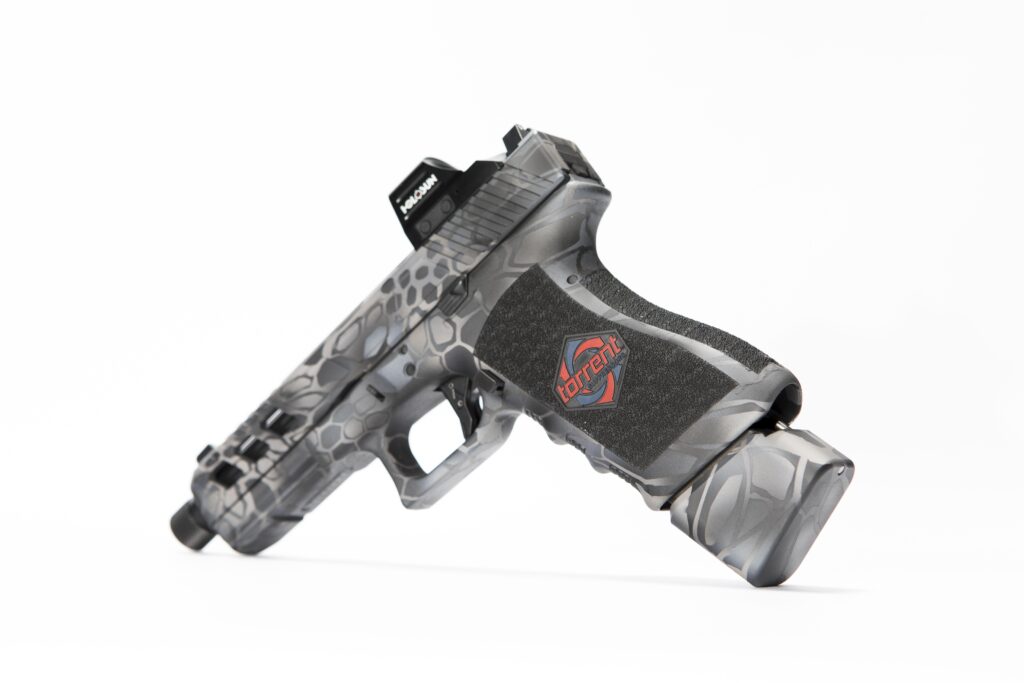 Before getting his hands on this one, Wanorek had some past experience with Glock pistols but mainly of the 9mm variety—17, 19, 19X. This would be his first chambered in .45. But, being that he fronts for a suppressor company, that application turned out to be a perfect fit.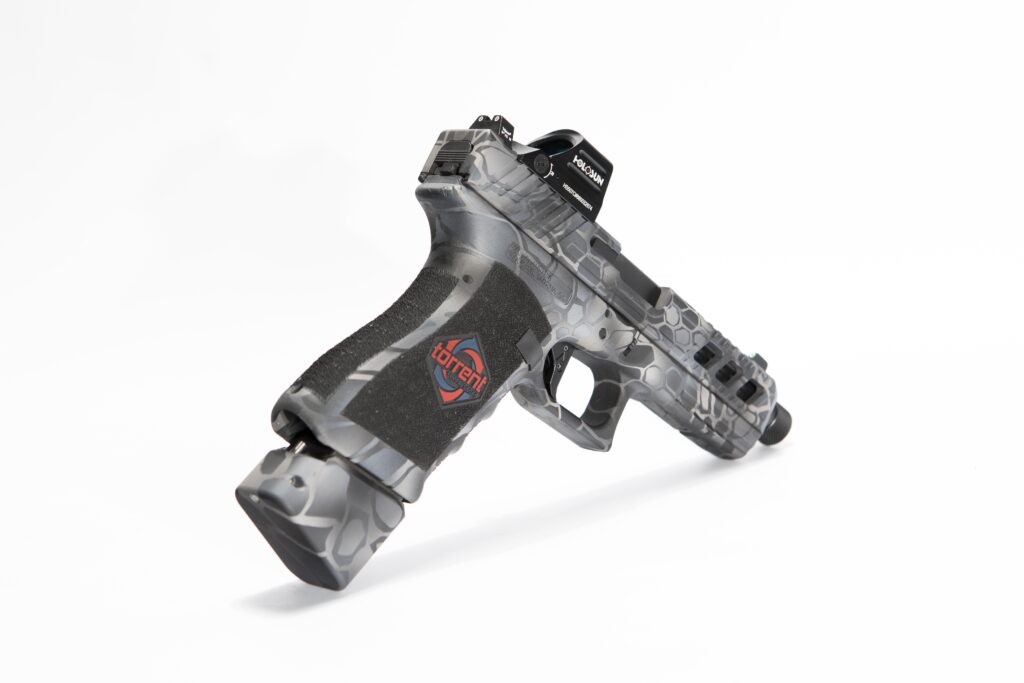 So, about that Glock 21. The first thing you'll probably notice is the Torrent Suppressors logo, which was not simply "stuck on" to the grip but is actually etched into the polymer as part of the stippling package provided by 2A Tactical out of Gilbert, Arizona. The grip also sports a textured backstrap and textured panels surrounding the Torrent logo.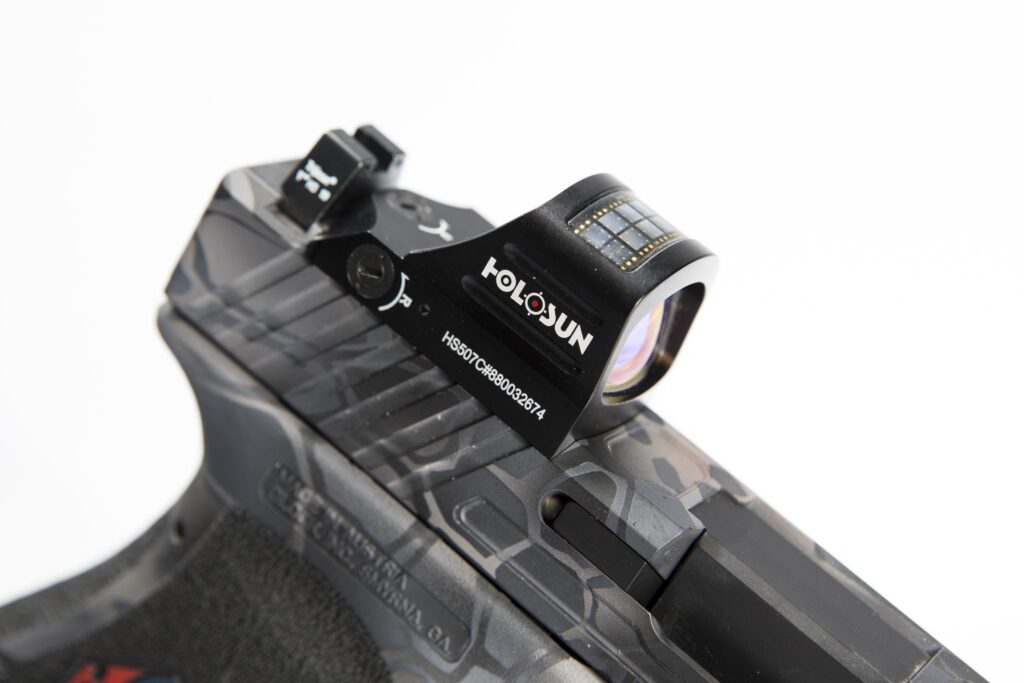 While the frame is a modified factory piece, the slide is all new—an Alpha Shooting Sports Marksman V4 with RMR optic cut. This slide has slanted serrations front and rear and a trio of windows cut in either side toward the muzzle end.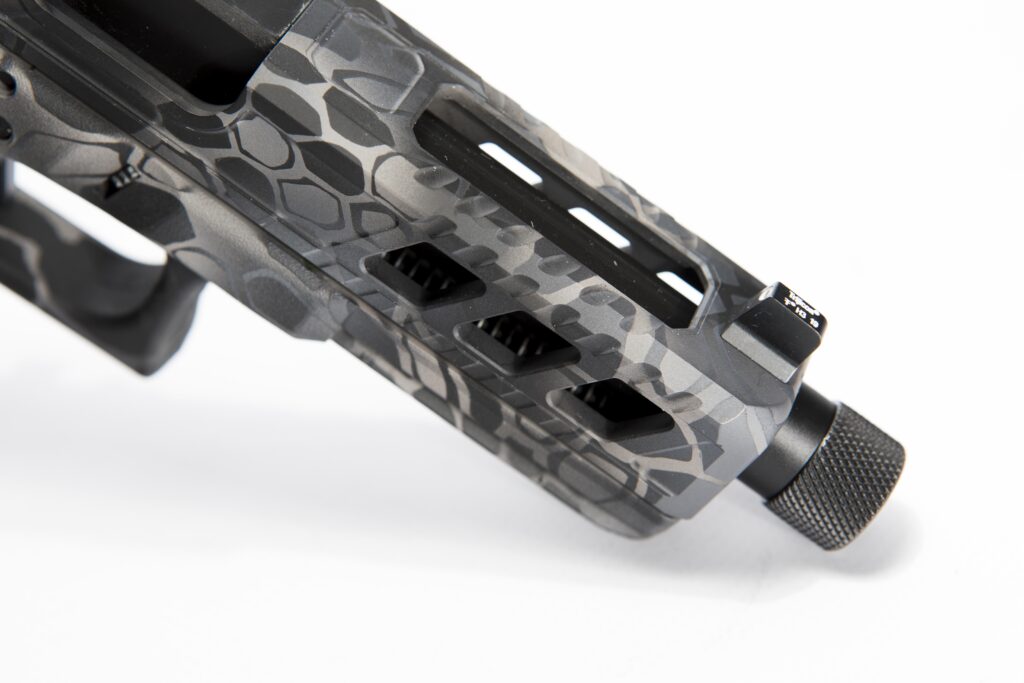 The slide houses a fluted Lone Wolf barrel for .45 ACP. The drop-in barrel is threaded in a .578×28 pitch to mate with popular suppressors—more on that in a minute—and comes with a knurled thread protector that's employed when the weapon is run unsuppressed. The Lone Wolf barrel is CNC-machined from 416 stainless and has had a black nitride coating applied. The barrel/slide assembly was reconstructed with a Lone Wolf black DLC-treated guide rod and spring assembly.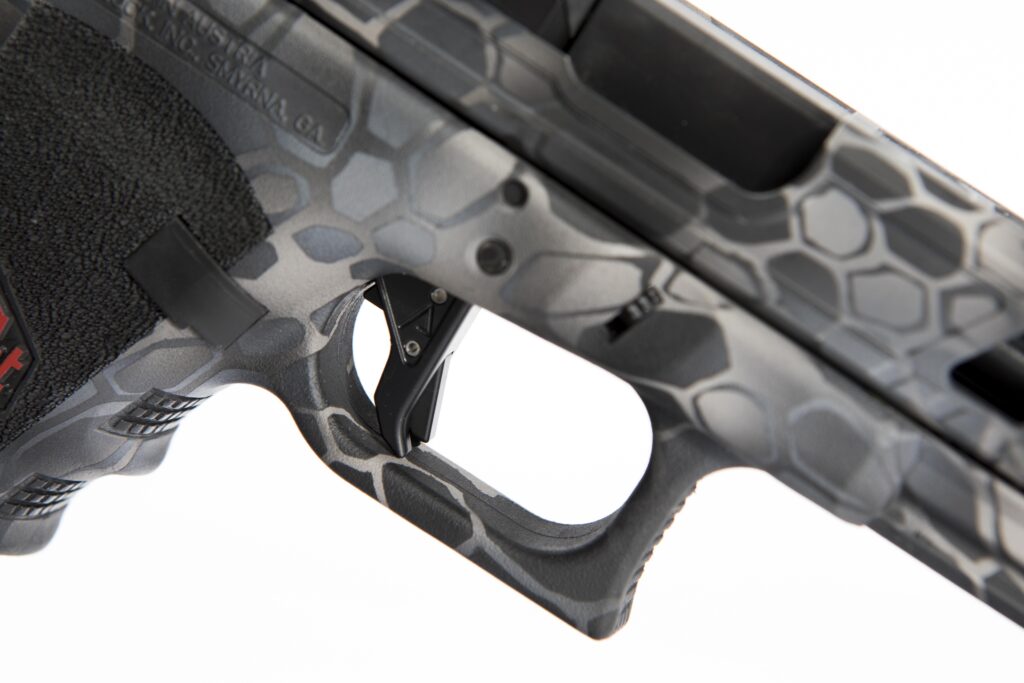 The slide's RMR cut hosts a Holosun HS507C, an open-reflex optic with a solar failsafe that augments its power supply. The Holosun is paired with Trijicon suppressor-height analog sights with green tritium dots surrounded by white circles. This is one modification Wanorek particularly likes, as it makes target acquisition a ready proposition, and with the optic's solar capabilities he can do it all day long.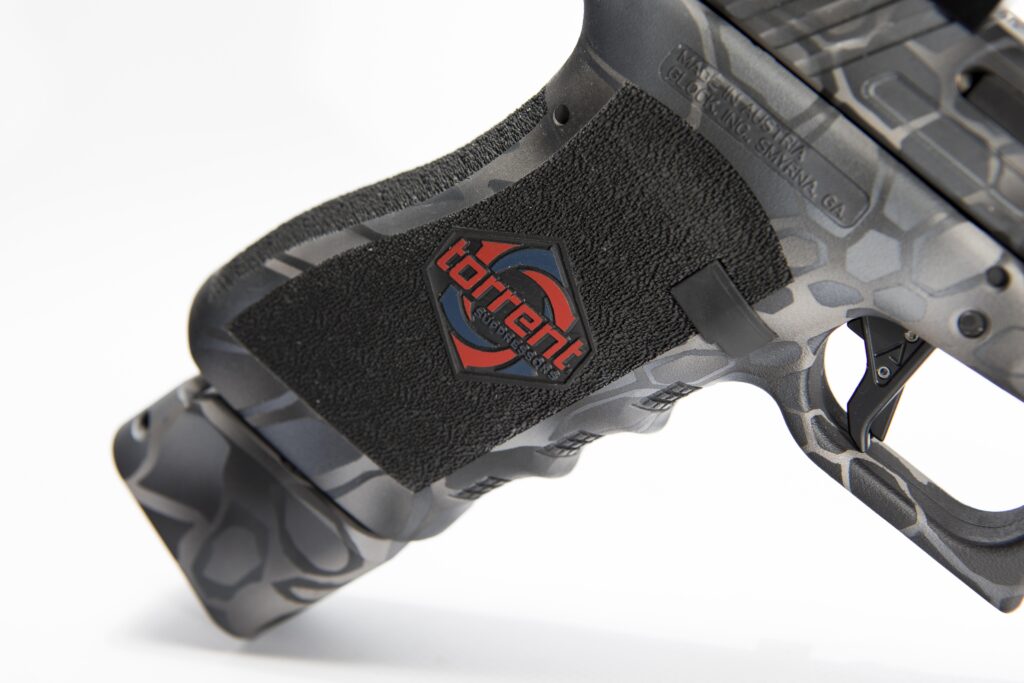 Fire control is accomplished via an Agency Arms flat-faced trigger. This is potentially a full custom job that can be hand-fitted and tuned specifically to a customer's Glock as part of Agency Arms' fire-control program (and can be applied to just about any Glock pistol, we should add). The pistol feeds from OEM Glock magazines (13-round) fitted with Taran Tactical +4 base pads, for a total capacity of 17+1. More than enough to neutralize any imminent threat, we'd say.
Naturally, being owned by a guy who helps run a suppressor company, the build's pièce de résistance is a Torrent Suppressors Orthrus for .45. The Orthrus is a modular suppressor that allows its user to choose from four overall lengths by adding or removing baffle segments. In addition to pistols running .45 ACP, it may also be applied to carbines and, as with all of Torrent's X Series suppressors, is rated to run all the way up to .300 Win Mag.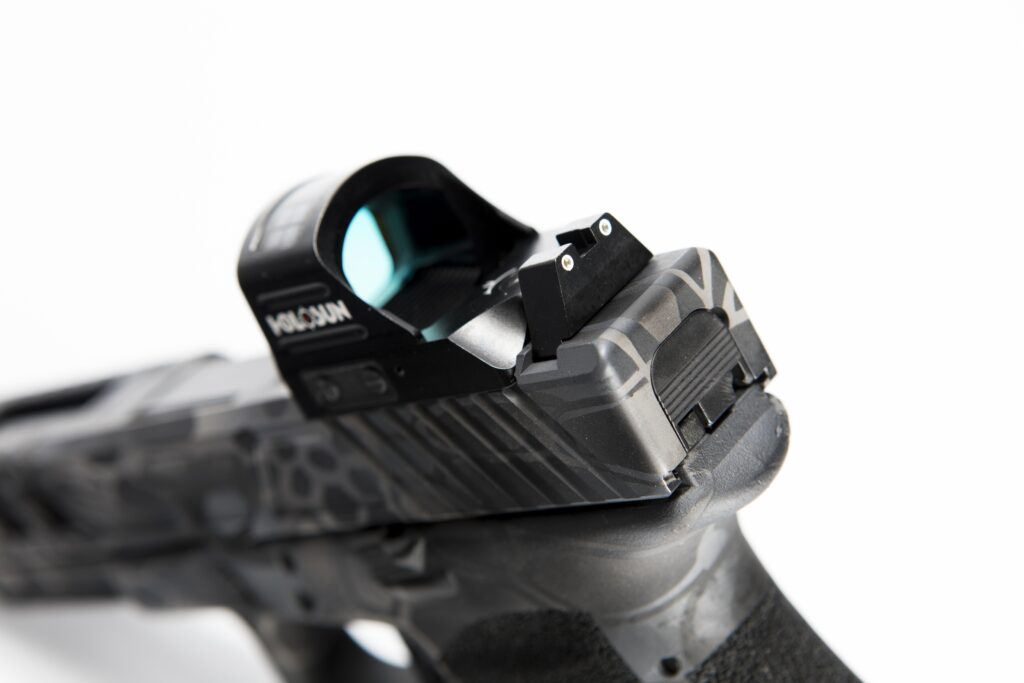 While Trosclair's G21 (not pictured here, unfortunately) is finished in a modified woodland camo scheme, Wanorek prefers darker, more neutral colors. His was finished in black-and-gray Kryptek pattern, the Cerakote being applied by Koted Arms in Mesa, Arizona. The Cerakote was applied to not only the Glock's frame and slide, but to the magazine base pads and the Orthrus suppressor. The overall effect is stunning and, in a way, visually hypnotizing, as any good Kryptek pattern should be.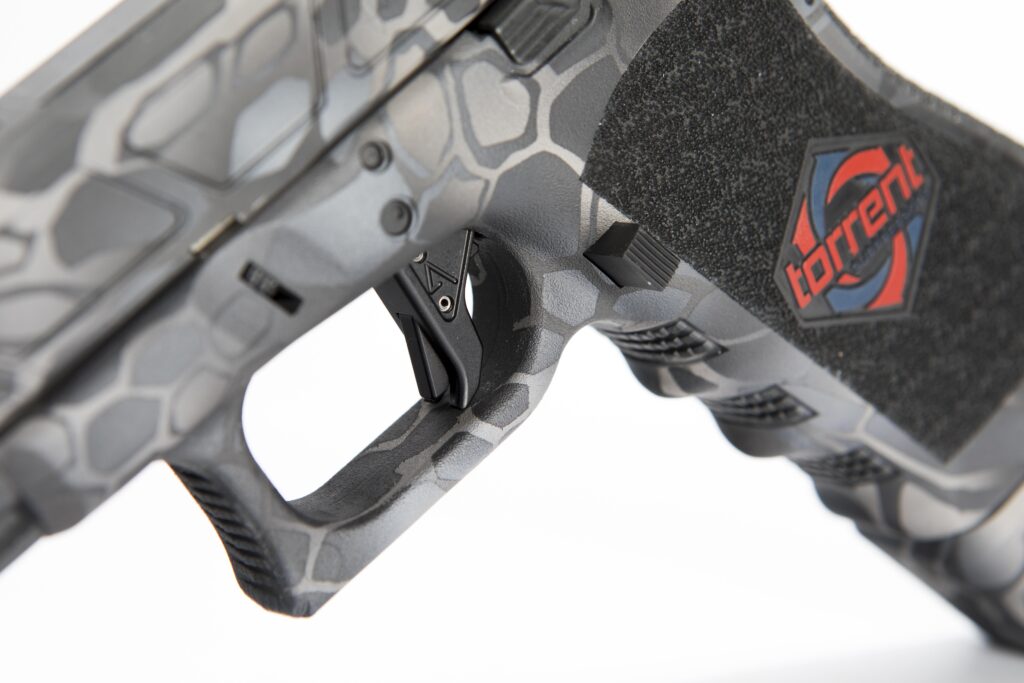 "I don't really have anything else that's customized to this degree," Wanorek says. "But I love it. I've always been a big 9mm fan. I reload a lot of my own ammunition, and .45 is just one I've never reloaded. I really do like the .45 ACP round, though. And being that it is generally subsonic, it works very well with a suppressor."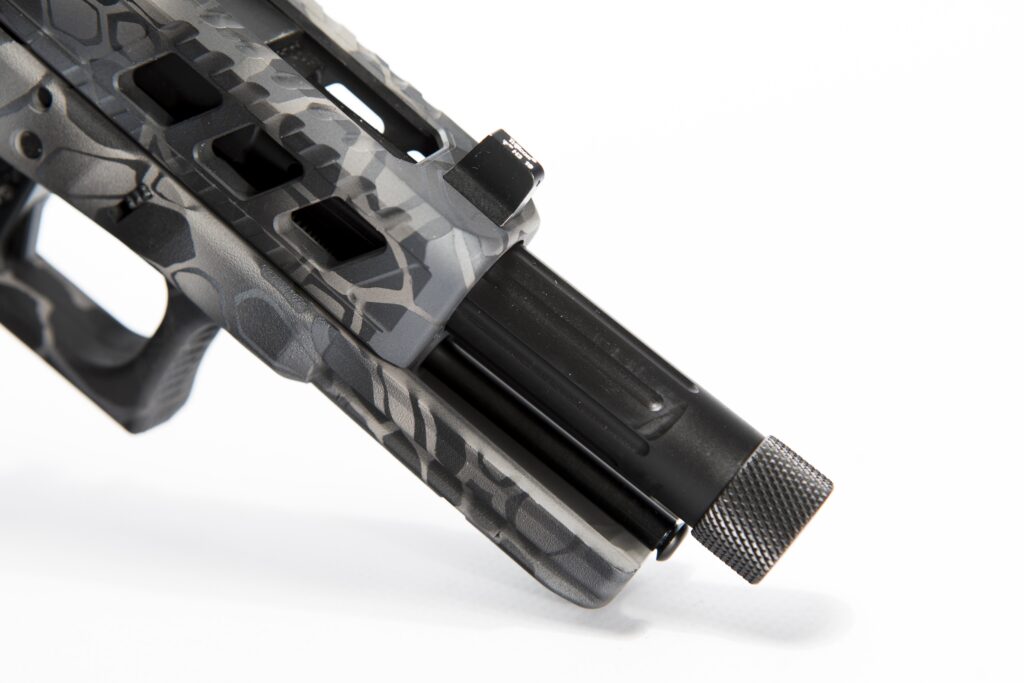 Torrent in 2021
In preparing this story, we got a little bit of insight into the company and its plans for the upcoming year. Torrent recently teamed up with Joe Gaddini of SWR, patent holder for one of the most effective suppressor designs in U.S. history. Through this alliance Torrent hopes to shake up the status quo and re-inject world-class performance into the suppressor market.
The first offering from the collaboration is the Torrent SWR 30 Series, a full Grade 5 titanium-housed suppressor. It uses an end-cap insert that may be swapped in and out to allow the user to shoot multiple calibers; one for 5.56, one for 6.5 Creedmoor, and so on. On the rear there's a multi-mount adapter that allows the user to adapt to varying thread pitch. As Don Wanorek says, "Buy one and you're done."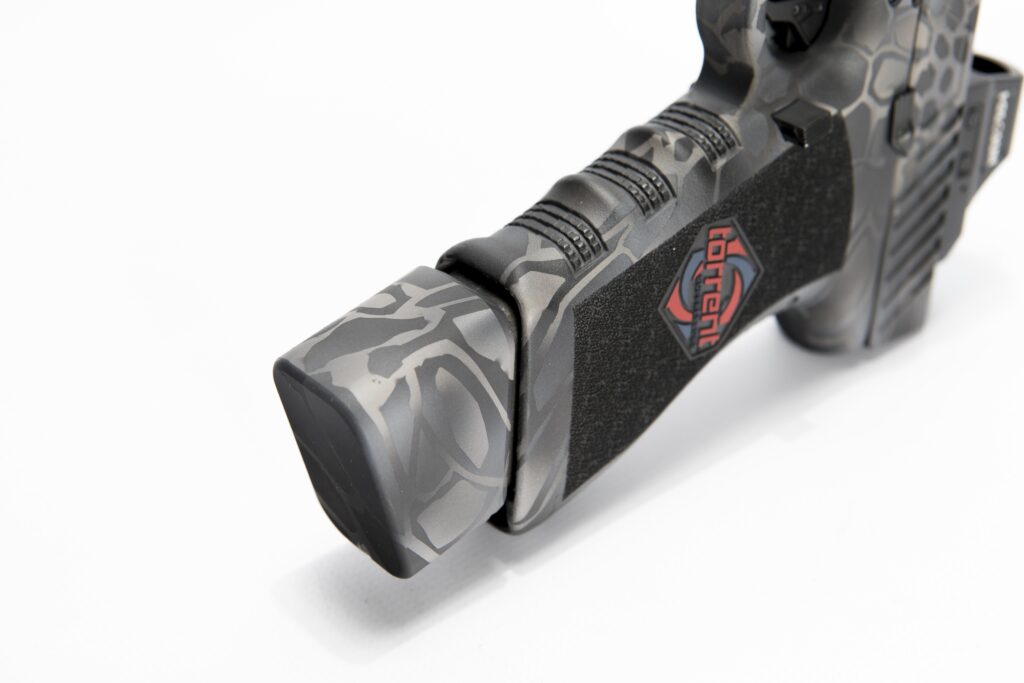 Also in the offing is a new Orthrus suppressor for .22, allowing users to switch between .22 LR, .22 Magnum, .22 HMR and back again. A new serviceable 9mm pistol can is also in the works, which will release under the working name Trident 9.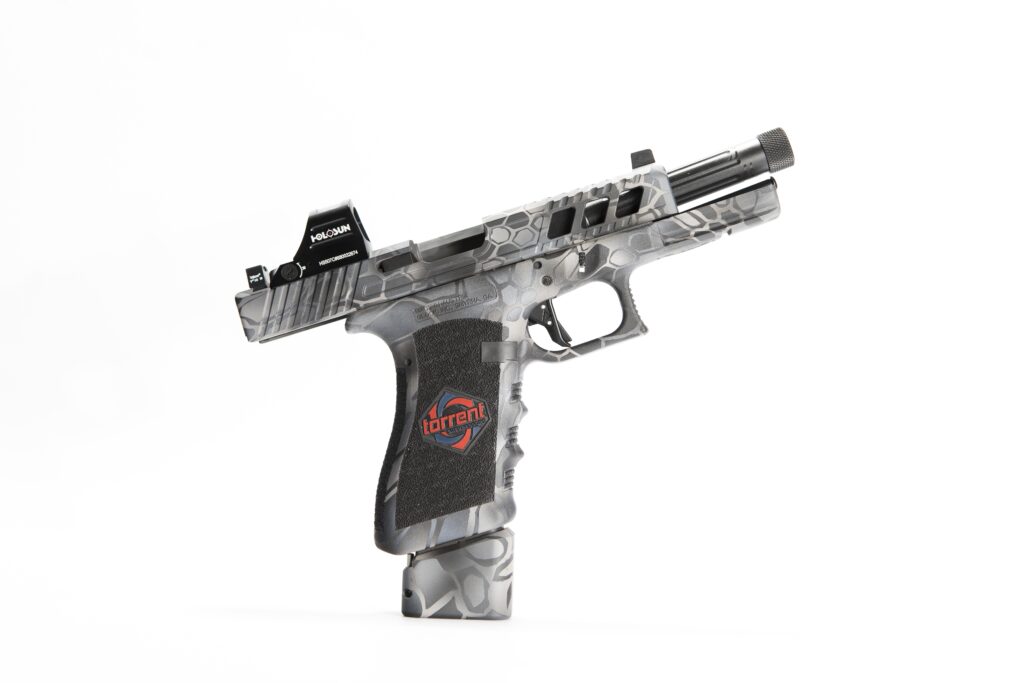 The subject of the accompanying story, Torrent's Orthrus for .45, is available through an exclusive partnership with Rainier Arms.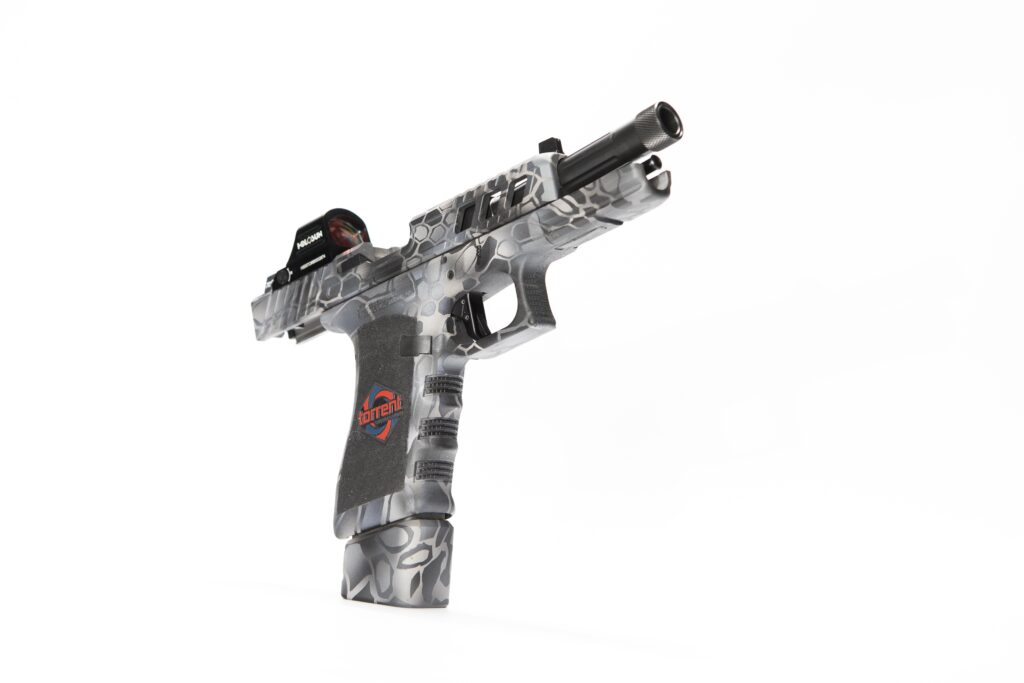 As with much of the industry, the future is looking bright in spite of a hard year for many in 2020. "Business was slow through the whole Covid scenario, but now it's really picking up," Wanorek says. "We've got all our sales guys out in the field and they're currently placing some really big orders."
Text by Roland Wilkes and Images by Jay Canter
For more information, visit torrentsuppressors.com
Build Sheet
Torrent-Suppressed Glock 21
Specifications
Caliber: .45 ACP
Capacity: 17 + 1
Slide: Alpha Shooting Sports Marksman V4 w/RMR cut
Stippling: 2A Tactical AZ
Coating: Black/gray Kryptek by Koted Arms
Featured
Accessories
Optic: Holosun HS507C
Barrel: Lone Wolf Dist. 2145TH threaded, black nitride
Suppressor: Torrent Orthrus for .45
Parts & Accessories: Agency Arms DIT2-45-B flat-faced trigger, Lone Wolf Dist. guide rod/recoil spring assembly, Trijicon suppressor-height tritium backup sights, Taran Tactical +4 magazine basepads, Lone Wolf extended mag release
About the Owner
Name: Don Wanorek
Occupation: Co-founder and COO, Torrent Suppressors