Violent Art Firearms receiver set & BCG
Carbon fiber handguard & pistol grip
Chambered in 300 BLK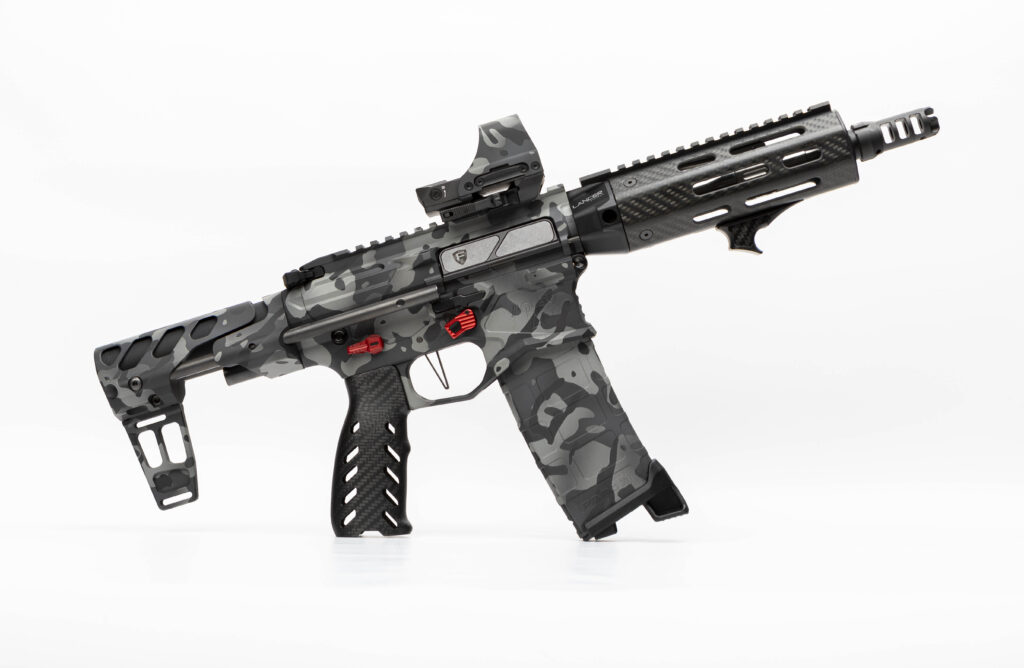 We've written before about the connection between automobiles and firearms and the commonly converging interests among enthusiasts of the two camps. Christopher Haydostian, formerly of Los Angeles and now of Austin, Texas, is one of those enthusiasts whose interests cross over between the two.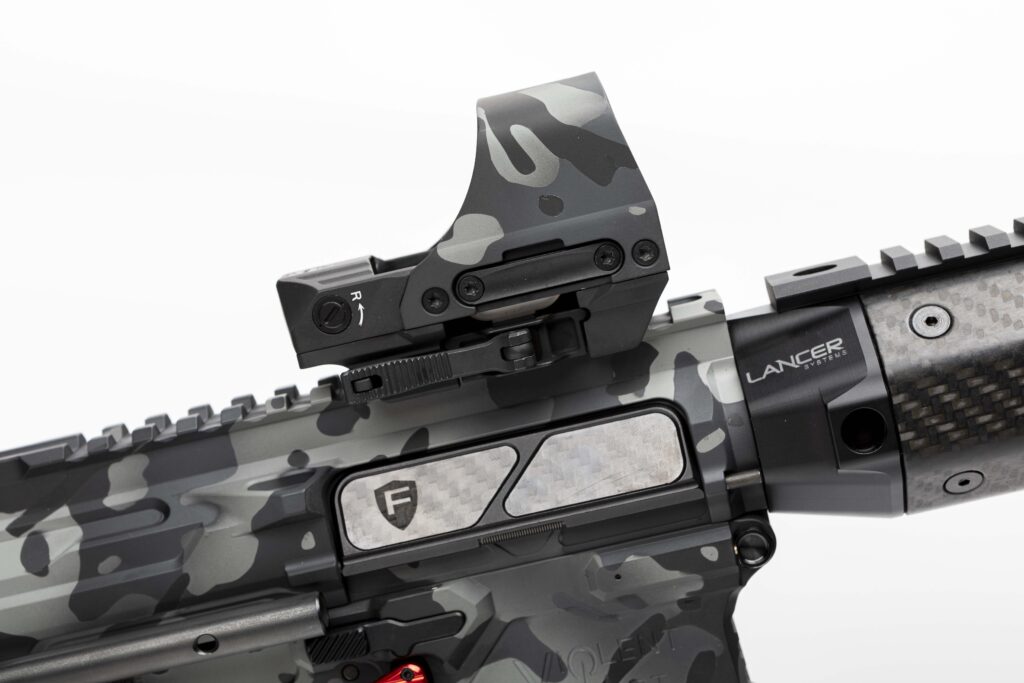 A chef by trade and training and now a successful restaurateur, Haydostian was involved for many years in the car scene, building custom rigs for race, show, and track. He later capitalized on that experience as a consultant in building promotional show pieces for exhibitors at the Specialty Equipment Manufacturer Association, otherwise known as SEMA, whose annual Las Vegas convention is the largest automotive aftermarket symposium in the world.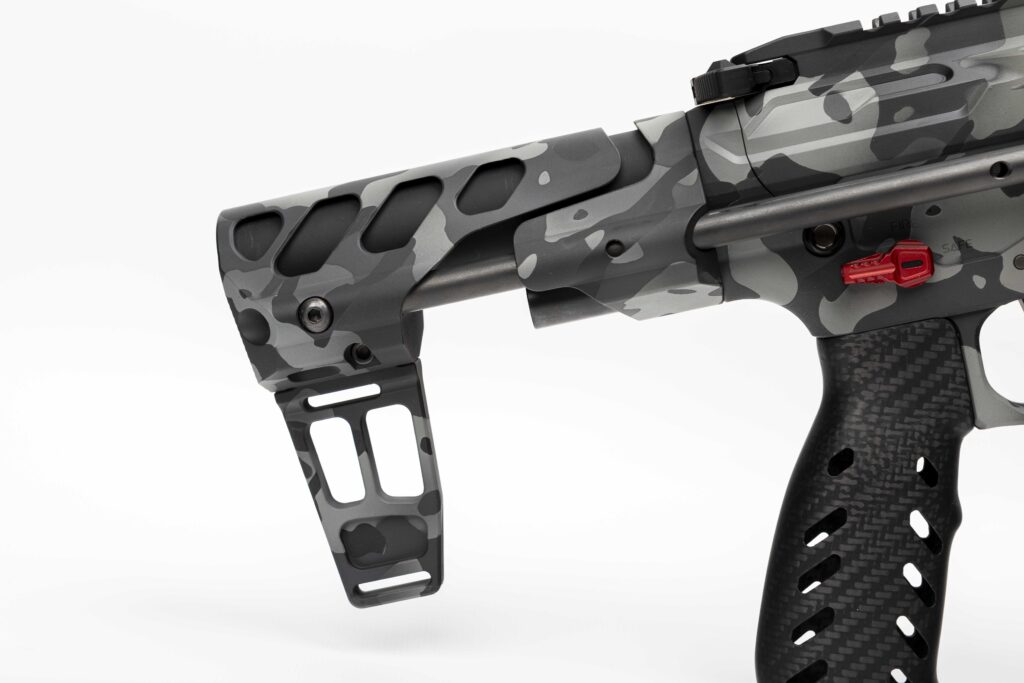 It was in these circles that he first became associated with Jay Canter, professional photographer, firearms enthusiast, licensed manufacturer, and no stranger to the pages of this magazine. Canter, whose photography work spans a number of industries not limited to either the automotive or firearms industries, recently launched a new brand that focuses specifically on his work in the firearms realm, and more specifically his work building and shooting (both behind the lens and behind the trigger, so to speak) custom guns. That business is called Violent Art Firearms, and this, along with the Samurai AR on page 38, is a pretty good representation of a VAF signature build.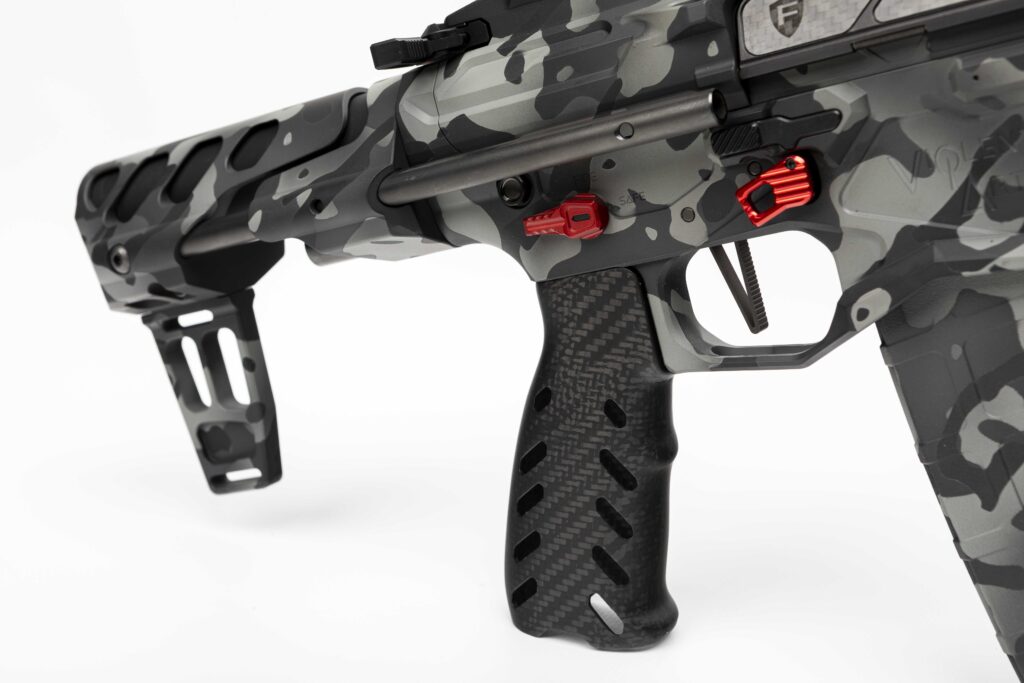 "I'm a chef by trade and have become a restaurateur in the past few years," Haydostian explains. "I've opened several restaurants, and the first was located in a slightly seedy neighborhood in downtown Austin. Being from a not-so-great area in Los Angeles, I'm quite used to it. However, I always like to have extra protection if needed. Since moving to Texas three years ago, I got my CCW immediately and carried all the time. I thought it was time to step up from a basic small carry to also include a backpack weapon."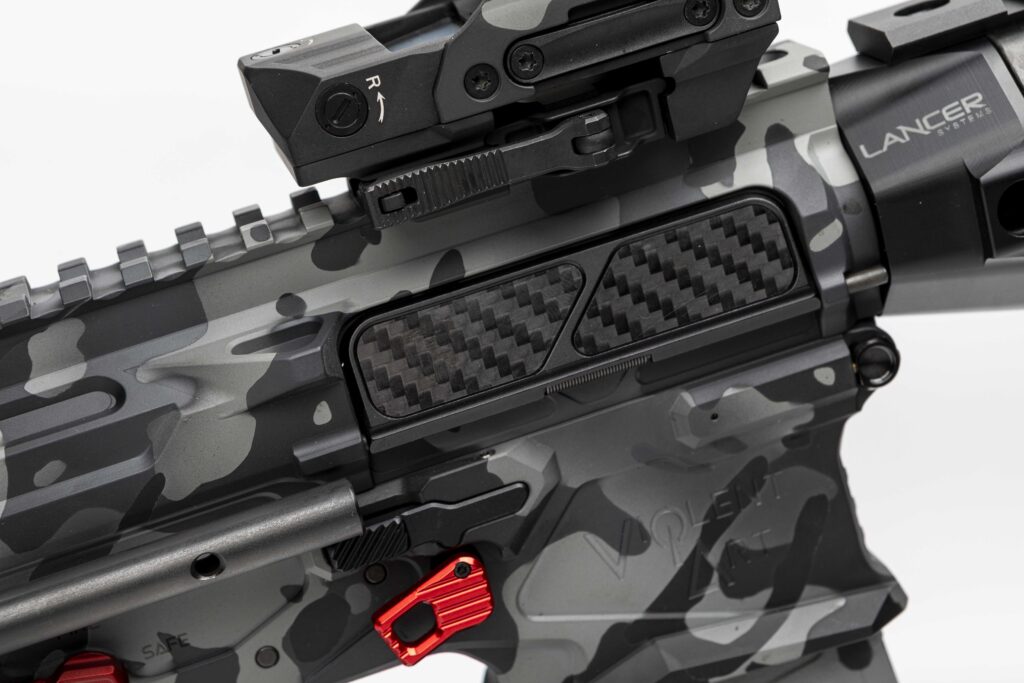 He goes on to explain how he and Canter first came together to collaborate on the pictured build, a suppressed and multi-cammed shorty AR pistol chambered in 300 BLK. "Jay and I go way back from when we both were in California," he says. "I'm a car builder on the side… Jay was also in the scene with me and we have been friends ever since. He recently created his firearm brand and has posted some amazing builds, which got me drooling and thinking. I reached out and told him my want of the shortest backpack pistol I could do, and theme it a bit with my bag and restaurant."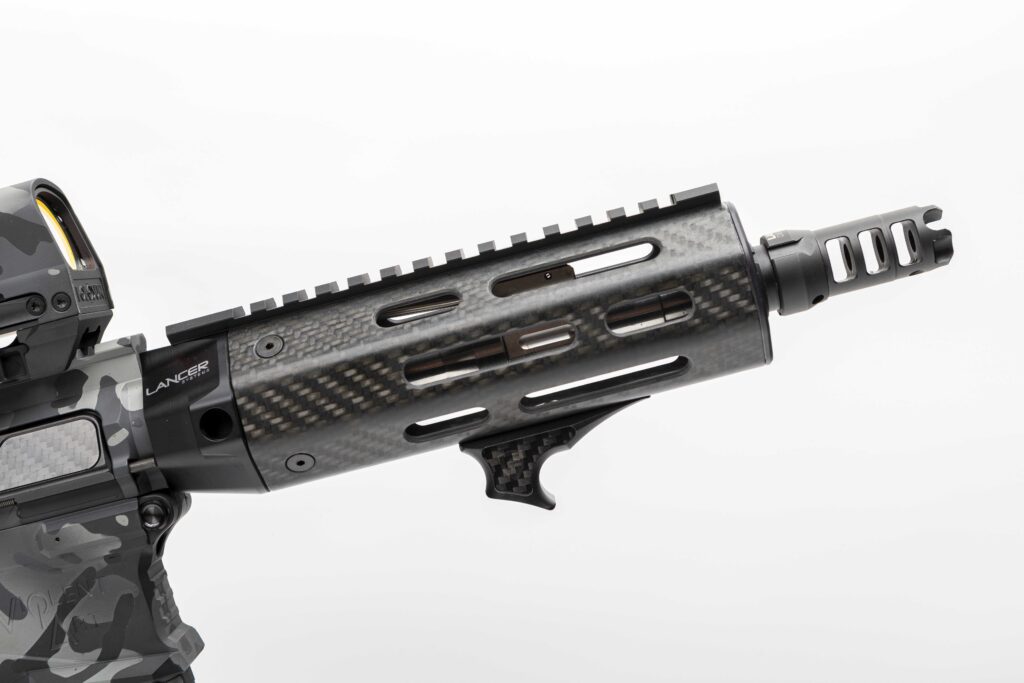 The build is centered around a Violent Art Firearms billet receiver set, machined from 7075 aluminum, and what Canter has branded DaVinci. True to the fine-art-centered theme, it incorporates striking lines like the angled edges of the flared magwell that match the angle of the integrated trigger guard, as well as various lightening recesses that flow seamlessly from one receiver to the other, giving the pair a truly homogenous, monolithic look that's as artistically rendered as any receiver set we've seen. Needless to say we're all about the happy marriage of high functionality and deftly honed aesthetics.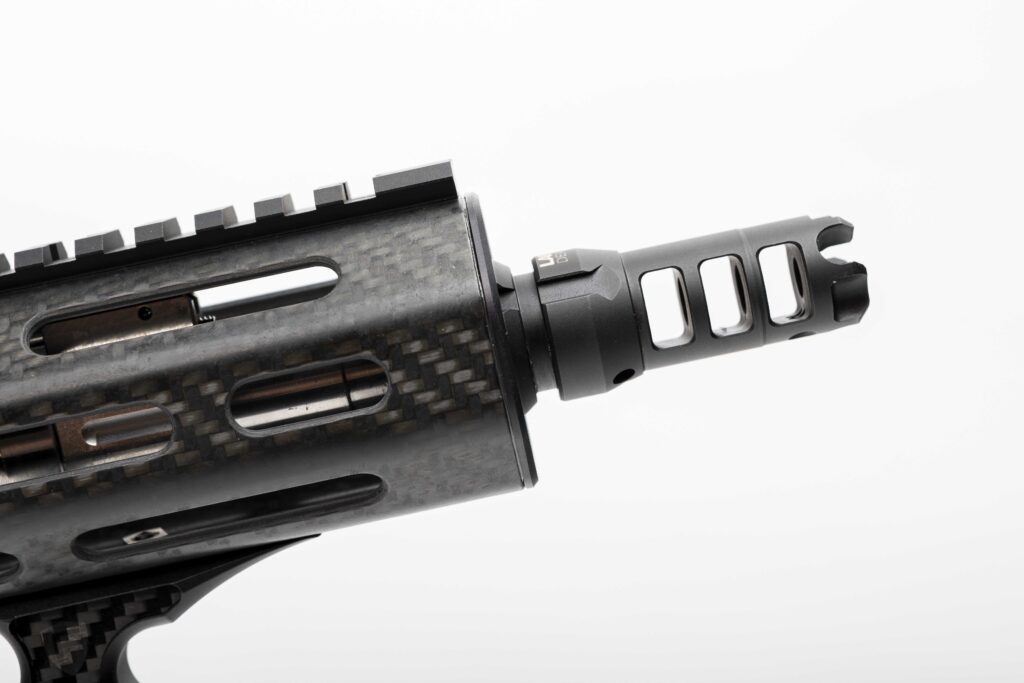 The lower features a threaded roll pin that holds a Battle Arms Development (BAD) bolt catch and the upper features a machined-in recess that accommodates the catch's thumb spur so the lever integrates as seamlessly into the build as the two receivers integrate with each other. Other manual controls include a Fortis SLS Fifty safety selector, anodized red like the BAD bolt catch, and a BAD EMMR safety, also red, affixed to a White Label Armory spring and backing screw. Iron City Rifle Works (ICRW) titanium takedown pins (finished in the company's popular Blackdiamond DLC coating) hold the receivers together.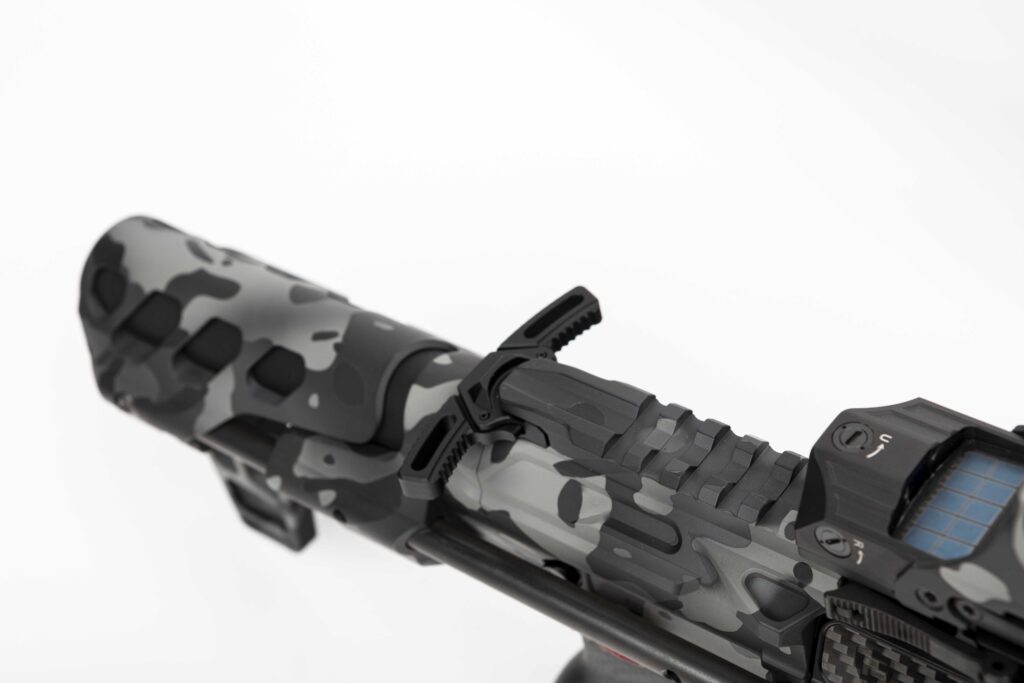 Fire control was originally handled by an Elftmann Tactical Match trigger with a skeletonized straight shoe. However, considering Chef Chris intended this as a backpack gun that he intended to pack as a potential PDW, he felt it was a bit light for his taste (ELF triggers are famous for having close to zero take-up and the Match is set to break at 3 pounds). So he's since switched to something with a bit heavier pull weight. Up top, a Breek Arms Warhammer ambidextrous charging handle allows the user to manupulate a VAF-logo'd Iron City Rifle Works S2 bolt carrier group which, like the ICRW takedown pins, is coated in the company's signature Blackdiamond DLC finish.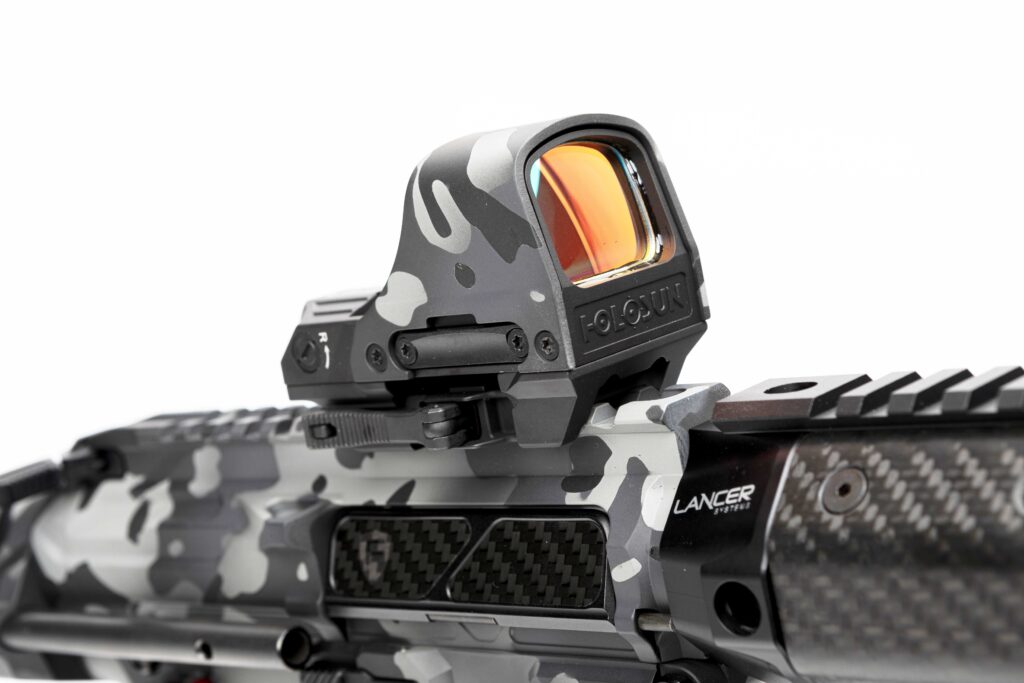 The slick-sided (no forward assist) VAF DaVinci upper was originally fitted with a 7.5-inch Rosco Manufacturing barrel chambered for 5.56 NATO, which is pictured here fitted with a Lantac Dragon muzzle brake. Chef Chris has since stepped up to a BOSS carbon fiber barrel in .300 AAC Blackout with a suppressor-ready muzzle, although the suppressor phase is still in the works and he has not yet fitted any particular can to the build.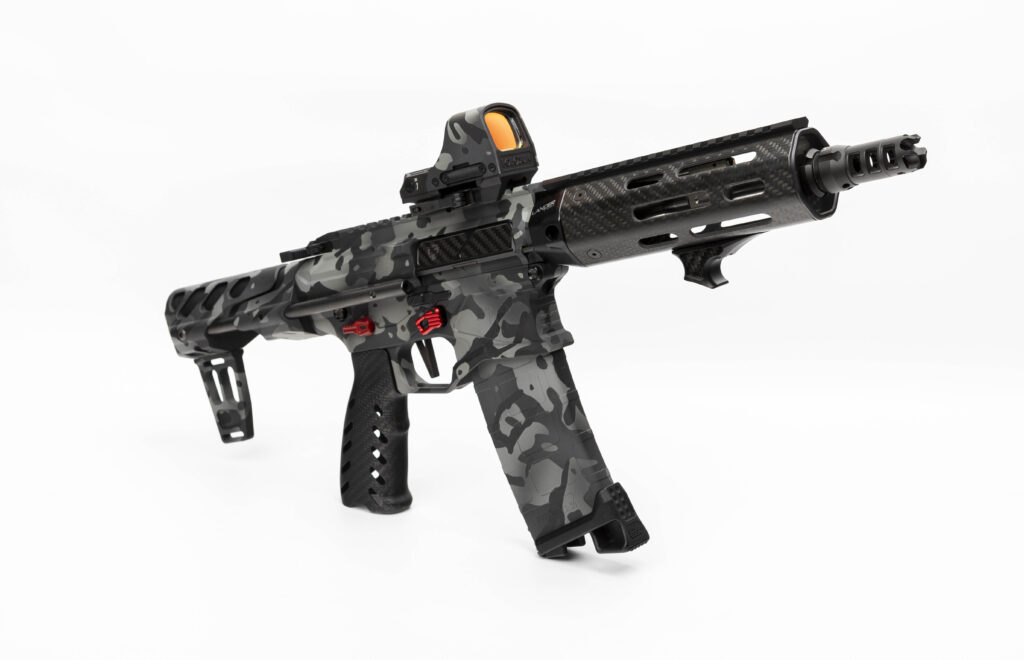 In addition to the barrel, which does not appear in these pictures, you'll note a few other quite visible expanses of carbon fiber weave on this weapon, namely the Lancer Systems LCH5 handguard, 6 inches long with a full-length Picatinny rail at 12 o'clock, and the Smoke Composites Ultralight pistol grip. The ejection port is also fitted with a carbon cover from Fortis Manufacturing, and a Shift carbon foregrip from the same company has been attached about two-thirds of the way up the very short handguard to help facilitate weapon manipulation.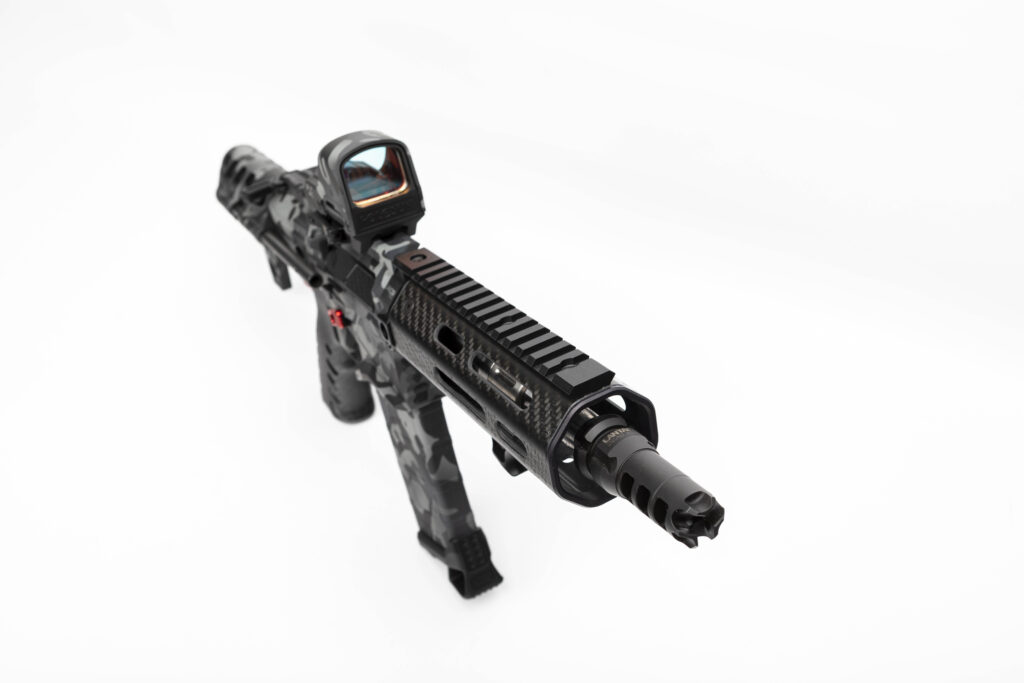 At the AR's far end you'll notice another piece that has become sort of a calling card for a Jay Canter/VAF build over the last few examples we've featured—the Odin Works CQ-B pistol brace, which never fails to add the requisite amount of function and a good bit of aesthetic flare to these sorts of builds and solidifies the gun's pistol classification. The CQ-B comes as an all-inclusive kit that comprises the brace itself, receiver extension, and the recoil spring/buffer assembly.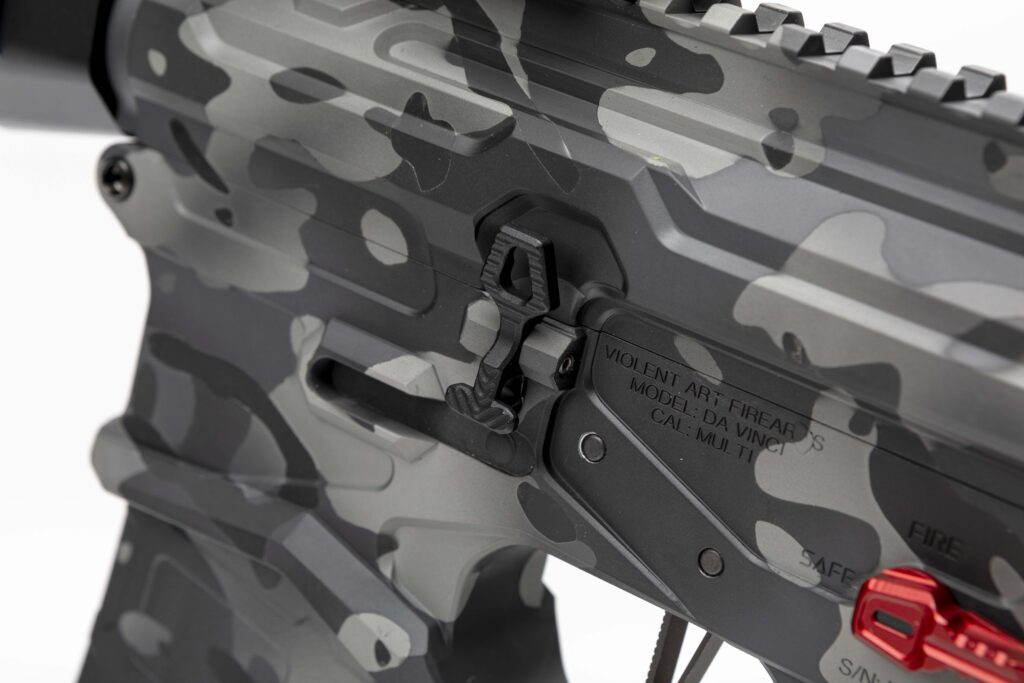 This shorty feeds from Magpul Gen2 PMAGs fitted with Taran Tactical +5 basepads for a total of 35 rounds. Targeting is accomplished using a Holosun 510C open-relex rifle sight. And of course the final piece of the puzzle was a custom Cerakote scheme to tie it all together. The scheme is a black-and-gray custom "multi-cam" that was inspired by the aforementioned bag in which Chef Chris carries his kit, a TBG armored backpack. The custom scheme was designed and applied by VAF's go-to Cerakote outlet, Koted Arms in Mesa, Arizona, and applied to the receivers, the brace, the optic, and the magazine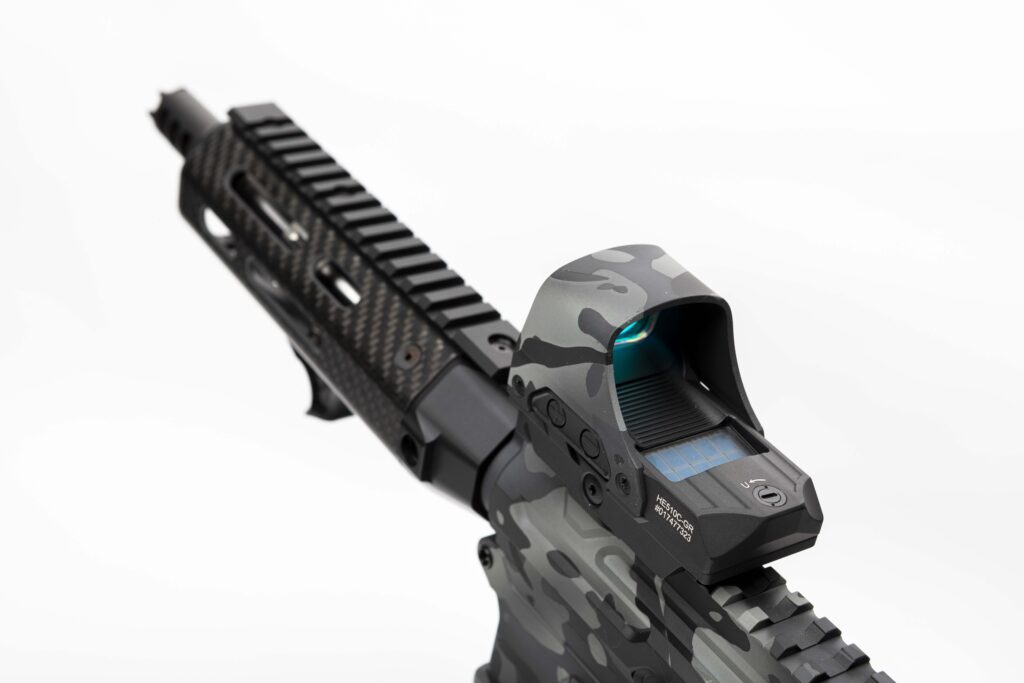 Lest you think otherwise, this shorty is no safe or pack queen. Chef Chris built it to look good, but he also built it to use. In fact, at least one close call with some of the social upheaval we've all experienced in one form or another over the past year, as well as the constant uncertainty that's part and parcel of doing business in the downtown areas of any large American city, were one deciding factor in what prompted the build and Haydostian's subsequent upgrades, as well as plans for future additions to his collection.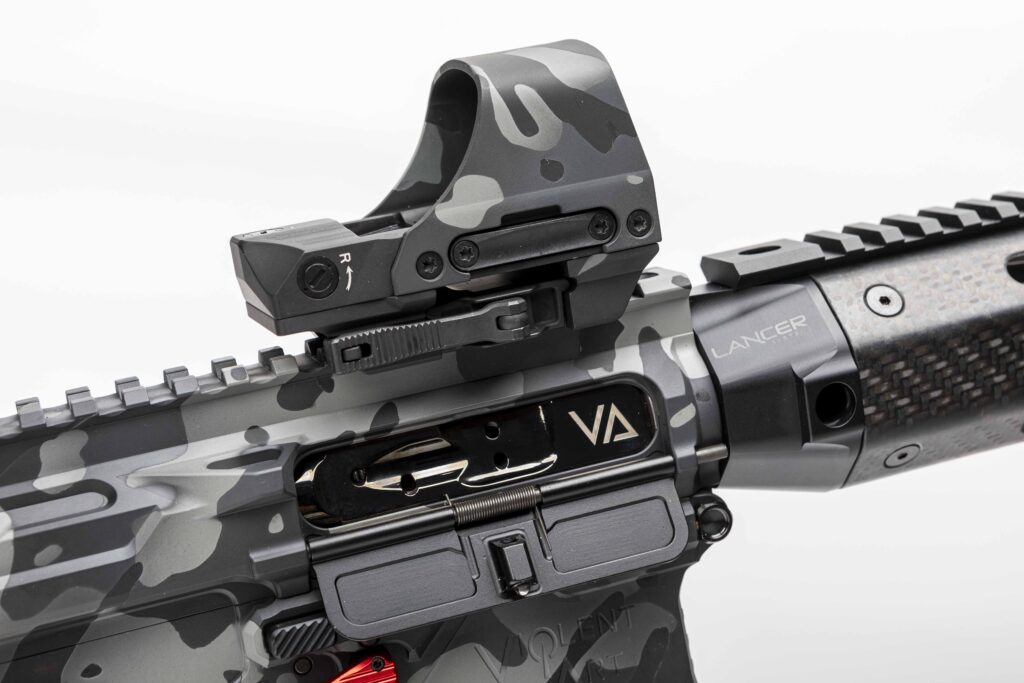 "Last year there was a massive riot happening in Downtown Austin with looting, business break-ins, and even people getting shot/beat/killed. My restaurant was literally four blocks away from it all. At that time I only had two guns. I carried both with me and all the extra ammo/magazines I could hold and waited to see what would happen that night. Fortunately, no force was needed. It was at that time I felt I should save up and get something a bit more substantial than my modified S&W 2.0 9mm or modified Glock 43X. That's when the AR pistol came to mind."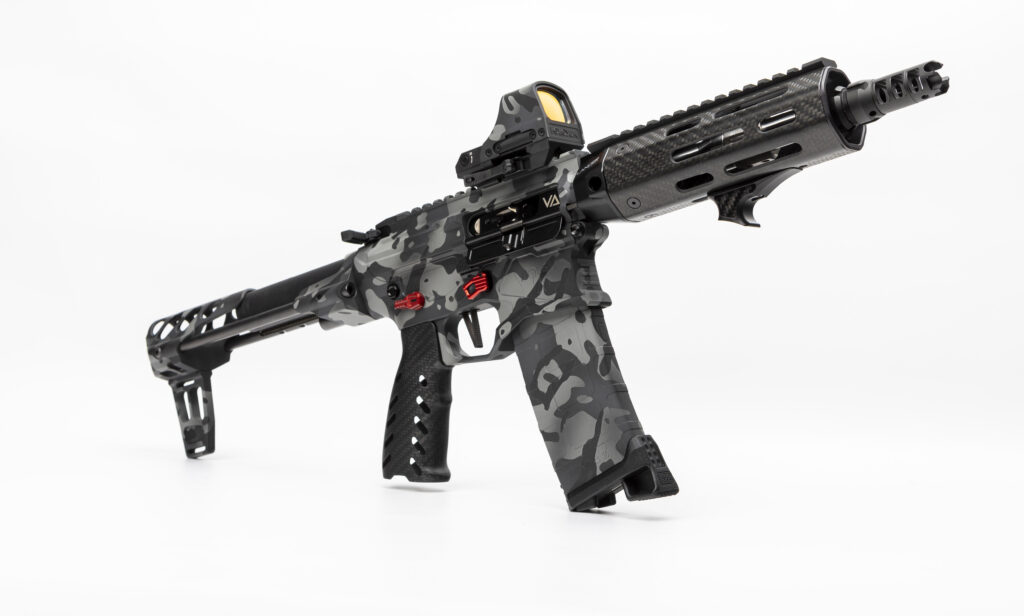 And in addition to the peace of mind that comes with personal-defense carry, there's a definitely "fun" component involved. Becoming more embedded in the local gun culture is definitely an aspect of that. "Even though I got my start in California and Nevada, I've adapted to the Texas way of life, and guns are a large part of that here," he says. "I enjoy shooting recreationally at ranges and targets and I'll be moving into more tactical applications when I get more time."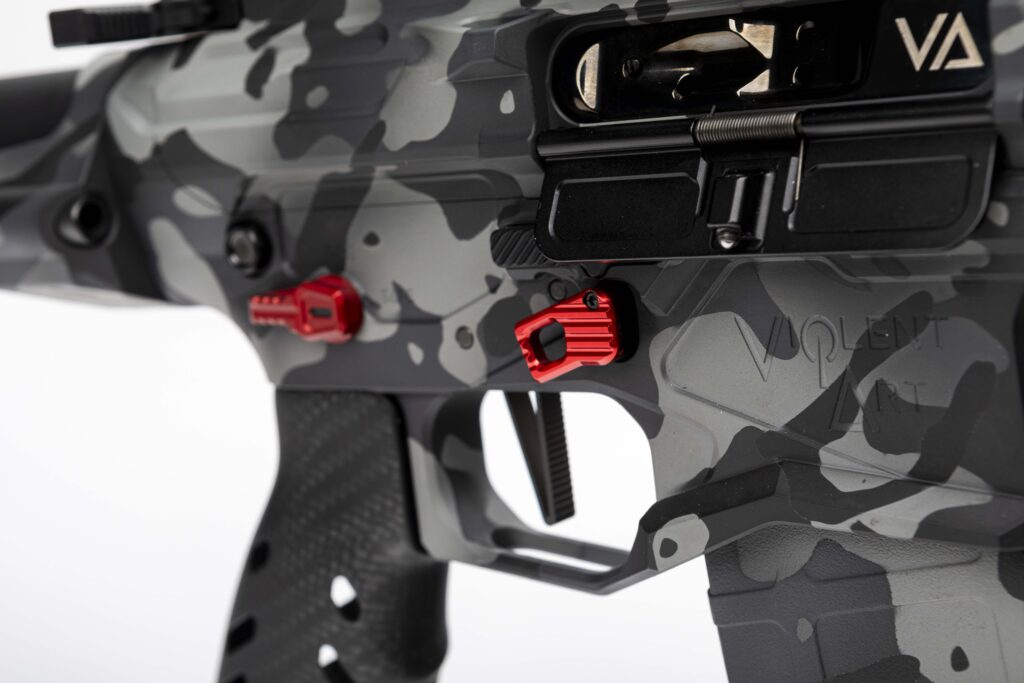 He continues: "Ultimately, I built this AR like I do my cars. I wanted as much carbon fiber as possible while having some clean accents and a solid look. This is my first custom build but most definitely will not be the last. I'm already talking with Violent Art Firearms for a 9mm pistol build, which I'll probably be adding that to the collection by the time this goes to print."
Violent Art Firearms AR Shorty
Specifications
Caliber: 300 BLK
Capacity: 35+1
Finish: Custom black/gray Cerakote by Koted Arms
Featured Accessories
Receivers: Violent Art Firearms DaVinci
Barrel: BOSS 300 BLK 7.5"
Handguard: Lancer Systems 6" LCH5 carbon fiber
Optic: Holosun 510C
Parts & Accessories: VAF/ICRW S2 Blackdiamond BCG, White Label Armory pistol-length gas tube, Fortis Mfg. carbon ejection port cover & Shift carbon fiber foregrip, Fortis SLS Fifty safety selector, Breek Arms Warhammer ambi charging handle, Odin Works .750 tunable gas block & CQ-B brace, Elftmann Tactical Match trigger, White Label Armory trigger pins, Iron City Rifle Works titanium takedown pins, Battle Arms Development bolt catch & EMMR mag release lever, Smoke Composites carbon fiber pistol grip, 2A Armament lower parts kit, Magpul PMAG Gen2, Taran Tactical +5 basepad
About the Owner
Name: Christopher Haydostian
Occupation: Chef, restaurateur
Social: IG—Violent Art Firearms